Travel to Las Vegas
Where to Stay
Iconic Beauty in Las Vegas: Bellagio Hotel
At the heart of the Las Vegas Strip, Bellagio Hotel offers a luxurious and unforgettable experience. Easily reached by express trams, taxis and rental cars, the European-style hotel is a short ride from the airport. Between the 36-floor main tower and 33-floor spa tower, the hotel has a total of 3,933 rooms and suites, plus art galleries, spas, shopping outlets and more. Bellagio is known for its exclusive entertainment, from the season-themed Conservatory & Botanical Garden to the unique Cirque du Soleil performances and The Fountains of Bellagio shows.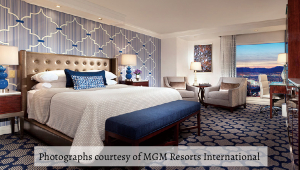 What we love:
• Elegant and spacious rooms with a clear view of The Fountains of Bellagio, shooting 460 feet into the air, choreographed with music and lights
• The five-star hotel guarantees high-quality guest services to ensure reservations for transportation, restaurants and tours
• Seasoned-themed botanical garden: See the beautiful cherry blossoms in the spring!
What to Do
A Water World of Wonder: "O" by Cirque du Soleil
Exclusive to Bellagio Resort & Casino in Las Vegas, this breathtaking show will take you on an emotional and mystical journey. Performed in the aptly named "O Theatre," the European-style opera house offers 1,800 seats surrounding a 1.5-million-gallon staged swimming pool. Tickets and seating reservations start at $99. Anyone above the age of five can enjoy this enthralling, 90-minute production involving aerial and aquatic displays in over 80 unique acts. Watch world-class performers as they take you on a magical adventure filled with romance, drama and comedy in the world of "O."

What we love:
• Opportunities for audience members to be a part of the show by dancing with performers
• Breathtaking and unimaginable aquatic, aerial and fiery stunts, plus acts that will have you at the edge of your seat
• A diverse cast filled with elegant acrobats, whimsical characters, synchronized swimmers and daring divers
Where to Stay
Luxury Entertainment Resort and Casino: The Encore Hotel
The Encore Hotel is a AAA Five Diamond resort and casino with plush, luxury suites studded with floor-to-ceiling windows and panoramic views of the glowing Las Vegas strip below. Not only is it an ideal location for day and nighttime excitement "on the town," the Encore's three lavish night and beach clubs regularly host famous performers for the ultimate party experience on and off hotel premises. Complete with its own live performance theater, this hotel specializes in entertainment.
Other top-tier amenities include luxury shops, spas, salons, a fitness center and stunning event rooms perfect for conventions or dream weddings. In addition, the Encore is also known for its wealth of fine and casual dining options. The Lakeside Restaurant pairs fresh seafood and prime steaks with live music and shows. The garden-inspired Jardin features show packages that include a three-course dinner, signature cocktail and a ticket to an unforgettable performance. After dinner, guests can enjoy a night of entertainment at the Encore Theater or Wyn's spectacular aquatic ballet, Le Rêve – The Dream. Those interested in escaping the wildness of the strip can wind down with the Lakeside's Sunday Jazz Brunch or head to the SW Steakhouse for savory steak seated alongside the Lake of Dreams' nightly shows. Even award-winning dining is an experience at the Encore!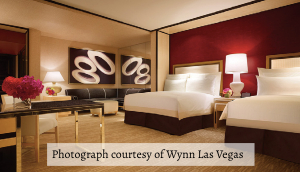 What we love:
• Jardin's show packages and garden-inspired setting
• Stunning theater featuring shows by renown artists and performers
• Live music in three clubs and the Lakeside Restaurant
What to Do
Surreal Adventure: Le Rêve – The Dream
With a combination of athleticism, music and visual storytelling, Le Reve – The Dream is a one-of-a-kind experience. Mesmerizing choreography draws you into the heroine's dreamlike adventure, which all takes place on a round 1,000,000-gallon aquatic stage. At the heart of this acclaimed performance are the dauntless acrobatics. Performers showcase feats of diving, swimming and strength on and above the aquatic theater. Seats circle around the stage no more than 42 feet away. The setting ensures that there is no bad seat in the house and the expressive faces of each actor can be easily seen. Fire and water stunts along with special effects will also thrill you. Nonetheless, front seat audience members need only anticipate small splashes from these thrilling stunts.
Expect the trademark innovation of Franco Dragone, who also created Cirque Du Soleil's "O" show. New soundtrack, costumes and choreography keep the fantasy alive and evolving. However, the story at the core of the performance remains the same—a suspenseful dream of battling desires. Performances take place throughout the week with two shows nightly, one at 7:00 p.m. and one at 9:30 p.m. Choose from Poolside, Golden Circle and Grandview seating or select Dream for VIP seats. Each spot promises an intimate view of this surreal journey.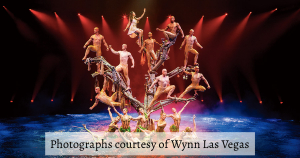 What we love:
• Thrilling acrobatics and feats of strength
• Updated choreography, soundtrack and costumes
• Surreal aquatic stage performance
The complete article can be found in Issue #279 of the Tokyo Journal.