Travel to San Francisco & Scottsdale
TJ's hotel reviewers headed to San Francisco and Scottsdale to experience the best places to stay. Here are our favorites.
San Francisco, California
Where to Stay
Fairmont San Francisco Hotel
Located atop Nob Hill, the world-renowned Fairmont San Francisco hotel offers a memorable experience for leisure and business travelers alike. Centrally located, this luxury hotel is a short cable car trip from the Financial District, Union Square and Fisherman's Wharf of bustling downtown San Francisco. The hotel has 606 guest rooms and suites and three acclaimed restaurants. It also has lounges and 72,000 square feet of elegant spaces for personalized occasions or influential conferences.
Enjoy some of the best panoramic views of the city and the bay in luxurious accommodations. Impress your partner with a private rooftop marriage proposal with a view of the spectacular San Francisco skyline. Book the one-of-a-kind "Tony Bennett Suite" package that offers magnificent lodging characterized by elegant décor inspired by the world-renowned performer. Or relax in the deluxe 6,000-square-foot Penthouse Suite with three large bedrooms, a formal dining room and much more. Stay at this historical hotel and leave your heart in San Francisco!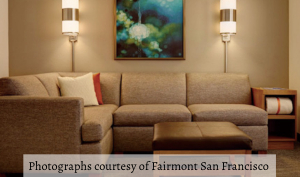 What we love:
• Remarkable panoramic views of the city and the bay
• Close proximity to iconic areas of San Francisco
• Luxurious accommodations, elegant meeting spaces and superb services
Scottsdale, Arizona
Surrounded by picturesque mountains and an unruly desert, Old Town in Scottsdale, Arizona is a perfect vacation spot for all holiday-goers. The distinctive architecture of the area conveys a feeling of sauntering through the old Wild West. Walk, bike or hop on a tram to discover what this amazing place has to offer. Explore wonderful farmers' markets or shop at quaint boutiques. With homegrown delicacies on every corner, the food choices are limitless. If you are feeling adventurous, hike up Camelback Mountain and treat your eyes to nature's beauty.
Where to Stay
Exemplary Hotel with Ideal Location: Hyatt Place Scottsdale
Right in the middle of Old Town is the Hyatt Place Scottsdale, providing you with excellent service and facilities around the clock. Hyatt Place offers easy access to the art galleries, fashionable shops and restaurants in Old Town. You can walk or take an inexpensive golf-cart taxi around this charming neighbourhood.
Their airy and comfortable rooms, furnished with large living spaces, make you feel right at home. It's a great place for an extended stay. Select a room with a view to truly experience the mountainous area of Scottsdale.
The Hyatt Place will cover all your needs, no matter the hour. You can make use of their 24/7 gym, business center and dining service. If you need to cool down from the sweltering heat of the desert, take a dip in the refreshing outdoor pool. Pet-friendly rooms are available on request, so there's no need to leave your furry four-legged friend at home. The welcoming staff will be ready to assist you in booking local activities, be that hiking or attending a baseball game.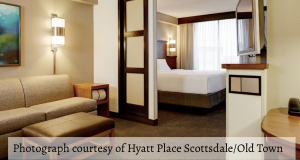 What We Love:
• Perfect for all types of visitors
• Large living area included in rooms
• Easy access to Old Town's main sites
The complete article can be found in Issue #279 of the Tokyo Journal.