Sex Pistols
In the fall of 1976, I met the Sex Pistols for the first time when Malcolm McLaren took me to Club Louise in London. That same night, I also met The Clash, Siouxsie and the Banshees, Billy Idol and many of the people who went on to become the core of the infamous punk scene in England.
Malcolm invited me to stop at his clothing store called "SEX" on King's Road, where I met members of the staff like Simon, Marco Pirroni, Soo Catwoman and Sid Vicious, who was 17 years old at the time. Later, Malcolm encouraged me to take pictures of the Sex Pistols at their loft on Denmark Street, where they played a few songs for me. Though the style was faster and rougher than I was used to, they, nonetheless, sounded pretty good. As I photographed, Malcolm finished his negotiations and asked if I would come along as they went to EMI Records to sign their first recording contract.
I came back to London a year later, in November of 1977, and Malcolm arranged for me to fly to Luxembourg with the band for a radio interview. Before the interview, we stopped in a bar and I got one of my best pictures of the Sex Pistols as they fooled around with straws.
When they came to the United States a few months later, I went to see their first show in Atlanta. Although I expected to go home the next morning, Malcolm invited me to get on their bus, and before long I was on their notorious ride across America. On a stay in Dallas, Sid wrote "Gimme A Fix" on his chest.
When a girl motioned to him to bend down close to her, she punched him in the face, giving him a bloody nose that dripped on his chest. Sid seemed to enjoy his new look.
One day, during their sound check, Sid and I stopped by the refreshment stand to get hot dogs. As soon as Sid saw me pick up my camera, he said, "Wait a minute." He then put more mustard and ketchup on the hot dog and smeared it all on his face. He wore a button that read, "I'm A Mess," and he definitely knew how to express it.
After 10 crazy days, we ended up in San Francisco, where a promoter had painted a portrait of the band on the wall of their dressing room. I took a picture of all of them sitting in front of it, and this photo ultimately became the last one of them together as a group - they broke up later that night after the show.
As you can see from the picture of me and Johnny Rotten on the U.S. tour bus, I still had remnants of my hippie mustache. But just a few days after I returned home, I shaved it off.
Eighteen years later, the Sex Pistols had a reunion tour and I went to London's Finsbury Park to see them play again. There were more people there, at that one show, than I had ever seen at all of the shows they played in the '70s. tj

All photos courtesy of Bob Gruen.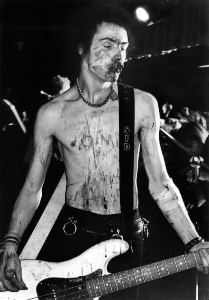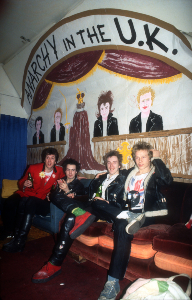 The complete article can be found in Issue #279 of the Tokyo Journal.