BLONDIE
I clearly remember when Lisa Robinson called me to tell me to take pictures of a band called The Stilettos. She said the lead singer was very beautiful and was going to be a big star. The minute I saw Debbie Harry I knew Lisa was right! Soon after, Debbie and the lead guitarist Chris Stein formed Blondie.
In those days bands at CBGBs were not thought to have very much commercial potential. I went to their studio when they were recording their first demo but it seemed so unimportant that I didn't even take any pictures of the session. When we left we saw a car flipped upside down on the street and Chris suggested taking a picture, putting his guitar case, with BLONDIE written on it, in the trunk. Debbie got on her knees and started crawling out of the car as if it was her car wreck. This picture has now been admired around the world.
They often played at Max's Kansas City where I photographed Debbie wearing a tiger-striped dress, which she had made herself out of car seat material. This was another shot that has since been seen around the world.
I was getting to know them better and one day we went to Staten Island for a photo session. I got some great shots of them on the Staten Island Ferry with the New York skyline behind them. By this time it was important for them to have group shots because people were paying so much attention just to Debbie that the band, feeling left out, made buttons and advertisement that read "Blondie is a Group."
I went to Toronto in 1977 when Iggy Pop started his tour with Blondie as his opening act. Debbie has said that tour was the beginning of their success. I took a nice picture of Debbie ironing the bands' clothes as they dressed in their trailer, and another shot of Debbie and Iggy backstage before the first show.
When Punk magazine was creating a photo novella at Coney Island, I went to spend the day taking pictures of Debbie and the other punk rockers there. The picture of Debbie with the Thunderbolt roller coaster in the background is one of the most popular pictures I have of Debbie today.
After gaining worldwide success, Chris Stein became very ill in the early '80s and the band stopped working for several years. When he recovered they were back on the road and, with some personnel changes, are still playing today. When they were recording in 2009 I went to visit them at their studio in Woodstock and took some photos of the current lineup.
Last September, famed art curator Jeffrey Deitch organized a 40th year anniversary tribute at the Chelsea Hotel Gallery, which included photos by me, Chris and several others. I'm happy that we are still good friends and I look forward to seeing Blondie play for many more years to come.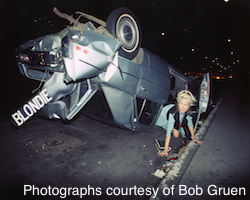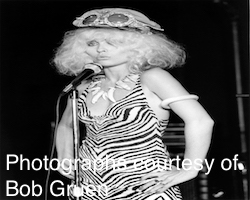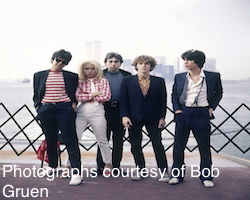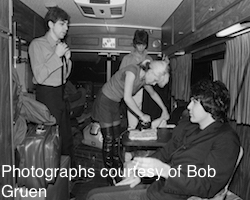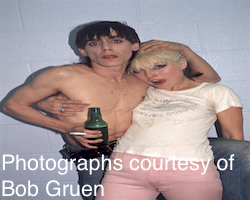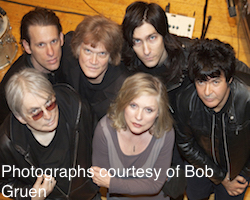 The complete article can be found in Issue #277 of the Tokyo Journal. Click here to order from Amazon.