Go on tour with legendary rock photographer Bob Gruen, who is one of the most well known and respected photographers in Rock and Roll.
WHEN I met John Lennon & Yoko Ono, they were working with the band Elephant's Memory and I was soon taking a lot of photos of them. When the band chose one of my photos to use for their album cover, I went to their management office where Tony Machine, who worked for them, told me I had to come see another band they worked with–the New York Dolls, who were playing at the Mercer Arts Center. I went there and discovered a wild, exciting and shocking, downtown New York artists' scene.
I liked them the first time I set eyes upon them. They were loud, fast and dressed like dolls! Some people said they dressed like women because they wore makeup and some of their clothes may indeed have been sold in the women's department but no women I knew dressed like them. In fact, they were actually very macho and dressed like dolls because girls like to play with dolls and they wanted girls to play with them!
I soon became friends with them and over the next several years took a variety of photos and videos of the dolled-up group. One of my photos was used on the cover of their second album "In Too Much Too Soon"–appropriately titled seeing how they were way ahead of their time. Every flamboyantly dressed band since owes something to the New York Dolls. In the early seventies when the group first started out, bands were still dressing in drab, sixties hippy outfits–so the bright, loud Dolls really stood out.
They loved dressing up and posing for pictures which made my job easy. At one point, when they played a Valentine's Day show in New York, rather than your typical 'hearts and flowers' theme, they decided to dress as 1930s era gangsters. We made a film of them as a gang called The Lipstick Killers, which made reference to the infamous gang-related Saint Valentine's Day Massacre in 1929 Chicago.
In 1973, when I went to Hollywood with them we made some of our best pictures. I think they felt that being in Hollywood gave them a reason to really go all out with their clothes and makeup, attempting to set a new standard of outrageous glam style. This 'raise-the-bar' thinking came across in their interviews as well. One time, an interviewer mentioned that David Bowie had recently come out that he was bisexual and asked New York Dolls lead singer David Johansen if he was bisexual as well. David responded with "No–I'm tri-sexual, I'll try anything!"
The best way to learn more about the New York Dolls is to simply listen to their records, watch my recently released videos All Dolled Up and Looking Fine On Television, or pick up my book The New York Dolls– Photographs by Bob Gruen.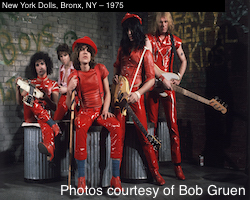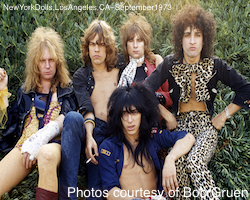 The original article can be found in Issue #276 of the Tokyo Journal. Click here to order from Amazon.