New York, 1971 – 1980
I first saw John and Yoko at a benefit concert at the Apollo Theater shortly after they arrived in New York City in 1971. I'd taken a photo of them backstage and dropped off some copies to their apartment, which was around the corner from mine in the West Village, but I didn't make any further connection with them then. A few months later I was asked to take photos of John and Yoko for a story about Elephant's Memory, their backing band on the new album they were recording. That night I went to their recording studio, took some photos of them all together, and they soon contacted me to use them in the album package.
It was at their Bank St. apartment when I really met them and showed them some of my other photos. After spending the afternoon with them they asked me to drop in when they were recording to take more photos and to always stay in touch with them. I'm still in touch with Yoko today - 42 years later!
John and Yoko were both really hard working artists and both had a great sense of humor, so we always got a lot done and always had a lot of fun doing it.
In the summer of '72 they agreed to appear at a benefit concert at Madison Square Garden. During the rehearsals it was clear that John and Yoko were always in touch with each other, staying calm as the chaos of activity swirled around them. One of my favorite moments in life was standing a few feet away from John and Yoko at that concert as they played "Imagine" together on the piano.
By the spring of '73 it was no secret where John and Yoko lived in Greenwich Village. Since their apartment was directly accessible from the street with no security, they went looking for another place to live. I drove them to Connecticut to look at some houses for possible purchase. While there they took a short break taking a rowboat out on a small lake. I also accompanied them when they went to see the apartment that they finally settled in. We took a walk in nearby Central Park to get a feel for their new neighborhood. It was there that I took one of their favorite photos: John passing Yoko a flower.
I didn't go with John to Los Angeles when he left New York in the summer of '73. We were hearing about how drunk and wild he was getting and I wondered if I'd ever get to see him again. But he came back to New York a year later and we soon re-connected. He asked me to take some photos for the cover of his "Walls & Bridges" album. He needed a series of close-up photos of his face and wanted it done in a simple, fast way. I went to his apartment and set up on the roof to take the portraits. When we had enough shots for the cover he suggested that we take more photos for publicity purposes.
The year before, I had given him one of the T-shirts that I often wore with the words "New York City" on the front. On the roof, with the city all around us, I asked if he still had that shirt I'd given him. He found it right away and put it on, and we took what has now become an iconic image of him. We had no idea it would become such a famous image.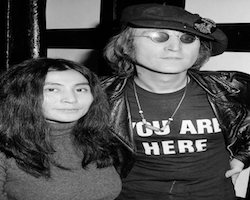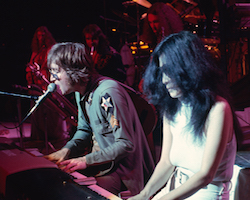 In the fall of 1974, I stopped by the studio and was surprised to see Elton John recording with Lennon. They were happy I was there to get some photos, and the song they recorded together, "Whatever Gets You thru the Night," became a number one hit, giving John some much needed confidence.
When the U.S. government was attempting to force John to leave the country, I thought the Statue of Liberty would be the symbol that would represent how America should welcome great artists like him. So I suggested we take a photo there and was very happy when he agreed. We went there like any other visitors and took the photo in a very short time, with this series too becoming very widely known. I think that people relate to John as a symbol of personal freedom, much like the Statue of Liberty.
John had stopped drinking by this time and in the spring of '75 we took some photos for a German magazine where he looks healthy and happy. He told us he was happy because Yoko was pregnant. In the fall when Sean was born, John and Yoko called me to come to take some photos for their family. That day was the happiest I ever saw John. He was very pleased to have the chance to raise his son Sean, a chance he didn't have with his first son, Julian, who was born while John was traveling the world as a Beatle.
John spent the next five years mostly at home being a responsible parent to Sean, and in 1980 he finally returned to the studio to record songs about what he had learned during this time. "The Double Fantasy" album is about a relationship of two people in love who have been through a lot together. In December, to take some more photos for their publicity, I visited the studio where they were finishing the second half of the album. Yoko had finally received some good reviews, so they were working on a new song, "Walking on Thin Ice." John was overjoyed that people liked his new record and he was planning a world tour. We talked about where we would shop and what we would eat in Tokyo and Paris. I went home full of anticipation of the exciting times ahead. Two days later I was developing the photos I had just taken in the studio when I got a call that John had been shot. It was the worst phone call I had ever received.
For more stories about John Lennon see my book, "John Lennon – the New York Years," available in Japanese or English.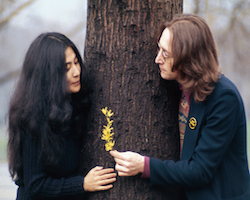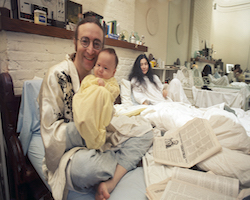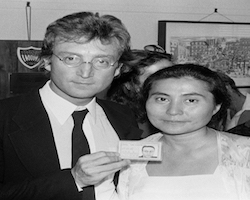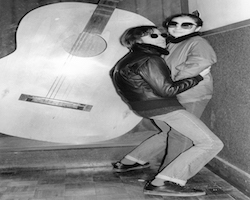 Bob Gruen – New York – May 2014
The complete article can be found in Issue #275 of the Tokyo Journal. Click here to order from Amazon.