THE RAMONES
IN 1975, I attended a small showcase where the Ramones played for the press. They performed about a dozen songs for no more than 16 minutes, and I wasn't sure what had happened, but I wanted to see them again.
I met them where they had grown up in Forest Hills, Queens, New York City for Rock Scene magazine. The first roll of film I took contained some of my best shots of the Ramones. We started the shoot where they hung out on the roof of their building, and then we took the subway to Manhattan where they played that night at CBGB. When we got to the club, I took a simple shot of them standing out front, which became an iconic image representing the Ramones, CBGB and punk in general.
Over the next few years, they played at CBGB often and were always one of the most powerful, though minimal, rock 'n' roll bands. They were very popular among the local crowd. In July 1976, they went to England and inspired the newly emerging punk scene there. The Ramones were louder, faster and more powerful than any other bands before them. No one had done such short, loud bursts of energy, and there were many in the audience – the Clash and the Sex Pistols among them – who learned a lot from the band.
The Ramones were always one of my favorite bands, and I saw them whenever I could. After producing their first few records, drummer Tommy Ramone dropped out of their regular performances because he didn't like touring. Mark Bell became the new drummer, whose stage name became Marky Ramone. In the late '80s, bassist Dee Dee quit the band and was replaced by C.J. Ramone. These changes didn't impact the music as it was strictly controlled and disciplined by Johnny Ramone.
I happened to be in Tokyo in the winter of 1994 when the Ramones played their 2000th show. Afterwards, I took Joey to the home of Makoto and Sheena, leaders of Sheena & the Rokkets, who opened a few shows for the Ramones. Sheena took her name from the Ramones song, "Sheena Is a Punk Rocker," so it was pretty incredible that they became good friends.
The Ramones were inducted into the Rock and Roll Hall of Fame in 2002.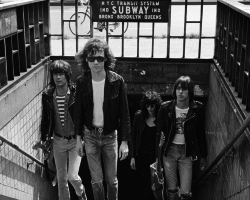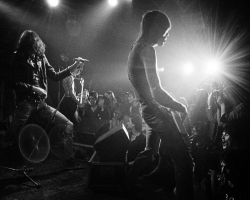 The complete article can be found in Issue #278 of the Tokyo Journal. Click here to order from Amazon.