Serviced Apartments in Tokyo
If you plan to stay in Tokyo for more than a week or two, you may want to consider a fully furnished and serviced apartment. This type of accommodation offers hotel services, such as front-desk and cleaning services by a bilingual staff, but usually has more spacious rooms and you can avoid long walks through large lobbies. There's no hassle of trying to rent and furnish an apartment on your own; you can move right in with nothing but your suitcase. Applications are processed within 24 hours and there are no security deposit, agent fee, key money or move-out cleaning and utility charges. Serviced apartments are also more affordable than hotels for families and groups requiring more than one bedroom, and provide the option of cooking in your room. The locations of serviced apartments usually provide easier access to convenience stores, supermarkets, inexpensive dry cleaners, etc. than large hotels do. Their closest train or subway stations are often local stations as opposed to major transportation hubs, which can be easy to get lost in and take more time to navigate. Tokyo Journal has come up with a list of the go-to serviced apartments in Tokyo based on locations with easy access to public transportation. These companies, with their helpful and bilingual staff, offer multiple locations throughout the city, each made complete with kitchenettes and in-room washers and dryers, unless otherwise noted.
DUPLEX Fully Serviced Apartments
DUPLEX is a luxury apartment brand with first-rate locations in Ginza, Ikebukuro, Roppongi and Takanawa. Its towers have studio, one-bedroom and two-bedroom layouts. Tokyo Journal reviewed three of the locations:
Ikebukuro Duplex Tower
The Ikebukuro Duplex Tower stands next to the Hotel Metropolitan and Tokyo Metropolitan Art Space, just a few minutes on foot from Ikebukuro Station. Ikebukuro is a commercial and entertainment district of Tokyo, and is considered one of the largest areas in the city. It's an ideal location for tourists and business people alike, given that traveling by the Tokyo Metro is a convenient way of getting around. This 27-storey tower has 175 fully furnished units with contemporary Japanese décor, plus an automated multi-level parking system for 50 cars. The higher-level units offer a magnificent view of the Shinjuku skyline. For those who like to be in the thick of things, Ikebukuro is highly recommended. Entertainment, restaurants and shopping, as well as quick access to one of Tokyo's largest transportation hubs, are just outside the front door.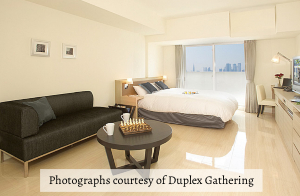 Roppongi Duplex Tower
Roppongi Duplex Tower is a 54-storey building with 172 apartments located just a six-minute walk from Roppongi Station and within walking distance of Tokyo Midtown and Roppongi Hills, two of the city's most popular restaurant, shopping and entertainment complexes. If you want to enjoy Tokyo's nightlife, Roppongi is the city's most popular district for foreigners.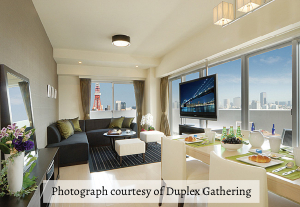 Takanawa Duplex C's
Takanawa Duplex C's offers computers, fax and printing services, making it ideal for business travelers. Shirokane-Takanawa station, on the Tokyo Metro Namboku and Toei Mita lines, along with Queen's Isetan supermarket and quaint cafes, restaurants and dry cleaning services are within a few minutes' walk of the property. While located in the newly developed business hub of Shirokane-Takanawa, this upscale residential area provides a more serene ambiance than other locations. You can grab a taxi to go to Ebisu, Gotanda, Roppongi or Shinagawa in minutes.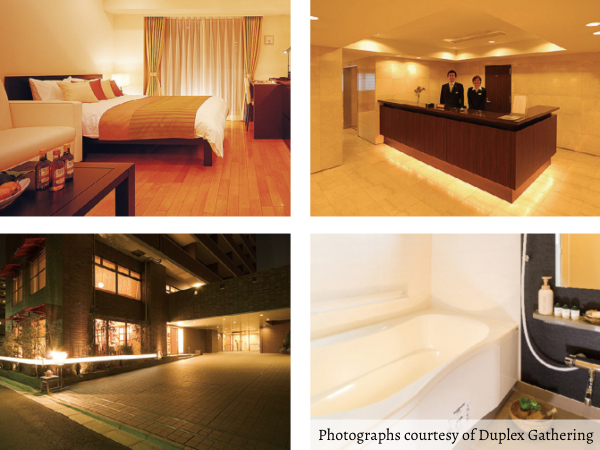 Space Design's BUREAU
Space Design manages serviced apartments, hotels and offices. It offers two series of serviced apartments, with locations in Tokyo and Yokohama. BUREAU is their luxurious series for more savvy executives, while B-SITE is for the more budget-conscious business traveler. Locations are available in Shibuya, Shinagawa, Takanawa, Tokyo, Kioicho, Akihabara, Osaki, Nihombashi Ningyocho, Nihombashi Hakozaki and Yokohama. Tokyo Journal reviewed BUREAU's Takanawa and Shinagawa locations:
Gate Hill Tokyo
In a quiet residential neighborhood in Takanawa, a few minutes from Shinagawa Station, Gate Hill Tokyo provides a peaceful living space. It has luxury studio apartments with one bathroom and a kitchen, with 22 different sizes and layouts. The rich, dark decor is elegant, with a modern Asian style. Although a washer and dryer are not located in the apartment, there is an on-site communal laundry room, fitness center and lounge area. This boutiquestyle apartment provides a refreshingly peaceful stay in close proximity to the major business and transportation hub of Shinagawa Station with access to the shinkansen (bullet train.)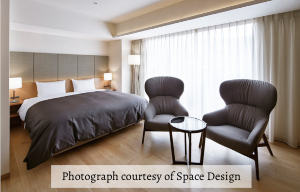 Bureau Shinagawa
Bureau Shinagawa, also in Takanawa, will appeal to people looking for a longer stay in a hotel-like atmosphere. Each unit features floor-to-ceiling windows, custom-made furniture, and studio or one-bedroom layouts. Although it is a little farther to walk to the station than other locations, there is a complimentary shuttle that runs frequently to and from Shinagawa Station. In addition, there is a complimentary continental breakfast that changes daily, an on-site gym, massage chairs, sky lounge, meeting rooms and a penthouse Japanese spa for a relaxing spa bath with a cozy view. If you're looking to set up a business presence in Tokyo, this is an ideal location, as in addition to a serviced apartment, you can rent a small office in the same building. The sky lounge with rental meeting rooms is an excellent place to bring clients – or potential ones.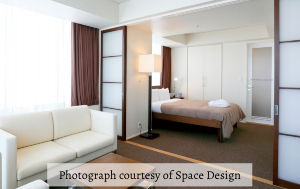 APA Serviced Residence Apartments
APA Group manages hotels throughout Japan as well as serviced residential apartments in Shinjuku and Akihabara.
APA Serviced Residence Akihabara
A two-minute walk from Akihabara Station, this location is ideal for young travelers, who are into electronics and Japanese pop culture. Akihabara is Tokyo's Mecca for technology, manga and anime enthusiasts, complete with maid cafés, theaters for J-pop idol concerts, and more. APA Akihabara is a hybrid hotel and serviced apartment with spacious bedrooms for one to three people. This makes it a great option for families or groups traveling together on business or vacation. Wall-length windows provide those on the upper floors with stimulating views of the busy streets and neon lights.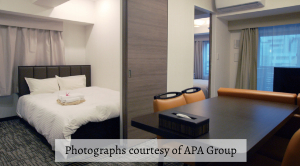 APA Serviced Residence Shinjuku
Although this is called their Shinjuku location, it is actually next to Higashi-Shinjuku Station, which is one stop from Shinjuku on the Oedo or Fukutoshin subway lines. However, it is only a one-minute walk from the station with many inexpensive restaurants, convenience stores and drug stores nearby. Half of the serviced apartments have a 2-storey layout.

Ascott Marunouchi Tokyo: Serviced Residence Near the Imperial Palace's East Gardens
At Ascott Marunouchi Tokyo, visitors can choose short- or longterm lodging in accommodations ranging from studios to three-bedroom apartments. Options include sleek and contemporary rooms as well as apartments lined with authentic Japanese tatami (woven straw floor mats) for those who appreciate a traditional touch. These fully furnished residences are in the heart of Tokyo's business and financial district and around the corner from Tokyo's Marunouchi shopping and nightlife Mecca. Subway access to all of Tokyo is reached through the building's direct exit to Otemachi Station, while bullet trains can be caught a 10-minute walk away at Tokyo Station. Additional amenities include a swimming pool, top-tier gym and outdoor terrace. Private meeting rooms are available for guests on business. At the restaurant on the 22nd floor, enjoy breakfast, lunch and dinner on weekdays (group reservation only on weekends and national holidays.)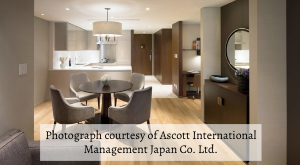 What we love:
• Located close to the East Gardens of the Imperial Palace
• Walking distance from Tokyo Station
• Direct access to Otemachi Station
Hebel Stay Daikanyama: Home in Shibuya
A six-minute walk from the Shibuya and Daikanyama stations, Hebel Stay Daikanyama has six room layouts, each with a virtual 3D walk-through to preview on its website. The cozy and stylish units have a 40-inch TV with cable and internet. Each apartment has a balcony with excellent day and night views. Two of the apartment types have rooftop balconies. All units come furnished and equipped with a refrigerator, oven range, electric kettle, rice cooker, washer, dryer and ironing board.
Guests of Hebel Stay Daikanyama receive bi-weekly housekeeping services, gym access and hotel bicycle rentals. Asahi Kasei Realty & Residence Corporation and the management company Oakhouse also organize gatherings in the restaurant next door, a great way to meet your international neighbors! For a centrally located accommodation with a safe atmosphere, try the tasteful and luxurious Hebel Stay Daikanyama.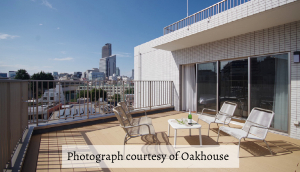 What we love:
• Each unit features a balcony with types "D" and "E" featuring rooftop balconies
• Two of the apartment types are 2-storey maisonette rooms
The complete article can be found in Issue #279 of the Tokyo Journal.