Travel to Seattle
Seattle is home to the Space Needle, the first-ever Starbucks, Pike Place Market, the Market Theater Gum Wall and other iconic attractions. It's also got a thriving food scene, making the city a destination for all foodies. The best way to explore Seattle is on foot. Sports fans can catch a game at CenturyLink Field and Safeco Field, or indulge in Pacific Northwest culture at the Seattle Art Museum, the Museum of Pop Culture and the Pacific Science Center. These are Tokyo Journal 's picks for some good centrally located, modern and historic places to stay in Seattle:
Where to Stay
Scandinavian Design in Seattle: Hotel Ändra
For a sophisticated and stylish boutique-like atmosphere in downtown Seattle, try Hotel Ändra. Selected as one of Washington's best hotels in 2016 by U.S. World & News Report, the hotel has 119 luxury guest rooms. Guests are met in the "Living Room," the hotel's lobby, replete with a fireplace and floor-to-ceiling maple bookshelves. Hotel Ändra is also home to Hot Stove Society, a cooking school run by Tom Douglas Restaurants.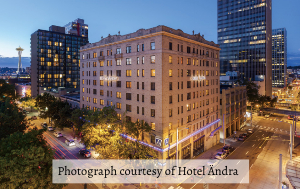 What we love:
• Chic, Scandinavian design
• Spacious rooms with ample closet space
• Amazing city views
Where to Stay
A LEEDing Upscale Modern Hotel: The Hyatt at Olive 8
Try the Hyatt at Olive 8 for an eco-friendly experience. Recognized as one of the most celebrated LEED-certified buildings in Seattle, the Hyatt is a modern hotel that refuses to compromise the comforts of home. The hotel has 346 contemporary designed guestrooms and luxury suites.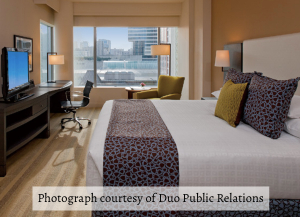 What we love:
• Award-winning Elaia spa's wide range of therapeutic treatment suites and pampering services
• Urbane, one of the Northwest's best farm-to-table restaurants
• Great customer service in the central downtown area
Where to Stay
Historical Boutique Hotel: Hotel Sorrento
In the historic downtown area of Seattle, Hotel Sorrento is Seattle's oldest boutique hotel. It opened in 1909. Interesting trivia about the hotel: U.S. President William Howard Taft was the first guest to sign the guest registry book, and USA Today named it one of the 13 most haunted hotels in the world, due to rumors that the ghost of socialite Alice B. Toklas still roams the halls. With 76 guest rooms, no two are alike!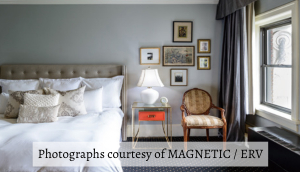 What we love:
• The hotel's historical significance
• Meticulously restored vintage furnishings and unique artwork
• Luxuriously comfortable beds with Sealy Posturepedic Crown Jewel mattresses and a variety of goose down pillows to match your preferred firmness
Where to Stay
Premier Luxury and Elegance: Fairmont Olympic Hotel
The recently renovated Fairmont Olympic Hotel exuberates elegance and luxury. Built in 1924, the hotel is listed on the National Register of Historic Places. It has 450 rooms with lavish bedding and offers outstanding service standards. It's also a local favorite for those who wish to dine in Seattle. There are two award-winning restaurants: The Georgian, a AAA four-Diamond, French-inspired Northwest cuisine restaurant; and Shuckers, one of Seattle's oldest oyster bars with a daily selection of fresh fish and crème brûlée that's to die for.
What we love:
• The dining experience
• Large, lavish rooms
• Superb service
The complete article can be found in Issue #279 of the Tokyo Journal.