Travel to Yosemite
Yosemite National Park is the most revisited park in the United States, and it's no wonder with the grandeur of Half Dome, Glacier Point, El Capitan, Tuolumne Meadows, Yosemite Falls, the Mist Trail to Vernal Fall, and its vineyards. Action seekers will enjoy rock climbing, horseback riding, archery, swimming and biking. Winter activities include sledding, tubing, snowshoe hiking, skiing and snowboarding. Here is Tokyo Journal's recommendation for a luxurious stay while visiting Yosemite. This luxury, boutique hotel is a short drive to astonishing waterfalls, soaring granite icons, giant sequoia trees and stunning natural monuments.
Where to Stay
Luxury Boutique Hotel: Château du Sureau, Oakhurst
Looking for an intimate, European getaway while enjoying the beauty of the great outdoors? Château du Sureau, an AAA 5 Diamond and Forbes 5 Star Rated resort, has been voted the sixth best hotel in California and 21st in the world. Located 16 miles from Yosemite National Park, Château du Sureau is a lavish, nine-acre boutique estate in the foothills of the Sierra Nevada Mountains. Its Provençal architecture, stone walkway and enchanting garden will equally amaze. Through the large wooden front door, high ceilings and arched windows await, as do Persian rugs and 300-year-old ceramic French tiles. Medieval tapestries and oil paintings adorn the hallways. The sophisticated style and design has attracted celebrities such as Sir Anthony Hopkins, Barbara Streisand and Robert De Niro, plus Silicon Valley CEOs and globetrotters. Erna Kubin-Clanin is the chateau's proprietress and creative visionary. Of Austrian descent, she was determined to share a piece of her homeland's beauty. She also created the award-winning Erna's Elderberry House Restaurant, which offers exquisite French fare and a royal old world ambience. A feast for the eyes, the farm-to-table menu is a seasonal, pre-fixed five-course wonder.
What we love:
• Impeccable service
• Attention to detail
• Luxurious and romantic getaway
• Endless activities within and outside the property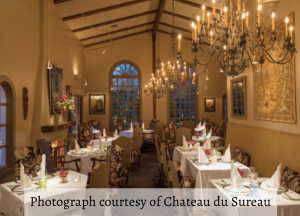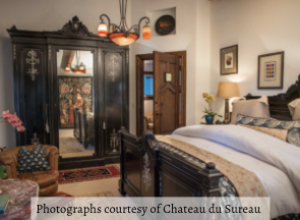 The complete article can be found in Issue #279 of the Tokyo Journal.