Where to Stay in Tokyo
Chic Boutique: Hotel S Roppongi
If you like the personal touch and prefer to avoid the hustle and bustle of big hotels, the Hotel S is a stylish choice. Located just a short walk from Nishi Azabu crossing and near the Roppongi District of Central Tokyo, the lodging doubles as a designer hotel and residence with serviced apartments that share restaurants, a library lounge, and meeting spaces with a relaxing ambience for their international trendsetting clientele. The rooms are available in a variety of unique themes and designs such as Luxury, Japanese Style Room–Zen, Hanging Garden, Patio Room, Hollywood Twin and Four Cube. They range in size from 17-45 square meters. The bilingual staff are personable and helpful.
What We Love
Intimate and stylish design
Walking distance to popular shopping areas and museums
Great breakfast buffet that changes daily
Modern Tokyo Meets Old Edo: Gate Hotel Kaminarimon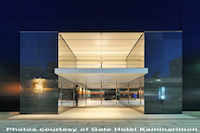 THE Gate Hotel Kaminarimon is another stylish choice located adjacent to some of Tokyo's most important historic sites. The 13th floor lobby, rest and a wonderful panorama of Tokyo's cityscape. Just across the street from this modern hotel, with its subdued style, are the historic Kaminarimon Gate's sculptures of Shinto deities and a four-meter-tall lantern. tj
What We Love
Spectacular views
Walking distance to Asakusa's historic Kaminarimon Gate and Sensoji Temple
Short Walk to Asakusa Station
Majestic Experience: Palace Hotel Tokyo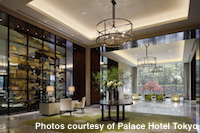 THE Palace Hotel Tokyo's half-century legacy combined with its full reconstruction in 2012 has resulted in an elegantly contemporary luxury hotel experience with a unique location and exemplary service. The hotel is in the heart of the city within walking distance of the economic and retail hub of Marunouchi. The rooms that face south overlook the tranquil Imperial Palace moat and gardens with a cityscape of the Tokyo Tower and modern skyscrapers in the distance. The luxury experience begins when you enter the palatial lobby and continues to your room where the bilingual hotel staff gives you a detailed guided tour of the room's features unmatched by other hotels. Although there are a plethora of food options in the Marunouchi area, the hotel has 10 restaurants and bars and a grand breakfast buffet. tj
What We Love
More than half the rooms feature a considerably large balcony-a remarkable feature in crowded Tokyo
The breakfast buffet with tables on an outdoor terrace overlooking the Imperial Palace moat
Underground passageway that directly connects the subway station to the hotel
Luxurious, Quiet & Central: The Westin Tokyo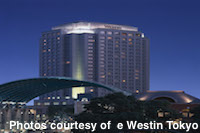 THE Westin Tokyo's magnificent European Classic/empire style hotel is surrounded by abundant greenery while still located within walking distance of Central Tokyo's Ebisu Station, providing easy access to Tokyo'snearby entertainment, business and tourist districts. The bilingual service is personal and the rooms are large with bathrooms that can accommodate families. The west- ern-sized suites are grand for Japanese standards. World-class cuisine and elegant ambiences can be found in the restaurants, bars and lounge.
Every aspect of The Westin is carefully designed to reflect the brand message of "For a better you." The Westin provides healthful options and environments that indulge all of the senses, and educates guests in their well-being before, during and after their stay so that guests leave feeling better than when they arrived.
The Westin prides itself on the six pillars of its Well-Being Movement: Sleep Well, Eat Well, Move Well, Feel Well, Work Well and Play Well. The Tokyo Journal took a look at how the hotel fares in each of these pillars.
Sleep Well: Heavenly. The Westin's Heavenly Bed provides a blissful sleep that makes you forget you're away from home. Billowy down blankets, five plush pillows and sumptuous pillow-top mattress...a combination so divine, you'll never want to get out of the bed. Sleep well, and meet the challenged of the day head-on.
Eat Well: The hotel helps guests maintain a healthy lifestyle on the road with delightful and nutritious dishes. Although the adjacent Ebisu Garden Place and surrounding Ebisu area have abundant food choices, there are nine restaurant and bar options available with French, Japanese, and Cantonese cuisine. There also is a sumptuous international buffet, afternoon tea, and deli/baked good choices. The Westin features antioxidant-rich and lowcalorie SuperFoodsRx dishes packed with nutrients and energy–from whole-wheat blueberry pancakes to all-natural roasted turkey wraps and black bean hummus.
Move Well: The hotel's fitness center, gear- lending program and local running maps allow you to keep fit while packing light (for a modest fee). WestinWORKOUT combines state-of-the-art equipment and high-performance workouts to create a customized solution for guests who are committed to maintaining an active life- style during their travels. The partner- ship with New Balance makes staying fit on the road more convenient than ever. The Westin delivers fresh, clean athletic shoes and fitness apparel right to your guestroom, for a nominal fee, through their gear lending program. The hotel also hosts a group jog with their RunWESTIN program. The Run Concierge will share interesting facts about the area.
Feel Well: The Westin's refreshing amenities and uplifting spa treatments help guests relax after a day in bustling Tokyo. Soothing scents and botanicals with atmospheric lighting and music let you shift modes the moment you enter the hotel. The gorgeous Westin Garden allows you to unwind in a Japanese garden in the heart of Tokyo.
Work Well: The English-speaking concierge and 12 upscale meeting spaces are invaluable resources for the business traveler. The meeting rooms provide clutter-free meetings with streamlined stations of paper, pens, glasses, and water, keeping the main work area open and clear.
Play Well: The Westin Weekend allows you to enjoy late checkout on Sundays and extended breakfast hours to help your weekend last even longer. Lounge in the Heavenly Bed, energize in the WestinWORKOUT fitness studio, or treat yourself to Le Spa Parisien's therapeutic massage, steamroom, or sauna. tj
What We Love
Luxurious and relaxing experience in central Tokyo
Gorgerous Japanese garden
Heavenly Bed
The complete article can be found in Issue #276 of the Tokyo Journal. Click here to order from Amazon.