Meet Hikari Takara
Actress develops her career by learning English in Southern California
Tokyo Journal has zeroed in on eighteen-year-old actress Hikari Takara as a rising star in the international movie scene. Beginning her acting career at the age of twelve, Hikari has appeared in movies, TV dramas, and commercials. Following the release of her movie "Innocent Lilies," Tokyo Journal first interviewed Hikari in fall of 2013 when Hikari moved to California to study English and do a homestay with an American host family. After a year in California, Tokyo Journal caught up with Hikari again. Hikari has her sights on being in a Hollywood movie and becoming a global star. Although she still has a long way to go, she has her acting experience complimented by her stunning appearance, height, newly founded English ability, dance skills, and some impressive martial arts moves. Prior to returning to Japan to resume her acting career, Tokyo Journal followed Hikari as she shows us some of her favorite hangouts and attractions in Southern California.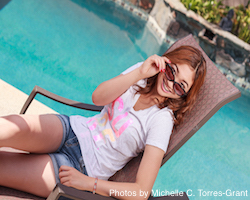 Homestay and English School
"I did a homestay with my host mom, host dad and two of their five daughters. There were also five students including me. Throughout my stay, the other students were from Korea, Turkey, Kazakhstan, Colombia, and France. They were such a nice family, so every day was really fun. At school I was able to meet a lot of friends from many countries and learn about their culture."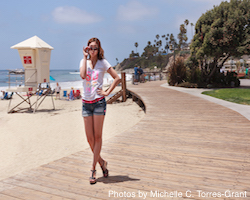 Laguna Beach
"I love Laguna Beach because it has lots of small art galleries and shops with gorgeous beaches. It's in the O.C. between L.A. and San Diego."
South Coast Plaza
"I enjoy shopping at South Coast Plaza because it's a huge shopping mall with all the high class brand name shops."
Segerstrom Center for the Arts
"This building is so beautiful and they have classical concerts, Broadway shows, and a lot of other great performances."
Anaheim: Disneyland and Los Angeles Angels of Anaheim
"Anaheim is one of the funnest cities in the O.C. – it has Disneyland, Disney California Adventure, Downtown Disney and the Los Angeles Angels of Anaheim MLB baseball team!"
Flight Deck Air Combat Center
"My favorite thing in Anaheim was flying an F-16 jet fighter in a simulator. Next time I hope there is less crashing!"
Walt Disney Concert Hall
"The design of the Walt Disney Concert Hall is so cool and I was surprised to learn the acoustics were designed by a Japanese!"
Hollywood
"Hollywood is definitely an interesting place to visit"
Universal Studios Hollywood
"I liked the studio tour and pictures with the Minions and the Transformers were a lot of fun!"
The Grove
"I love shopping, shopping and more shopping, so I love the Grove… and great food next door at Farmers Market!"
Rodeo Drive
"Window shopping in Beverly Hills is a lot of fun. Rodeo Drive has all of the top brands in the world."
Santa Monica Pier
"Santa Monica is a popular area and the promenade and pier always have lots of street performers, snacks, shops and amusement rides – classic California fun!"
The complete article can be found in Issue #275 of the Tokyo Journal. Click here to order from Amazon.