Asia's Korean band fad is going global with top Western entertainment venues hosting performances by Korean dancers and musical artists.
K-Pop Goes the World
Surprising Attendance in California
The lights go on. The pounding dance beat starts. And 12,000 screaming fans rise to their feet in the Honda Center in Anaheim, California. Acclaimed record producer Quincy Jones watches from his suite. Is this Beyonce? Rhianna? Lady Gaga? Nope. It's an all-star concert featuring the likes of Girls Generation, Super Junior, BoA, TVXQ, f(x), EXO and SHINee. How can bands not played on American Top 40 radio fill a U.S. arena? Well, these are Korea's top pop bands, and they played S.M. Entertainment's third world tour on May 20, 2012. SME, a Seoul-based independent record producer, has held previous world tours with stops in New York, Los Angeles, Paris, Tokyo, Shanghai, Beijing and Taipei. Yeah, but was Anaheim's Honda Center filled with 12,000 Koreans and Korean Americans? Nope. Around two thirds of the fans were non- Korean, a sign of the spreading popularity of Korean pop.
Click here to see a Photo Gallery of the SM Town World Live III Concert in Anaheim, California
YouTube Sensations
If K-Pop music isn't being played on the radio, how are fans discovering these acts? YouTube. An unlikely emergent is called "Psy." He is a flabby, middle-aged looking guy, who with his "horsey dance", came out of nowhere and took the world by storm in 2012. At the time of print, he had the most watched and most liked YouTube video of all time with over 815 million views and the Guinness World Record for breaking 2.9 million "likes" on YouTube with "Gangnam Style." Psy knocked viral legends such as Rebecca Black and Lady Gaga down the charts in his international hit count, and became the #1 downloaded song on iTunes. No wonder Schoolboy Records (the label of Justin Bieber's manager Scooter Brown) signed him. Korea's JoongAng newspaper has reported that K-Pop videos on YouTube were viewed nearly 2.3 billion times from 235 countries in 2011, three times more than the previous year's record of 800 million views. The majority of clicks were from Japan with 423 million, followed by 240 million views in the U.S., 220 million in Thailand, 180 million in Taiwan and 170 million in Vietnam. But is K-pop growing outside Asia and the U.S.? Interestingly enough, the United Arab Emirates and Kuwait brought in 4.8 million and 1.7 million views, respectively.
TVXQ Earn Guinness World Record for Fan Club Size
TVXQ, an acronym for Tong Vfang Xien Qi and stylized as TVXQ!, is a South Korean pop group formed in 2003. In South Korea they are known as Dong Bang Shin Ki and in Japan as Tohoshinki. Since their debut, TVXQ has released five Korean albums, five Japanese albums, over 20 Korean singles and more than 30 Japanese singles. According to Korea's national record ranking, the Gaon Chart, TVXQ as of March 2012 had sold over 10.1 million copies of albums, singles and DVDs throughout their career in Korea and Japan alone, and 20 million album copies worldwide. They have two official fan clubs in Korea and Japan, with the Korean fan club, Cassiopeia, earning a Guinness World Record in 2008 when 106,000 fans joined within two days. It is now one of the largest fan clubs in the world, boasting 1.5 million members in Asia and 5.5 million worldwide.
BoA First Korean Pop Star to Break into Japanese Market since WWII
BoA is one of the biggest artists in Asia, having sold over 20 million records worldwide. She debuted in the top 10 on Korean charts at the age of 13, and was the first Korean pop star to break into the Japanese market since World War II. Since then she has released more than 30 singles in Japan. In 2009 she released her first album in the U.S., securing #127 on the Billboard 200 ranking while her single, "Eat You Up," reached #9 on Billboard's Hot Dance Club Play chart.
Rain Included in Time Magazine's 100 Most Influential People Who Shape Our World... Twice
Singer, dancer and actor Jung Ji-Hoon, known by his stage name Rain, debuted in South Korea in 2002 and toured in 2006 to Singapore, Malaysia, Thailand, Vietnam, China, Japan, Taiwan, Australia, Canada and the U.S. His two-night performance at New York's Madison Square Gardens sold out within days. His May 25, 2007 concert at Tokyo Dome, Japan's largest auditorium, drew 40,000 people and earned him recognition as the first Korean artist to perform there. In both 2006 and 2010, Rain was included in Time magazine's "100 Most Influential People Who Shape Our World," and in 2007 Rain made it into People Magazine's 2007 list of the "Most Beautiful People" in the world. In 2008 he competed against American comedian Stephen Colbert in a dance-off on a Dance Dance Revolution videogame machine on The Colbert Report, an American satirical program on Comedy Central. In addition to singing and dancing, Rain has a notable acting career that began in 2004 with the popular Korean drama "Full House" that went on to air in the Philippines, Malaysia, Indonesia, Singapore, Vietnam, Thailand, Hong Kong, China, Japan, Turkey, Morocco, Sri Lanka, Taiwan, Israel, Cambodia and the U.S. He later broke into Hollywood with a 2008 appearance in "Speed Racer" and had the lead role in 2009's "Ninja Assassin," which earned him the "Biggest Badass Award" at the 2010 MTV Movie Awards.
Wonder Girls First Korean Group to enter the Billboard Charts
The Wonder Girls broke into the North American market in 2009 as an opening act for the Jonas Brothers' World Tour, performing the English version of their hit single "Nobody." In late 2009 "Nobody" came to rank 78 on the Billboard Hot 100 chart, making the Wonder Girls the first South Korean group to enter the chart. This helped them secure performances at Justin Bieber's 2010 Valentine's Day Concert and at the 2011 Special Olympics closing ceremonies in Athens, Greece.
Super Junior Acknowledged by Media as the Leading Icon of the Korean Pop Culture Wave The third album by Super Junior, a group of actors, singers and models formed in 2005, was the best-selling K-pop album in Taiwan, Thailand, China and the Philippines, with the latter crediting it to be the first K-pop album to reach #1 in that country's music charts. Super Junior have been featured on CNN's Talk Asia program and achieved recognition beyond Asia, especially in Europe, North America and South America. Peru's Top 30 ranking of "The Sexiest Men in the World" included all the members of Super Junior. The group has interviewed for Slovenian and Iranian magazines and was selected by Brazilian Korean Pop Culture (Hallyu) fans as the #1 Korean artist they want to visit Brazil. Super Junior was acknowledged by the U.K.'s BBC and Mexico's TV Azteca as the leading icon of the Hallyu wave.
Girls' Generation Become First Korean Artists to Perform on U.S. Late Night Talk Show
On January 31, 2012, Girls' Generation made their U.S. television network debut on the David Letterman show, followed by a performance on the daytime talk show "Live! with Kelly." They performed their English single "The Boys," written by Teddy Riley, famous for his work with Michael Jackson
U.S. Producers and Entertainers Taking Notice
Twenty-seven-time Grammy Awardwinning producer Quincy Jones has not only been seen at K-pop concerts in New York and Los Angeles but has visited South Korea to investigate the music industry for himself. According to allkpop.com, when asked at an April 2011 press conference in Seoul if he thought Korean artists could succeed in the U.S. market, Jones responded, "I'm usually someone who's stingy about compliments, but I think they could succeed. I don't have any concerns over the artists that I've met so far because they already have a sufficient amount of competitiveness in them.
I don't have any concerns over the artists that I've met so far because they already have a sufficient amount of competitiveness in them. From their choreography to their body language, all artists had an intrinsic nature for music, regardless of genre. I really met some of the best artists out there and I want to say that their chances of succeeding are very high." Quincy Jones is not the only American celebrity to see the power of K-pop. Will.i.am, a producer, rapper, singer and member of The Black Eyed Peas, has been working with K-pop girl group 2NE1. And actor Jack Nicholson, an unlikely fan of K-pop, purchased 10 tickets to attend the 2010 L.A. SM Entertainment World Tour. The global popularity of K-pop and Hallyu has been steadily building steam with no signs of slowing down. As U.S. President Barack Obama said in his March 2012 speech at Hankuk University in Seoul, "It's no wonder so many people around the world have caught the Korean Wave, Hallyu." tj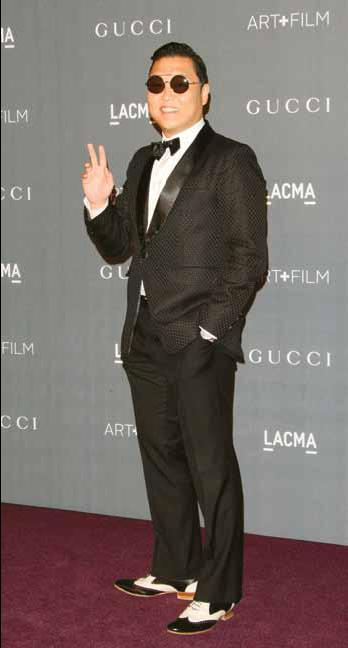 This story appeared in Issue 270 of the Tokyo Journal.
To order Issue 270, click here.