EXILE: A Quest for Eternal Success
Interview by Anthony Al-Jamie and Elizabeth Mays Photographs by Shane Karns
EXILE is an all-male J-pop group that over the past two decades has evolved from a boy band to a multi-generational entertainment empire. Six of EXILE's 11 studio albums have gone platinum, with over 20 million sold in Japan alone. The group has had four generations of members, beginning in 1999 as J Soul Brothers and continuing today as EXILE. The group's founder, Hiroyuki Igarashi, better known as EXILE HIRO, has retired from performing, but he oversees the band as chairman of its management company, LDH JAPAN Inc. LDH produced a supergroup of artists known as EXILE TRIBE, a collective that includes EXILE, EXILE THE SECOND, J SOUL BROTHERS III, GENERATIONS, THE RAMPAGE, FANTASTICS, BALLISTIK BOYZ, and Gekidan (Theater Company) EXILE. LDH has branched out globally through a score of initiatives ranging from music production and artist development schools to apparel, martial arts, modeling, film production and distribution, organic food production, and wedding planning. Members and EXILE TRIBE have also ventured into the world of acting, including Ryohei Kurosawa, better known by his stage name EXILE AKIRA, who appeared in Martin Scorsese's Silence; Naoki Kobayashi, a lead actor in the Netflix original film Earthquake Bird executive produced by Ridley Scott; and Ryuji Imaichi. Each of these members appeared with Hiro at the 2019 Short Shorts Film Festival (SSFF) at Japan House in Hollywood. This interview was conducted on January 17, 2019.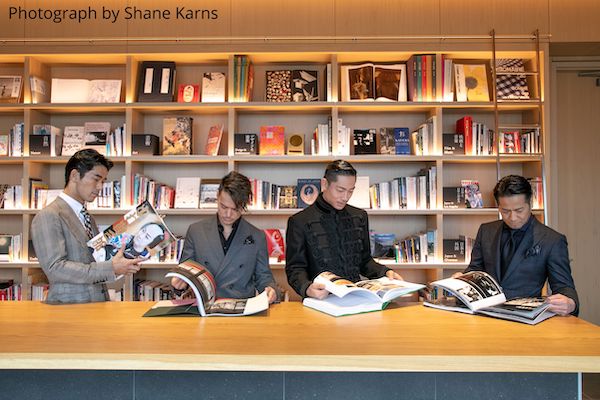 TJ: What is unique about EXILE?
HIRO: Something that makes us unique is that each of us leads our own individual artistic projects in addition to our musical career. Some of our members act and sing individually, one of our members has an apparel line, and one even has his own coffee brand. So, EXILE is not just a group, but it is also a project where all dreams can come true. That's our mission at LDH.
TJ: What is your favorite thing about EXILE?
AKIRA: Hiro was just saying that we support each other's dreams beyond dance and vocals, which is what the group is known for. That, I think, is a real strength. EXILE is more like a sports team. Its ethos will live on even if Hiro retires. That's why he says it's like a project.
RYUJI: I was given a dream by EXILE and became a member of J SOUL BROTHERS III. Through Hiro, we're really able to move towards our own dreams with the support of everyone else. There's nothing else like it.
HIRO: We've grown so much from the start when we were a small group and didn't have a lot of sales. Through that growth, we've always had this unifying factor and always banded together. It really is about the family connection, which is so strong. So, that's my favorite part.
NAOKI:I actually have two things! One of them is touring. There was one tour where there were two million people in the audience. I'm a dancer in this group, and normally it would be impossible for a dancer to perform in front of such a large crowd. EXILE has provided new opportunities for people like me. The second thing is that it's been 12 years since I started JSB III, and I never would have dreamed I'd be in a Netflix movie that would be released in theaters. It's all thanks to the growth I've been able to go through with this group.
TJ: How do you feel about attending the Short Shorts Film Festival in L.A.?
AKIRA: Naoki and I are ambassadors for the Short Shorts Film Festival this year [2019]. I'm really honored and grateful that we're able to take on such a role and show the world all 10,000 of these amazing short films. We have studied a lot and really just devoted ourselves to these films. I'd love to make my own short film someday and submit it to SSFF.
TJ: Naoki, what has been the most enjoyable role that you've played in your acting career?
NAOKI: I think it was the Netflix one [Earthquake Bird]. I was playing a Japanese person who is in love with a foreigner. That role taught me we could connect to each other regardless of the language.
TJ: Akira, what was it like to narrate for the film Mifune: The Last Samurai?
AKIRA: Keanu Reeves narrated the U.S. version and I did the Japanese version. We were the only two people who narrated, so I really felt a lot of pressure. When you say Mifune: The Last Samurai to a foreign audience, I think you feel a lot of passion. But to Japanese people, he is really big — like an ocean. I think it's really my duty to share that with the world. I'm very proud to be working with Keanu on this project and I really tried my best.
TJ: Along those same lines, are you a fan of the actor Toshiro Mifune and the acclaimed filmmaker Akira Kurosawa?
AKIRA: My stage name is Akira! I'm a huge, huge fan. Just recently, I was able to meet with a lot of the staff and crew that worked with Akira Kurosawa, and it's really like one big family. They're still carrying that torch and they are still very legendary in Japan. When I worked with Martin Scorsese on Silence, he always mentioned Kurosawa and his filming techniques. That's how much of an impact he's had, so I'm going to try to live up to my name — Akira.
TJ: Ryuji, can you tell us about some of the collaborations you've done outside of JSB?
RYUJI: I've done a lot of solo performances in different arenas and venues and have shot several music videos. I've also collaborated with a lot of different people like Daniel Arsham in New York. This isn't the standard when you are part of a group, but at LDH I've had these opportunities. I believe my range of expression has really increased through these experiences.
TJ: Hiro, can you tell us a little bit about the LDH world?
HIRO: LDH Japan is obviously all about entertainment. There's EXILE and there is JSB, and that sort of thing. Now we're starting to branch out into the world with LDH Europe, LDH USA, and LDH Asia, our subsidiaries in respective areas. In the U.S., there's going to be a dance and vocal school, as well as restaurants and apparel. In Europe, we have hired Afrojack, the famous DJ, as our president. So, under the umbrella of love, dream, and happiness, we're adapting our project to Europe and the USA. It's beginning to spread and I'm very excited. I think it's very similar to what Japan House is doing by opening up Japanese culture to the rest of the world.
tj
The complete article can be found in Issue #280 of the Tokyo Journal.