The Tange Legacy: Like Father, Like Son
An Interview with Architect with Paul Noritaka Tange
Paul Noritaka Tange is an architect who graduated from the Harvard University Graduate School of Design in 1985. As the son of Kenzo Tange, one of the most world-renowned architects of the 20th century, Tange was exposed to architecture and design from a very young age. He developed his father's passion for architecture and joined his father's firm, Kenzo Tange Associates, where he later became president of the company in 1997. He has since founded his own architectural firm, Tange Associates, and risen to international prominence, designing buildings across Asia and the United States. He has been working hard to prepare for the Olympics in Tokyo, upgrading and designing important features of the Olympic landscape. Tokyo Journal Editor-in-Chief Anthony Al-Jamie spoke with Paul Tange to discuss his current and future projects, including his design role in the upcoming Tokyo Olympics.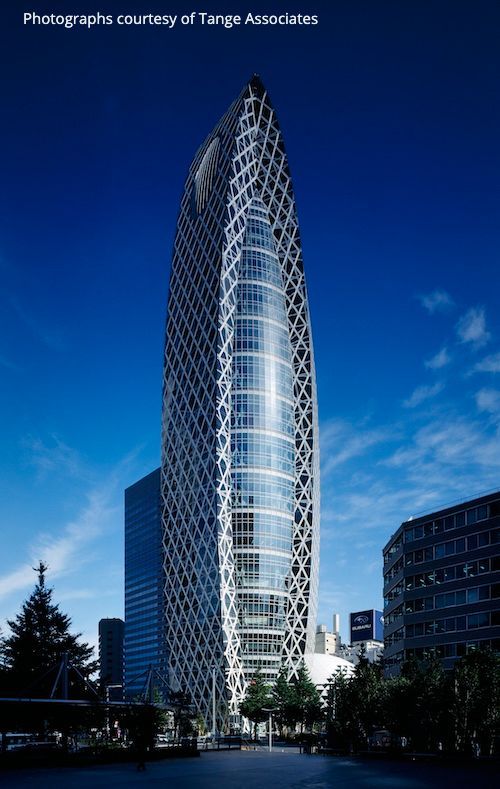 TJ: The last time we spoke, you mentioned the prosperity that the Olympics would bring to Japan. It is amazing that since then you have had the opportunity to work on the Tokyo Aquatics Centre, the same type of building that your father created for the Olympics in 1964. Can you tell me a little bit about that?
TANGE: Of course. While our work has taken place during different time periods, we are thankful to have been able to work on the swimming venue in Tokyo. It has been an honor for us both to be able to serve our country for the Tokyo Olympics.
TJ: I understand that you are working on the Yoyogi National Gymnasium project, which was actually built by your father.
TANGE: Yes, we are currently upgrading the building in preparation for the Olympics. While respecting the original design, we have made changes to adjust to the modern expectations of the Olympics. Primarily, we want to ensure that the building is structurally sound in case of an earthquake. We have also worked to upgrade aspects of the gymnasium, including the addition of more comfortable seating and increased accessibility. While we have avoided making too many changes, we hope to achieve the modern Olympic standard.
TJ: Can you tell us about the 2020 Tokyo Aquatics Centre?
TANGE: Yes. The 1964 Olympic swimming venue, which is the Yoyogi National Gymnasium, has been updated and the pool has been replaced with wooden floors. It is now being used as a concert venue for the sake of maintaining its legacy. We have actually designed a new aquatics center with Yamashita Sekkei and Arup for the Tokyo Olympics. It was completed in March 2020.
TJ: With all of this going on I would assume you've had a lot of time to think about your father. Can you tell me what your favorite thing is about him?
TANGE: His level of concentration. With my father, there were never any loose ends. He was very much a perfectionist, and I respect the level of care he had for every aspect of his work. While he was kibishii (strict) with both me, as a son, and all the architects he worked with, he was strictest with himself. He always wanted to push himself to the limit and expected the same of his colleagues. I respect that the most and hope to continue the tradition of his legacy.
TJ: Your father did a lot of teaching as well, didn't he? Are you interested in teaching?
TANGE: Our company was called "Tange School," and when you wanted to leave the company, you did not ask, "Please let me quit the company." Instead you asked, "May I have permission to graduate?" My father was always referred to as a professor in English and as a sensei in Japanese. He also taught at both the University of Tokyo and Harvard University during his lifetime. On the other hand, I am not as interested in teaching. I don't want to elevate myself to the position of a professor. I would rather everyone feel comfortable talking to me regardless of our levels of experience. I have been offered positions at a few universities, but I have not had enough time.
TJ: I understand that you have compared architecture to a watch. Can you tell us about that?
TANGE: I think there are similarities between architecture and watchmaking. With watches, size is very limited. Within a particular range of sizes, you can add various different functions. Of course, time-telling is an essential feature, but some watches also include a chronograph, a calendar, or the functions of a phone. The challenge is to determine how much you can include in a limited space. Architects share the same challenges — the challenges of functional beauty and creativity.
TJ: What is your typical process for bidding on international architectural projects? Do you work with other architects abroad?
TANGE: Sometimes we join a competition, or sometimes we are invited to work on a project by a developer or client with whom we have worked before. We always collaborate with local registered architects on projects outside of Japan. We have experience working with architects from more than 30 countries.
TJ: Tell me about the process of finding inspiration. You have talked about speaking to clients and understanding their interests, but do you have a specific process through which you derive inspiration?
TANGE: Inspiration comes because you are always thinking about the various different issues you may confront. At some point you find a solution and the pieces of the puzzle all fit together. Often when I'm in the car looking at the scenery and daydreaming, I come up with different ideas. It's not always when I'm sitting at my desk that potential solutions come to mind. Old architecture, new architecture, scenery – it all inspires me! For me, inspiration is a process of seeing, learning, and studying different features of my environment.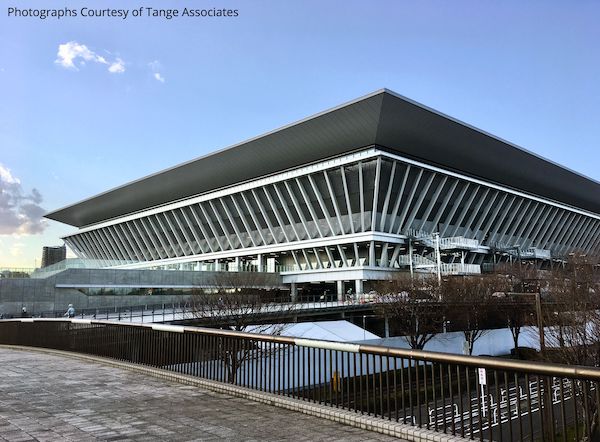 TJ: Are you excited about doing international work?
TANGE: Absolutely. I always complain that I have to travel so much, but I have been doing it for 35 years and continue to enjoy it. I always learn a lot from different places, people, and environments. I even ask my architects to travel as much as possible, just to explore and learn from different cultures.
TJ:Have you done a lot of work in the United States?
TANGE: My first work outside of Japan was in Chicago for the American Medical Association Headquarters. I was traveling between Tokyo and Chicago every other week. It was very exciting, but also very cold. We just finished working on a bank for a Singaporean client whom we have also done work for on Fifth Avenue in New York. At the moment, we are not promoting our business in America because there are so many good architects in the U.S. Although, if a client comes to us, we are more than happy to work with them. Of course, one day we would like to do more work in America.
TJ: Do you have interns who work for you? Do you have interns from abroad?
TANGE: Yes, we have interns every year, usually two or three university students from different countries. Some interns join us as full-time staff after they graduate. Currently we have three former interns working with us, a Lithuanian, a Malaysian and an American. In the Tokyo office alone we represent five different nationalities, and globally we represent more than 10.
TJ: How should architectural students go about applying to your program? Should they go to your website?
TANGE: Applicants can submit information through our website. If we think it's a good fit, we will follow up with an interview.
TJ: Do you see yourself acting like an architect in other aspects of your life? Do you see your architectural background coming out when you're cooking breakfast?
TANGE: I am drawn to beautiful things. Of course, the very immediate features of my life are interior design, furniture, and fashion, things that I see and interpret through my background in architecture. But there is much more I understand through an architectural lens. Many people describe architecture like conducting an orchestra. I cannot play the piano, I cannot play the cello, but I can understand these instruments, these musicians, and the sounds they make. I look at all different kinds of things in a very architectural way, even when I don't recognize that I am doing it. All kinds of creators have different talents, but we are all in a creative world; even bankers are creative. They sell only one thing, money, but they are creative enough to sell the same thing to very different people.
TJ: Do you see a big difference between Japanese architecture and architecture in the West?
TANGE: Maybe you've heard this time and time again, but a big difference in Western architecture is the presence of stone. Asian architecture is predominantly wood-based. While there is beauty in both, they are conceptually very different. In Western architecture, stone provides a very clear divide between the inside and the outside. In Japanese or Asian architecture there is a sense of ambiguity — engawa. Asian architecture often incorporates nature. There are no big walls that make it clear whether you are inside or outside. On the other hand, Western architecture provides a clear divide between the indoors and the outdoors, often keeping nature on the outside.
TJ: Recently, there has been a huge influx of foreigners to Japan. Do you have any recommendations for where foreign travelers might visit while they are in Tokyo?
TANGE: As far as experiences are concerned, Omotesando and Ginza make for wonderful shopping experiences. Of course, Meiji Shrine is essential for a first-time visitor. Also, at the newly developed waterfront area, there is an experimental art form, similar to teamLab, called "Borderless." Mori Museum always has a good selection of contemporary art exhibitions. In terms of travel, Osaka nowadays is quite exciting; there is so much street food like takoyaki. Typical hotspots are Tokyo, Osaka, and Kyoto, but Nagoya is also very interesting. You must also visit hot springs, of course; it is an essential experience.
TJ: : What buildings would you recommend they take a look at?
TANGE: Of course, the more historical, traditional architecture such as temples, and shrines are beautiful features of the Japanese landscape. However, it is also important to appreciate modern architecture. In Japan, it is very interesting to see how many old and new buildings coexist alongside one another. The juxtaposition of old and new creates a very unexpected harmony that is unique to Japan.
TJ: : Can you tell me more about the projects that you have going on now or will be working on in the near future?
TANGE: Right now, I am working on projects in Japan, Taiwan, the Philippines, Indonesia, Malaysia, Singapore, mainland China, Hong Kong, and the Middle East. I believe I have a social responsibility to adapt to the environment that I am working in. In each country, the environment is different, and with that comes entirely different architecture which makes for very exciting work. While it is not the most cost-effective method, it is important to have good relationships with the country, environment, and people.
TJ: : Is there one building that you are most proud of?
TANGE: If you ever asked my father, he would say, "The next one," and I choose to live by that. While every project is very dear to me, there are always new ideas to explore and improvements to be made. It's all a constant challenge, but it is an exciting adventure. However, a very important achievement for us was when we created the Mode Gakuen Cocoon Tower in Shinjuku and received news that the building had been chosen as one of the 50 most influential tall buildings in the last 50 years by an American architectural association. Hopefully, the Tokyo Aquatics Centre will also gain recognition in the future.
TJ: : Do you have a dream project?
TANGE: I always find this to be a very difficult question. Architects are trained to adjust to the challenges of working within specific constraints, such as time, size, budget, etc. The notion of a "dream project" itself is a challenge. Without limits or constraints, the challenge becomes creativity. If ever I am asked to do a project without limitations, it would be interesting to think about, but for right now I am busy thinking about my real projects.
TJ: Do you ever plan to retire, or do you think you'll continue to work forever?
TANGE: I have imagined my retirement, but it is very difficult to put an end to my life as an architect. In theory, I could take on fewer jobs, or maybe work as an advisor in my company, but in actuality, I will continue to work as much as possible and plan for the future of Tange. I am always talking to my wonderful team of architects about succession plans because my father left a legacy of Tange, and I would like it to continue into the future. For now, I will be staying on as long as possible, but hopefully, one day, the company will continue without me.
tj
The complete article can be found in Issue #280 of the Tokyo Journal.