AS we near the end of 2012 and prepare for 2013, the Tokyo Journal Winter Edition Issue #270 is about to hit the shelves. Storefronts are decorated in Christmas cheer and year-end parties are certainly near. Although the year's end is usually a time for closure, there is much astir in Tokyo this winter.
In Politics
On December 16, elections will be held for Japan's lower house of parliament. Pundits predict a comeback for the Liberal Democratic Party (LDP) led by conservative Shinzo Abe, Japan's 90th prime minister who stepped down in 2007 after only one year in office.
However, hoping to attract Japan's disenchanted voters, nationalistic former Tokyo Governor Shintaro Ishihara and his controversial counterpart, Osaka Mayor Toru Hashimoto, have merged forces to create a "third force" in Japanese politics.
They are a worrisome duo. Hashimoto recently threatened the civil rights of tattooed public workers (see this issue's "Tattoo Culture Takes Hold"). The unpredictable Ishihara instigated the alarming rift between Japan and China by trying to purchase disputed islands.
When Ishihara abruptly stepped down from his long-held position as the governor of Tokyo to form his new party, Japan's Education Minister Makiko Tanaka called him a "wild, reckless, old man." Ishihara responded: "I may be reckless, but I am a determined reckless old man".
Visionaries
Out of this confusion, perhaps a visionary will step forward. Japanese politics sure seems void of them, even though the country has given birth to many innovators. In our feature story, "Japan's Seven International Samurai," we introduce several such individuals.
The Nuclear Crisis
There is a palpable feeling of dissatisfaction and anger on the street. Over the past year, the Fukushima crisis has given rise to the country's largest anti-government demonstrations since the 1970s. Every Friday since March, large crowds have protested in front of the prime minister's official residence. This issue features close-ups of the nuclear protests, while Prime Minister Naoto Kan's special advisor and nuclear expert, Dr. Hiroshi Tasaka, takes us behind the scenes to understand the crisis from his insider perspective.
Getting on with Life
While we wait for answers to our political questions to unfold, we do what everybody else does in Japan. We go on with our lives. Recent visitors are surprised to find a lack of crisis on the streets. Especially in Tokyo things appear fine. The roads and shops are crowded, people are well dressed and the city exudes an unequaled style.
On the Fashion Forefront
On the topic of style, TJ columnist and renowned fashion designer Junko Koshino challenges our conceptual fashion boundaries, while on the streets it is tattoo stockings and platform shoes that own the sidewalks. Although Tokyo is far removed from nature, the city's fashionistas have decided to borrow from this old source of beautiful colors. Over the past few weeks, natural earthy tones like seal brown, cedar green and oyster have been springing up like mushrooms.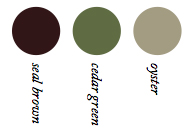 Have a Happy New Year
If the Mayans are correct, TJ wishes you well and we will refund your subscription in the next life. If not, it's time to start your New Year's resolution, and we'll see you again next spring. tj
Kjeld Duits
Tokyo Street Editor
To order Issue 270, click here.