Design Festa
There is more to Design Festa than Meets the Eye
The International Art Event Design Festa, known as Design Festa, is a large biannual convention focusing on art, performance, fashion and music. Tokyo Journal discussed the event with Design Festa's overseas public relations coordinator, Sarah Feinerman.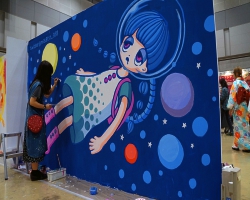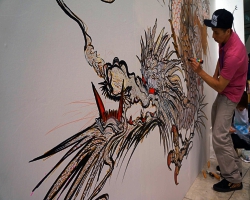 TJ: Can you tell us about Design Festa and what kind of events you organize?
FEINERMAN: Design Festa is an art and performance event for anyone and everyone. I actually kind of hesitate to refer to it as an "art" event, as labeling something as artistic can give the exact impression of exclusiveness and cliquishness that Design Festa was founded to demolish. You do not have to be an art aficionado, an experienced artist or even have the slightest interest in the world of contemporary Japanese art in order to have a fantastic time at Design Festa. There is certainly a lot of artwork, and if seeing the world of Japanese art evolve before your eyes is something you are interested in, then you will certainly find your calling here. But with the music, live performances, cuisine and sheer volume of people from all walks of life that we welcome at each event, there is absolutely something for everyone. In August of 2014, we introduced our newest international, original art event, All Student Art Festival GAKUTEN. As Design Festa increases in size with each subsequent event, we quite simply outgrew our venue. Unfortunately, Tokyo Big Sight is already the largest convention center in Japan. With each volume of Design Festa, we receive thousands of applications and we were forced to turn away hundreds of potential exhibitors, veterans and first-time artists alike — completely contrary to our efforts to provide all possible support to anyone and everyone with something original to express. We decided to double our efforts to encourage those individuals who need more support than anyone: student artists. That was the foundation upon which All Student Art Festival GAKUTEN was formed.
TJ: How is Design Festa different from other art exhibitions in Japan?
FEINERMAN: Design Festa's lack of any screening process, commission fees and censorship is what makes it the single most unique combination of exhibitions and performances in Japan, year after year. Not even Design Festa organizers know what performances, music, song, art, design and happenings will come to life during the two-day event, and the only consistency to be found is a constant barrage of the unexpected, unpredictable and never-before-seen.
TJ: What is the difference between Design Festa and GAKUTEN?
FEINERMAN: GAKUTEN was founded on a framework very similar to Design Festa, with a focus on the support of untried, inexperienced, up-and-coming artists and the endless networking opportunities to be found when you bring enough of them together. While established universities, their faculty and students are naturally welcome to participate at GAKUTEN, we also encourage part-time students, technical school students and even self-taught students to join us as individuals, groups and clubs. English teachers, hip-hop schools, foreign language students and fashion institutes perform, exhibit and create directly alongside the alumni, undergraduates and professors of art, science and agricultural universities in an all-inclusive, entirely unique student art festival unlike anything anywhere else.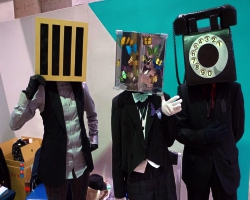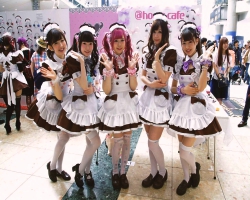 TJ: What times of the year are Design Festa and GAKUTEN held?
FEINERMAN: International Art Event Design Festa is held biannually in May and November every year, while All Student Art Festival GAKUTEN is held once a year every August.
TJ: When and how did your organization begin?
FEINERMAN: Design Festa was founded in 1994 as the penultimate original art event for anyone to express themselves. Given the rigidity of the art world in Japan in the '90s, it was a completely untested, untried and ambitious vision for the country's future. It was also an overwhelmingly successful one, and after 20 years of biannual events, Design Festa has evolved from the humble beginnings of 800 people to a social phenomenon made possible by the coordinated efforts of over 11,000 amateurs, professionals, students, companies, children and adults.
TJ: What kinds of art can one see at Design Festa and GAKUTEN?
FEINERMAN: The only requirement for participation at Design Festa and GAKUTEN alike is that your work be entirely original. There is no copyright infringement to be found at either Design Festa or GAKUTEN, guaranteeing that everything you see, hear, taste and experience is unlike anything you ever have before. Both events feature live music, dance, songs, performance art, cinematic screenings, live painting and fashion shows right alongside the display and sale of paintings, T-shirt designs, accessories, photography, illustrations, graphic design, sculptures and a wide variety of the entirely indefinable.
TJ: Can visitors buy art at your events?
FEINERMAN: Art, fashion, photography and more can certainly be found for sale at both Design Festa and GAKUTEN as well as Design Festa Gallery, and the entire process is handled directly by the artist, creator and/or performer themselves. One hundred percent of all profits go directly to the artists, who set their own prices and interact directly with their fans.
TJ: Can you name any artists who exhibited at Design Festa or GAKUTEN in the past that have "made it big?"
FEINERMAN: It is very common for individuals to take Design Festa and GAKUTEN as rare opportunities to both discover and be discovered. One of Design Festa's earliest events in 1998 saw then-unknown and now worldwide famous Japanese rock group, Bump of Chicken, on our indoor Show Stage. Illustrators Nabata Toshikazu (creator of the immensely popular characters from the picture book Kobito Zukan) and Hikaru Suemasa (creator of Tarepanda and now head designer at the company San-X) both participated at Design Festa events leading up to their immensely successful, ongoing careers. Design Festa also served as host to exhibitions by designers Zarigani Works and Chima Group, back before the companies became household names in the world of gurine design.
TJ: Can you tell us about the Design Festa Gallery?
FEINERMAN: Design Festa Gallery is an art gallery in Harajuku founded in 1998 on the same principles as the event, up to and including the charging of zero commission fees, no screening process, no restrictions and no censorship that has made Design Festa so successful. Listed in guidebooks and travel journals, the gallery welcomes over 150 visitors on a daily basis, over 30% of whom visit us from overseas. The gallery's exhibition schedule is entirely up to the exhibitors themselves, a unique system that welcomes a monthly, weekly and often daily rotation of photography, videography, illustration, fashion, sculpture, music, live painting and more. Exhibitors found at the gallery are as unusual and varied as their work, with elementary school students, college students and the elderly exhibiting their work directly alongside established professionals, companies and universities. An outdoor cafe, bar and okonomiyaki restaurant can be found in between the two, three-story buildings and 21 different exhibition spaces of the gallery itself, combining to form an independent village of international art, nature and self- expression in the heart of Harajuku.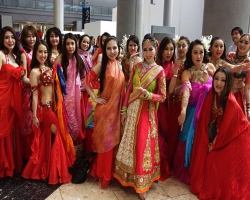 TJ: Is there anything else our readers should know?
FEINERMAN: Design Festa, GAKUTEN and Design Festa Gallery are all immensely visual a airs, and try as we might, it is next to impossible to put the sense of community that holds every event and every exhibition at the gallery together into words. The events are truly unique experiences, incomparable to anything else on earth, and we owe each and every aspect of our success to the amazing artists, photographers, models, designers, dancers and musicians that we are so honored to support. If you or anyone you know is a creator of any kind, if you have an interest in the one-of-a-kind and never-before-seen or if you simply find yourself intrigued by a two-day gathering of 11,000 artists interacting directly with their 56,000 fans in the middle of Tokyo, there is a place for you in the all-original, all-unusual and all-inclusive world of Design Festa. tj
The complete article can be found in Issue #278 of the Tokyo Journal. Click here to order from Amazon.