Yumiko's Home Cooking: YAKITORI
Prep Time:30 min
Cook Time:15 min
Total Time:45 min
Yakitori is a Japanese skewered chicken cooked on a grill with either sweet soy sauce or just salt. You do not marinate the chicken before cooking. It's great for entertaining a big crowd, as it is a kind of finger food and it is easy to make. In this recipe, you will learn how to make the two most common yakitori: negima (chicken and shallots or scallions) and momo (plain chicken thigh) with sweet soy sauce. The recipe also includes different methods of grilling yakitori – on a yakitori griller or barbecue, or using the oven grill or broiler.
Serves:12 skewers
Calories:100kcal
Ingredients:(tbsp=15ml, cup=250ml)
12 bamboo skewers soaked in water for 30 minutes (see note 1)
500 g (1 lb) chicken thigh fillets, cut into 2.5cm (1") cubes (see note 2)
100 g (3.5 oz) shallots/scallions, white and green firm parts only, cut into 3.5 mm/11⁄2"
Sauce
75 ml (2.5 oz) soy sauce (normal Japanese soy sauce) 75 ml (2.5 oz) mirin
1 tbsp sugar
Instructions
Add sauce ingredients to a pot and bring to a boil. Turn down the heat to medium or medium low and simmer for about five minutes to reduce the quantity by about a third (see note 3).
Making yakitori skewers
To make momo (chicken thigh), thread around five pieces of chicken onto the skewers.
To make negima yakitori skewers, start with the chicken and alternately thread the chicken pieces and shallots or scallions, ending with chicken. I put four chicken pieces with three shallots or scallions, but you could have three pieces of chicken with two shallots or scallions (see note 4).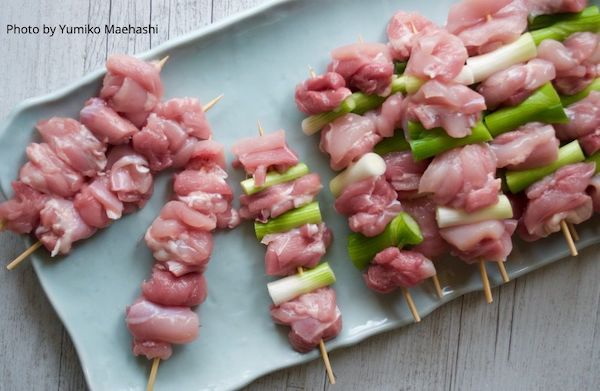 Grilling on yakitori griller or barbecue(using grill, not the plate)
The distance between the hot charcoal and where the skewers are placed should be about 5-6cm (2-21⁄2 inches) (see note 5).
In the case of a barbecue, oil (not in ingredients) the grill first.
Using a brush, baste both sides of the skewers with sauce and cook for four to five minutes.
Turn it over and baste the cooked side while cooking three to four minutes.
Turn it over again and baste the up side (cooked side) while cooking for 30 seconds or so.
Turn it over once more to cook for 30 seconds or so (see note 6).
Remove from the griller and place it onto a plate. Serve immediately.
&nbsp
tj
The complete article can be found in Issue #280 of the Tokyo Journal.