Tokyo Hotels
Hotel New Otani
Excellent Service in a Serene Location
Established in 1964, this superbly designed luxury hotel is known for its exemplary hospitality, elegant style and array of hotel services. Hotel New Otani has an on-site travel agency, business center, cultural museum and pool, as well as 33 banquet rooms and an elaborate rooftop rose garden — a perfect location for wedding ceremonies. Better yet, the hotel has a pristine, 400-year-old Japanese garden spreading over 10 acres. Enjoy the waterfall and koi pond, or head inside to try the "Yukata (summer traditional garment) dressing-service".
Hotel New Otani has 38 bars and restaurants. Choose from tea in the Garden Lounge or teppanyaki (dishes cooked using an iron plate) at one of the three steakhouses, or stop by the Sky Lounge on the 17th floor for a buffet dinner while looking at Mount Fuji through the panoramic floor-to-ceiling windows. Close to subway stations and historic landmarks like the Tokyo Imperial Palace, Hotel New Otani also provides a shuttle service to Akasaka and Roppongi on weekdays. This makes it easy to get around.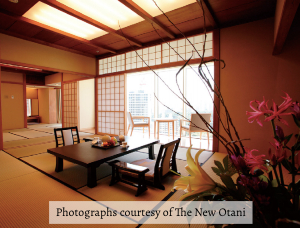 What we love:
• Extravagant rooftop rose garden
• Central location and shuttle service to Akasaka and Roppongi
• One of the most beautiful gardens in Japan
The Keio Plaza Hotel
Experience Views, Luxury and Perfect Access
The Keio Plaza Hotel is the first high-rise hotel in Japan and features plush, comfortable rooms with dazzling city views. Choose from 10 types of rooms, including traditional Japanese style suites. Got work to do? Select a Plaza BIZ Plus room, complete with a large writing desk and an espresso machine.
The hotel has a wealth of distinctive in-house restaurants, including Asian and European cuisines, specialty sweets and a sake bar, a sign of Tokyo's reputation as a foodie destination. Teppanyaki, a dish grilled on an iron plate, is highly recommended.
Specialty services are also offered, such as ikebana (flower arrangement) workshops, cultural exhibits, tea ceremonies and fittings of kimono (a traditional Japanese dress). Thirty-eight meeting rooms are available for events and ceremonies.
The Keio Plaza Hotel is encircled by prime landmarks. It's a five-minute walk to Shinjuku Station — the perfect portal to all of Tokyo's entertainment. A direct train ride on the Marunouchi Line will take you to the Akasaka Imperial Property, Hie Shrine and Imperial Palace. Keio Plaza is also next door to Shinjuku Chuo Park and less than 25 minutes from other outdoor destinations like Shinjuku Gyoen National Garden and Meiji Jingu, a large Shinto shrine near Yoyogi Park.
What we love:
• Club lounge with a city view for those on club floors
• Two of the apartment types are 2-storey maisonette rooms
• Outdoor sky pool available in summer
• Cultural exhibits, ikebana workshops and traditional room options to highlight your stay in Japan
HOSHINOYA Tokyo
Premium Ryokan Experience
For an authentic Japanese ryokan (traditional inn) experience with beautiful tatami (floor mats), try HOSHINOYA Tokyo. It is a combination of traditional and contemporary elegance. A short walk from the Imperial Palace and train stations in Chiyoda, HOSHINOYA Tokyo is a 17-storey hotel with guest-only entry, making it more intimate. It has an open-air onsen (hot spring) known as a rotenburo on the top floor. Tea lounges are on every floor, where guests can chat with the hotel staff. Sake rice wine tastings and traditional art performances are available in the evening.

What we love:
• Attentive service by English-speaking staff
• Dining area in a basement designed as an art cave
• Spacious rooms and communal areas with Zen-like aesthetics and ambience, and where guests can store their shoes on an artistic wall at the entrance
Hotel Chinzanso Tokyo
A Relaxing Oasis in Central Tokyo
The Hotel Chinzanso Tokyo lies on a hill and surrounded by rich greenery. Although it's only a 10-minute walk from the nearest train station, the calm and relaxing neighbourhood will make you forget you are in Tokyo. Enjoy a garden or city view and complementary international calls from your room. The décor of the spacious rooms exudes elegance, leaving you feeling pampered during your stay. Wander around the hotel's peaceful, private Japanese garden; indulge in the in-house spa, open-air pool or 24-hour gym; and unwind in the heated waters of the hotel's hot spring. You can choose from nine restaurants featuring menus and views that complement the area's flora and fauna. The hotel is also famous for hosting spectacular weddings. With the help of its highly skilled team on hand for all your planning needs, the banquet halls are perfect for any occasion. The Hotel Chinzanso also offers a variety of activities, including kimono (traditional garment) fitting and traditional tea ceremonies perfect for those who want to have an authentic Japanese experience.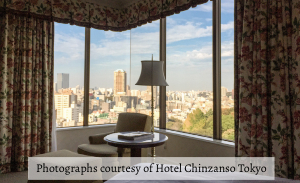 What we love:
• Peaceful traditional garden with tours
• In-house hot spring and spa
• Spacious rooms — some of the biggest in Tokyo
The Prince Park Tower
Luxury Hotel in Shiba Park
In Shiba Park, the Prince Park Tower offers a quiet stay in the middle of beautiful greenery and within walking distance of major tourist attractions. Tokyo Tower is a three-minute stroll away, and subway stations are conveniently located on the streets of Shiba Park. The Kamiyacho and Hamamatsucho stations are a 12-minute walk from the hotel for day trips to places such as Shibuya, Ueno and Ginza. The hotel also offers car rentals.
The Prince Park Tower Tokyo is in the middle of the vast and green Shiba Park in Minato. It is within walking distance of Tokyo Tower, Zojoji Temple and several train stations. The hotel provides a free shuttle service to Hamamatsucho Station. It has 603 guestrooms and suites with light and airy designs. Several have spa bathtubs with views of the city. The hotel has a variety of dining options at a dozen or so restaurants.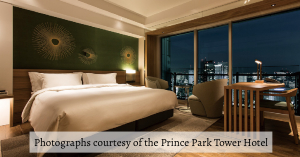 What we love:
• Easy access to train stations and Tokyo Tower
• Premium Club Floor benefits, including dining with a great view at the Premium Club Lounge, and — if you are staying three or more nights — a free driver service in a Mercedes Benz within a 10-km radius
• Detailed security measures for key card access on the elevator
Tokyo Prince Hotel
A Serene Hotel near Tokyo Tower
Inside the Tokyo Prince Hotel, the functional and modern rooms with flat-screen TVs and captivating views are comfortable and refreshing. Visitors can choose from dining at 10 restaurants. There is also a Lawson convenience store on the first basement level. There's an open-air café and bar against the backdrop of Tokyo Tower, and a savory A5-ranked Japanese Black Beef at the Yakiniku Champion restaurant. The hotel has a beauty salon, foreign exchange services and a summer swimming pool. Complete with a business service center and 23 lavish banquet halls, the Tokyo Prince Hotel is a perfect choice for business or leisure.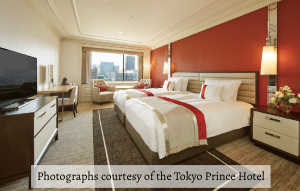 What we love:
• The view of the Tokyo Tower and its Shiba Park location
• Beautiful lobby and open-air café
The Ritz-Carlton Tokyo
Top Luxury in Roppongi Hills
For a luxurious experience and wonderful service, try The Ritz-Carlton, Tokyo in Tokyo Midtown. It occupies the 45th floor and up of Midtown Tower, which according to the Ritz-Carlton is the tallest building in Tokyo. This provides clear views over the city and of Mount Fuji. The hotel has 247 spacious and luxurious rooms and suites, and the Tokyo Midtown shopping mall is just downstairs.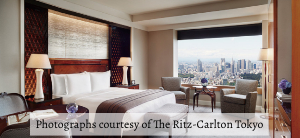 What we love:
• Amazing views of the city from the 53rd-floor lounge, which has a relaxing yet luxurious area with live music
• Easy access in Roppongi Hills
• Great welcoming service with complimentary snacks and drinks at check-in
Park Hyatt
Jazz and "Lost in Translation" in Shinjuku
Try the Park Hyatt for a jazzy and global atmosphere in thriving Shinjuku. Located at the heart of this central Tokyo ward, the Park Hyatt is a five-minute bus ride or 15-minute walk from Shinjuku Station. It is in the top 14 floors of a 52-story skyscraper, meaning that its 177 guest rooms and suites have exquisite views. The New York Bar on the top floor as well as the hotel's spa and training facilities were featured in Lost in Translation, an Oscar-winning film starring Bill Murray and Scarlett Johansson. Guests come from around the world to stay at this famed hotel.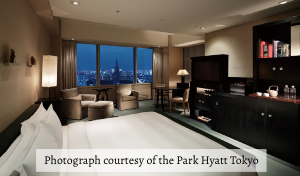 What we love:
• The New York Bar and its live jazz by top international artists
• Spacious rooms with walk-in closets, Aesop toiletries and complimentary strawberries
• Incredible views of the city and Mount Fuji
The Capitol Hotel Tokyu
A Modern Retreat in Tokyo's Historic Center
The Capitol Hotel Tokyu is an elegant oasis in the middle of Tokyo's hustle and bustle. Centrally located in the Nagatacho and Akasaka districts of Tokyo, it has direct access to four subway lines at the Tameike-sanno and Kokkai-gijidomae stations on the B2 floor of the hotel. Designed by renowned architect and writer Kengo Kuma, The Capitol Hotel Tokyu combines comfort and sophistication with classical Japanese elements. Modern and spacious, each room has sliding shoji (paper screen) partitions and excellent views of the city and garden. There is a fitness club with a sauna, Jacuzzi, 20-meter indoor swimming pool and gym on the 14th and 15th floors.
The hotel offers banquet services and top-tier accommodation in the Kiri Banquet Room and Ho'oh Ballroom, making it ideal for meetings and events. Additional amenities include a spa, bakery and three restaurants with high-quality Japanese, Chinese or all-day fusion dining. The Capitol Bar on the fourth floor is a quiet spot for drinks and light dining with a selection of Cuban, Dominican, and Honduran cigars. Those seeking a central location, comfort and stylish lodging will enjoy the best of both worlds at The Capitol Hotel Tokyu.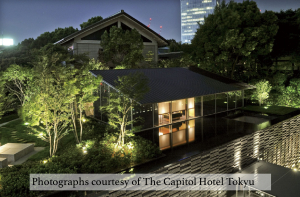 What we love:
• Direct access to four subway lines at two stations
• Rooms with sliding shoji partitions and excellent views of the city and garden
Hyatt Centric Ginza
Sleek and Stylish in Tokyo's Shopping Hub
Get ready to be thrown into the bubbling core of Tokyo when you stay at the Hyatt Centric Ginza. Notable attractions, such as the famous up-market Ginza shopping streets, are a stone's throw away, where you will also find award-winning restaurants and high-end boutiques. Three major train stations — Ginza, Shinbashi and Yurakucho — are within a 10-minute walking distance. Haneda International Airport is only 40 minutes away by train. The attentive, bilingual staff will provide a warm welcome at this chic new hotel. The contemporary design creates a light, relaxing charm, while its innovative extras, such as an in-room Nespresso machine, expand the space. The hotel's dining, lounge and bar, NAMIKI667, is on the third floor connected to the lobby by a modern staircase. The chef uses locally sourced ingredients to bring you an authentic Tokyo dining experience, producing unique dishes that melt in your mouth. If you feel like burning off NAMIKI667's delicious food, head to the fully equipped fitness center, which is available day and night.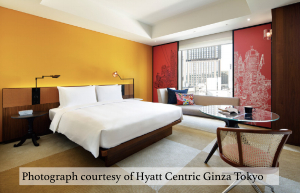 What we love:
• Innovative room amenities, including a transforming table and sink
• Highly skilled professional staff
• Buzzing location
The complete article can be found in Issue #279 of the Tokyo Journal.