BABYMETAL
Head-Turning Headbangers Taking the World by Storm
BABYMETAL are breaking new ground in more ways than one. Formed in 2010 when the two youngest members were only 10 years old, the idol trio's 2014 debut album BABYMETAL topped the iTunes metal charts in the U.S., U.K. and Germany. Their YouTube videos have gone viral with over nine million views worldwide, earning media attention from Time Magazine, USA Today, NBC News, Huffington Post, The Guardian and metal mags Kerrang! and Metal Hammer. They've taken their show on the road throughout Japan and overseas to the U.S., Canada, U.K., France and Germany, being the youngest to hit the stage at some of the largest rock festivals in the world. In the summer of 2014, they opened for the queen of pop Lady Gaga as well as the overlords of heavy metal Metallica and Iron Maiden. Wait a minute–Lady Gaga and Metallica? So are they pop or are they metal? And why are three teenage J-pop idols singing about chocolate with cute choreographed dance routines in front of legions of middle-aged metal maniacs? Tokyo Journal met with singer Suzuka Nakamoto (Su-metal), Yui Mizuno (Yuimetal), and Moa Kikuchi (Moametal) in Los Angeles to find out.
TJ: Can you tell us about BABYMETAL and how you got your name?
BABYMETAL: BABYMETAL is a new genre of music that came to birth. The name came from the Fox God.
TJ: Is your music metal or pop or something else?
BABYMETAL: It's BABYMETAL!
TJ: Why are your costumes only black and red?
BABYMETAL: Black represents metal and red represents a cute idol.
TJ: Can you tell us about the meaning behind any of your songs?
BABYMETAL: We would like to explain what "Gimme Chocolate", one of our most famous songs, is about. The lyrics are about what girls go through when they are eating chocolate–like they want to eat chocolate, but they'd get fat if they had it in the middle of the night. Can they eat it or can't they?
TJ: Why do you think your first single "Ijime, Dame, Zettai" (No More Bullying) was so popular?
BABYMETAL: Girls like us had never done metal before, so we were new and one of a kind. We want to wow the world in this way.
TJ: How does it feel to be the youngest to perform at concerts like Budokan and festivals like Summer Sonic? Were you nervous about performing at such big concerts?
BABYMETAL: We had been looking forward to being on stages that big. We were also looking forward to our concerts in the U.S., but our staff were more nervous than us! At Summer Sonic, we couldn't believe we were going to play on the same stage that a band as great as Metallica played on.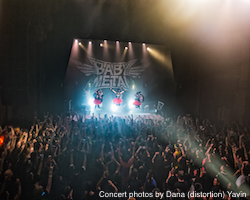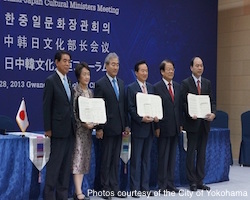 TJ: Last summer you went on a big tour with acts like Metallica and Iron Maiden. Were you nervous and if so, what were you most excited about?
BABYMETAL: We were looking forward to meeting our fans, of course, and meeting and talking with very famous metal bands, as well as seeing them play. But on top of that, we were really looking forward to the food at the event (laughing).
TJ: You guys have a lot of energy and do a lot of dancing. Do you do any training or special rituals before your concerts?
BABYMETAL: We do stretching and vocal warm up exercises, of course, and make a circle to bring everyone's feelings together as one before going out on stage.
TJ: What music is the band influenced by?
BABYMETAL: Metallica and Iron Maiden.
TJ: How about music that isn't metal?
BABYMETAL: Ariana Grande!
TJ: Do you like English?
BABYMETAL: Yes! We're studying it at school.
TJ: Do you have any message to Tokyo Journal readers?
BABYMETAL: We are so happy to be able to do concerts overseas after getting so many comments on YouTube. We want to play in many different countries. I think the best part of BABYMETAL is our live show, so if you get interested in us by reading this article we hope to meet you at our concert. tj
The original article can be found in Issue #276 of the Tokyo Journal. Click here to order from Amazon.