Cheeky Parade
Up-and-Coming Japanese Idol Group Aiming for the Hit Parade
One of Japan's up-and-coming girl groups, Cheeky Parade, combines the classic J-pop style with their own flavor of mischievous energy. Consisting of nine members, all between the ages of 16 and 21, the group derived its name from the cheeky attitudes displayed by the girls, combined with the concept of entertainment represented by "parade." Their cheerful personalities translate well into the vivacious energy required for their dynamic live performances, which have catapulted them to popularity. Making history as the first Japanese act to perform at the CBGB Music & Film Festival, the band continues to achieve success in both Japanese and global markets. Tokyo Journal Executive Editor Anthony Al-Jamie sat down with Cheeky Parade's Mariya Suzuki, Momoka Kodakari, Hina Nagai, Marin Yamamoto, Seran Mizorogi, Yuriya Suzuki, Rino Shimazaki, Asami Watanabe and Yūna Sekine to talk about their recent performances abroad.
TJ: Is this your first time to perform outside of Japan?
YUNA: No, this is our fourth. We performed at a joint gig in Hong Kong last June, in a New York music festival called CBGB last October and at Moshi Moshi Nippon in Paris last September.
TJ: Can you describe what it felt like to perform in New York?
YUNA: At first we felt really uneasy and anxious. As entertainers, we don't want to disappoint the crowd. However, the people in New York were very energetic, which gave us more confidence. Once we were on stage we didn't think about it and just performed.
ASAMI: It was our first time performing alone as Cheeky Parade in a foreign country, so it was surprising how many people watched us even though they didn't understand Japanese!
TJ: Are you studying or do you have an interest in studying English?
YURIYA: Marin Yamamoto is practicing the most out of all of us, but we are all making an effort to study so we can communicate better abroad.
MARIN: At some point, we'd really love to make English versions of our existing songs.
TJ: Have any of you experienced culture shock or something surprising in the U.S.?
RINO: When we went shopping, we didn't get a bag and had to carry everything by hand. That would never happen in Japan.
YURIYA: In comparison, we Japanese are smaller. My feet don't even touch the ground when I use the restroom.
MOMOKA: The hotel bed had four pillows and was so tall. I move around when I sleep, so I was afraid I might fall o the bed!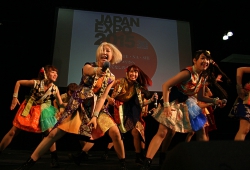 TJ: Are there any performers who inspire you?
MARIYA: My favorite bands are One Slot and My First Story. I'd love to sing and dance with them someday.
SERAN: I like Big Bang [South Korean group]. I watched one of their live performances and they performed so expressively. Their dancing and facial expressions were great!
TJ: How often do you practice? When do you find the time to finish your homework?
YUNA: Since we live separately in Japan and attend school — five of us are high school students and two of us are in college, we usually can only meet on weekends for work. Sometimes we have intensive, 10- to-12-hours-a-day practices for important events.
TJ: What do you think makes your group different from other J-pop girl groups?
YURIYA: Our group is based on cheekiness — our style, our dancing, and our outfits are mischievous, not just cute.
MOMOKA: We want to create our own music, not sampled from someone else — a style that other people want to emulate. Our newest song, "CANDY POP GALAXY BOMB!!," is unique in that it reflects each member's individual personality.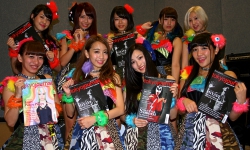 TJ: What are your plans for the future? Do you have any other plans besides making music, like being in a movie?
YUNA: As Mariya and Marin will move to the U.S. for schooling, Cheeky Parade will perform with seven members from this summer. We'd love the chance to see more foreign fans! Also, I think acting as a group would be a dream come true for us. We appeared for the first time in a TV drama as Cheeky Parade the other day. We'd like to appear in foreign dramas someday, too!
TJ: Where do you see Cheeky Parade in 20 years?
SERAN: My dream is to cruise around the world doing live performances on an original Cheeky Parade luxury boat! tj
The complete article can be found in Issue #278 of the Tokyo Journal. Click here to order from Amazon.