Eric Garcetti became the 42nd mayor of the City of Los Angeles in 2013 after serving as city councilmember since 2001 and president of the city council from 2006 to 2012. Holding a B.A. in political science and urban planning and a Master of International Affairs from Columbia University, he also studied as a Rhodes Scholar at The Queen's College, Oxford and at the London School of Economics. In November 2014, Mayor Garcetti led a 12-day trade mission to China, South Korea and Japan–L.A.'s number one, two and three trading partners, respectively. Tokyo Journal Executive Editor Anthony Al-Jamie met with the mayor at Los Angeles City Hall to discuss the trip and his experience living, studying and working abroad.
TJ: Was this your first trip to Japan?
GARCETTI: No, my first time was for a high school exchange program in 10th or 11th grade. I was there for about a month and a half and I've probably been to Japan a half dozen times since then. Actually, my dad has a new book of photographs of Japan that just came out about the time we went on this trip. It's a beautiful book called JAPAN: A Reverence for Beauty. It's looking at why there is such a reverence for beauty at different levels in Japan. He does ikebana and he's kind of a Japanese horticulturalist. He spent a lot of time going to specific gardens during specific weeks for the changing of the leaves.
TJ: I understand you gained quite a bit of international experience growing up. Where in Southeast Asia were you?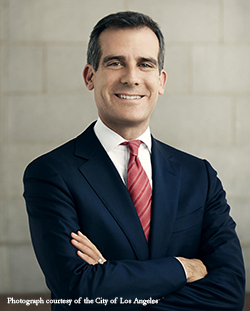 GARCETTI: I lived in what was known as the liberated areas of Burma right across from the Thai border with some of the democratic resistance that was there right after the elections in the early nineties. My sister was an exchange student twice in Thailand, so I spent quite a bit of time there as well. I was raised by two parents who met and worked at Pan Am Airlines. If they had any money, they'd spend it on travel with us. So I went to China in 1983 for the first time as a 12-year-old. I've lived or worked in Africa, Europe, Asia and obviously the U.S.
TJ: In what part of Africa were you?
GARCETTI: Ethiopia and Eritrea is where I lived, but I spent time in South Africa, Namibia, Botswana, Zambia, Zimbabwe, Rwanda, Tanzania, Seychelles, Kenya, Sudan, Egypt and Morocco. I was doing academic research on the Horn of Africa and the nationalist and ethnic fights there.
TJ: It seems you've had a lot of intercultural training.
GARCETTI: Yes, which is a long way of saying it prepares you to be mayor of the most diverse city in human history. You'd better know something about Japan, you'd better know something about Ethiopia, and you'd better know something about Armenia in order to be a good mayor. It seemed natural given my background in international relations to be a local official in Los Angeles because this is international affairs!
TJ: Can you tell us about your trip to Japan?
GARCETTI: It was fabulous. In Japan, I think there is so much tension on the growth in China. I wanted them to know we haven't forgotten Japan and to let them know about my own history growing up knowing Japan, loving the culture and having a Japanese host family. I visited Japan Airlines, who are establishing a non-stop service from Osaka to L.A. later this year. We were looking at some ways with Sony to continue their investments here in video gaming and the movie industry. I assisted Kinkisharyo, a company that's helping build railcars here in L.A. County with some issues they had. Lastly, meeting a new generation of Japanese leaders was really significant for me to find peers who were in their 40s or 50s and coming up, because I want to form these friendships that will last for decades. I want Japan to refocus on L.A. in the sense of let's get more visitors back because the numbers haven't recovered since after 9/11. Let's get more student exchange so Japanese and Americans can get to know each other. Our number one source of investment from the three countries I visited is Japan. As much buzz as there is about growth in China or this great relationship we have there or with Korea, we've got dear friends from Japan who are very deeply embedded in Los Angeles, so that was exciting to re-establish those ties.
TJ: What was the purpose of your trip to China?
GARCETTI: For all three countries, it was trade, investment and tourism. China is our number one source of overseas visitors from outside North America. Chinese passed Australians last year and went from about 240,000 to 570,000 in two years, so tourism was a big part. I met with airlines who are going to expand flights. Medical tourism, as well, for those with discretionary income to be able to come here. We took people from five big hospitals here in L.A. to China to look at opportunities. Real estate investment, too. Our three biggest projects downtown are Chinese investment projects. We also took a lot of companies to China to do business there. We have an environmental firm, SaveSorb, which uses organic methods to absorb spilled oil. They are opening a new office in Shenzhen and by the time we left, because of the media attention, we got them their contracts, which was pretty phenomenal. In Shenzhen, we opened up a branch of East West Bank. Shenzhen is an incredibly dynamic entrepreneurial modern city. The Beijing subway system was very impressive. We went to the Shanghai Tower, the tallest building in China. It was designed by L.A. architects and tenant placements are by CBRE, another L.A. company. In Shanghai, there were really very interesting models of urban revitalization that I thought were very impressive where not all of the past had been knocked down. I realized to keep some of that history in such a historical town is good for tourism, your identity and your soul.
TJ: I heard you were also promoting sustainability.
GARCETTI: Absolutely. I think green businesses are really big and that was across all three countries – in China, in particular, where you have very difficult air quality challenges. We shared the L.A. story: We've been there. We can maybe help you. That was a big part in Japan as well, especially as we look at high-speed rail. I think there's a lot of Japanese companies very interested in that, so they came to talk to me about, "Is that going to happen in California? We'd love to be a part of that."
TJ: Is a high-speed rail system going to happen in California?
GARCETTI: I think it is. I know the costs seem like they're huge, but believe me, building airports... that cost is huge, too. You have to put it in perspective not of car travel. You have to put it in perspective of plane travel. Given the growth of this state, it's one or the other, and this has a 10th of the impact on the environment, so I think it's just going to be a necessity given climate change and everything else.
TJ: Was there anything you learned or saw during your trip that you wanted to bring back and adopt or implement?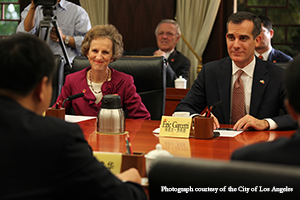 GARCETTI: Absolutely. I saw something in all three countries. In Seoul, I'm chairing our Metropolitan Transit Authority (MTA), so one of the things I've been wanting to do is find a smartphone app to pay for public transportation, which they have, and to integrate that with other modes of transportation, which they have started to do. So you can pay once using your smartphone, take a taxi to the train, get on the train, transfer to the bus and it's all one integrated trip. That's a really cool thing I'd like to see. In China, the speed with which they are doing urban revitalization and a lot of the work they are doing environmentally on trash, on water quality, I think we have a lot to share with them, but vice versa. I got a lot of good ideas there from some of the mayors I met with. Looking at Chinese texting was amazing. We used the WeChat app for all of our team, doing the logistics of our trip. It was the most convenient way to actually have a group chat. We visited with the developer of that who happens to be a Chinese-American man from California.
TJ: How was South Korea?
GARCETTI: The transportation system and their city hall were very impressive. Mayor Park has become a good friend and he made me an honorary citizen of Seoul. Their brand new city hall is awesome. It's hightech, but it's very accessible. There's a big ear that people can talk into out front to show they're listening. He has post its all over his office that are suggestions from citizens, so that was very exciting to see. One thing I want to see more of is opening the Korean market to American companies, so we took BBCN Bank. It's an American bank, but it's a Korean American who owns it and wants to open it in Korea. I wanted to advocate for that.
TJ: Are L.A. and Japan sharing technology such as earthquake technology?
GARCETTI: Absolutely. Actually, today I did a press conference on Japanese pipes as part of the big earthquake plan that I put out at the end of the year. One of the things we are doing is seismically retrofitting our pipe system for our water. There's one Japanese company, Kubota, who we buy the pipes from and they are sharing technology they've had for 40 years. Instead of pipes that snap in place and could break when an earthquake happens, theirs slide back and forth. There's video gaming, the presence of a Japanese company doing the construction of our railcars for our subway system, and in aerospace there are a lot of companies here that manufacture parts for Japanese planes, and there are Japanese suppliers for Dreamliner and a lot of the Boeing parts are assembled in Southern California. tj
The original article can be found in Issue #276 of the Tokyo Journal. Click here to order from Amazon.