Carl St.Clair is one of the longest tenured music directors of a major American orchestra, celebrating 25 years at the helm of the Orange County-based Pacific Symphony this year. It is the largest orchestra formed in the last 50 years in the U.S. A graduate of the University of Texas, he went on to become a tenured professor at the University of Michigan and studied conducting under Leonard Bernstein and Gustav Meier as a Conducting Fellow at Tanglewood. He was the assistant director of the renowned Boston Symphony Orchestra with the legendary conductor Seiji Ozawa before joining Pacific Symphony. He is on the faculty of the University of Southern California's Thornton School of Music and is the principal conductor of the National Symphony Orchestra of Costa Rica. He has led symphonies in the largest cities of North America and he has appeared with orchestras in Japan, Hong Kong, Australia, New Zealand, Israel and South America. Tokyo Journal's Executive Editor Anthony Al-Jamie spoke with Carl St.Clair about his 25th anniversary.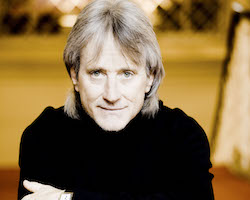 TJ: Can you tell us about working with Seiji Ozawa?
ST.CLAIR: I came to Orange County in 1990 after having been the assistant director for the Boston Symphony. I was assistant director to none other than the most distinguished Japanese conductor ever, Seiji Ozawa. I also studied with him in 1985 as a conducting fellow at Tanglewood, which is the summer home of the Boston Symphony. During my tenure with the Boston Symphony, we made two tours to Japan and that's where I got to know Japanese culture. I'm so happy that his health is better and that he's back on the podium. He's a great, great conductor. I was really fortunate to be his assistant for those four years in Boston.
TJ: How did you come to join Pacific Symphony?
ST.CLAIR: I was recommended by John Williams. I was not only Seiji's assistant but I was always working with John Williams, the famous film composer, who at the time was conductor of the Boston Pops. I was helping him out in any way I could. He said, "Carl, you know there's this orchestra I just conducted out in Orange County, California, south of L.A., and they're a crackerjack orchestra — a great orchestra with great musicians. They're looking for a music director. They should know about you and you should know about them." So my manager gave them a call. I was invited to conduct a concert at the end of January 1990, and in early March I was appointed music director.
TJ: How did you first get into music?
ST.CLAIR: I studied piano when I was six years old and my aunt was my piano teacher. The idea of a piano lesson was a gift from my mom for my sixth birthday. I was living on a farm in a town of 35 people in South Texas and piano lessons weren't really even on my list of gifts for consideration, so I was pretty disappointed when my birthday came and the announcement was, "You're getting piano lessons." It took me a couple of years to realize that it really was the greatest thing she could have ever given me.
TJ: Do you still play the piano?
ST.CLAIR: I do. I actually went to the University of Texas on a trumpet scholarship and my first teaching position was as a professor of trumpet. But piano is a tool and instrument that I've maintained in some fashion. I wouldn't play publicly now, but it is an instrument I gravitate to when I want to sit down and reminisce or just express some feelings through improvisation.
TJ: Did your education impact your conducting?
ST.CLAIR: Yes. At the University of Texas, I studied with Dr. Walter Ducloux. Dr. Ducloux was born in Switzerland and studied with Weingartner at the Vienna Academy and with Furtwängler. He was Toscanini's assistant with the NBC Symphony. He was the first major influence on me as I began conducting. He instilled in me the operatic and Germanic romantic traditions.
TJ: I understand while with Pacific Symphony, you also led one of the oldest orchestras in Europe. Can you tell us about that?
ST.CLAIR: From 2008 to 2010, I was the GMD [general music director] of the Komische Oper in Berlin. I was also the GMD of the German National eater and Staatskapelle (GNTS) in Weimar, Germany. We did a live Arthaus Musik DVD recording of Wagner's Ring. My German experiences play a large role in who I am as a conductor today.
TJ: What do you do as music director of Pacific Symphony?
ST.CLAIR: My title is music director, which in American music means you're also the conductor. But music director also means that there are many non-musical things that I have responsibility over: programming, the hiring of musicians, deciding the repertoire, choosing composer residence and choosing assistant directors.
TJ: What is it like to have the Renée and Henry Segerstrom Concert Hall as your home?
ST.CLAIR: It's an acoustical gem. Every solo artist, orchestral or chamber group that comes here says it's one of the best halls in the world. We opened it in 2006. César Pelli is the architect and it was one of the last halls Russell Johnson [an acoustical expert] completed before he passed away. is hall has pristine acoustics and what any artist wants is the opportunity to make music in an environment which allows for the beauty of the sound and the power of the music to come across to the audience.
TJ: Why is it that you do so much recording?
ST.CLAIR: Because we are not a touring orchestra. We could get the image and the performance integrity of Pacific Symphony outside of the boundaries of Orange County by a couple of different sources. One was broadcasting our concerts live over KUSC radio. The other way was to make CDs and now recordings on our website so that people could get to know Pacific Symphony not just by reputation, but also by the ability to listen to the orchestra. Most of the recordings we do today are live recordings. There is a special ambient energy in a concert hall around a live performance that is hard to capture in a laboratory studio kind of environment. I find it to be very informative and exciting to hear the actual human endeavor and also to hear the human exchange in the concert hall where there might be a cough or something like that. Some might think it's awful and heresy. To me it just shows that music is being played by humans for humans and that experience is a communal and shared experience, which I feel is the purpose of music.
TJ: Can you tell us about recording with Yo-Yo Ma under the Sony Music label back in 1996?
ST.CLAIR: We recorded a work by Elliot Goldenthal — "Fire Water Paper: A [Vietnam] Oratorio." The Vietnam conflict has been captured in prose, in writing, in sculpture, but not musically. I felt Elliot is a composer who had the ability to capture and reflect the totality of the human endeavor of the Vietnam conflict. In Orange County, we have a large population of Vietnamese immigrants and I wanted to embrace this demographic. It was really a powerful musical experience early on in my musical career. Also, we recorded a complete album of the music of Toru Takemitsu. Takemitsu in Japan is like what Aaron Copland would be to America. He wrote this particular piece that we recorded — called "From Me Flows What You Call Time" — for the Boston Symphony for Seiji. So I was really happy that we had a chance to record it. Seiji gave me the go-ahead and the approval to record it. We have two works of that — "The Requiem" and also "Twill By Twilight." It was really a great honor to have a chance to do a Toru Takemitsu recording with Sony Music.
TJ: How was it to perform with Yo-Yo Ma earlier this year?
ST.CLAIR: We've performed the Dvořák Cello Concerto with Yo-Yo Ma before. It just amazes me each and every time how he approaches this incredible cello concerto. His interpretation just gets more mature and deeper and more profound. at's just the mark of a true genius. It's an amazing phenomenon when you can look into someone's eyes and sense the music that is about to happen so clearly and so certainly. Performing with an artist of that caliber is just such a great joy and a great honor.
TJ: What does it take to be a conductor?
ST.CLAIR: First of all, you have to be a musician in your own personal right before you can lead other musicians. [You need to have] a deep sense of musical understanding with an honesty of purpose. e reason you are standing in front of these wonderful musicians is not for self-promoting reasons or any of the reasons other than you want to share music with people or create music that helps people better their lives. Be respectful, work hard, be humble and be thankful. These are the kinds of things that I try to do. tj
The complete article is available in Issue #277. Click here to order from Amazon.