Classical Cello Metal Maestros
Formed in 1993 in Helsinki, Finland, Apocalyptica has come a long way over the past two decades. First gaining recognition as a Metallica cover band after their 1996 debut album Plays Metallica by Four Cellos, they have gone on to release eight albums and sell over five million copies. Consisting of three cellists (Eicca Toppinen, Paavo Lötjönen and Perttu Kivilaakso) and one drummer (Mikko Sirén), the band has progressed from playing instrumental music to featuring guest vocalists — such as Ozzy Osbourne, Marilyn Manson, Billy Joe Armstrong of Green Day, Corey Taylor of Slipknot and Gavin Rossdale of Bush — to recruiting Franky Perez as their full time lead vocalist. Tokyo Journal's Executive Editor Anthony Al-Jamie spoke with cellist, songwriter, producer, arranger and Apocalyptica cofounder Eicca.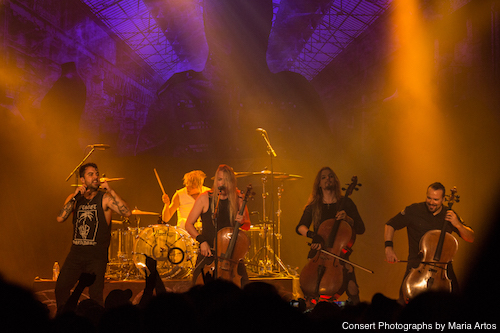 TJ: How did Apocalyptica come together?
EICCA: We are classically trained cellists and we are big metal lovers. We started to play Metallica songs for fun. It was like, "Let's play the music we like with the instruments we can play." The first time we played Metallica songs was 1993, but we never thought about forming a band. We played two to three times a year at small student parties, and at the end of 1994 we were invited to play at Teatro Heavy Metal Club in Helsinki. From that show we got a record deal to make the first album. We thought it would sell maybe a thousand copies and that would be cool. Now that same album has sold 1.5 million copies. The first two albums were cover albums. On our third album, Cult, we started to feel, "Ok, we are a band and we want to make music for ourselves." It was a natural step to start to write our own music. That was still with four cellos only. Then on the next album we thought we could add drums. We started doing collaborations with different people and now we try to make our albums with vocals. The band has been changing the entire time, album by album.
TJ: How would you describe your music?
EICCA: At the moment, I think it's cellophonic metal. I think the core is metal music with a very strong classical influence, but we also have strong influences from other musical styles because we like all kinds of music.
TJ: Who are your musical influences?
EICCA: My background is thrash metal — bands like Sepultura, Metallica, Anthrax and Slayer. My favorites at the moment are maybe the French metal band Gojira and the Finnish metal band Stam1na.
TJ: Is there a musician you really want to perform with?
EICCA: It would be great to get together with Yo-Yo Ma. Actually one of us, Perttu, took a master's class taught by Yo-Yo Ma, but I don't think Yo-Yo Ma can remember students from 20 years ago (laughs).
TJ: You guys are very dramatic on stage. Does that come naturally?
EICCA: It comes naturally. When I get on stage, put on my headphones, start playing and it gets loud, I get so much power from the music. It surprises me.
TJ: Outside of Finland, where would you say your strongest fan base is?
EICCA: We have a fan base everywhere, but I would say Germany and North America are the biggest markets. Mexico is great. We Apocalyptica cellist / co-founder Eicca Toppinen sell like 10,000 tickets a night if we play Mexico City. In Europe, every place is solid. We sell about 4,000 to 6,000 tickets if we play Paris. We're lucky.
TJ: You recently completed the Sixx:A.M. North American tour with VAMPS. Have you performed with other Japanese musicians?
EICCA: We did a co-headlining tour with DIR EN GREY five years ago in America and we did this one song with Tomoyasu Hotei, the guitar player. We've been playing some festivals together with BABYMETAL. A lot of Japanese music is very popular in Finland. I feel a strange connection between Finland and Japan. Many Japanese tourists come to Finland. There are similarities between Japanese and Finnish people that people wouldn't even think about.
TJ: What is your favorite thing about Japan?
EICCA: Of course, Japanese food. I love it. But I also love Japanese culture. My father was on a business trip for three weeks in Japan when I was a child 30 years ago. My mother also joined him and even studied the language. Because of that, I've been very familiar with Japanese culture. In Finland, I also have very good Japanese friends. There are many, many cool things about Japan.
TJ: Can you tell us about your non-profit activities?
EICCA: We are not making so much noise about it, but I'm part of Amnesty International and Greenpeace. I'm pretty active in supporting human rights and nature.
TJ: What was it like performing with Metallica during their 30th anniversary?
EICCA: That was so fantastic. We first opened for them in November 1996. Since then we've regularly been in touch and we've opened for them in different locations. Of course, it was fantastic that they asked us. The coolest thing was they wanted only people who influenced their career. They were the reason why we started this band and it turned out we were influential for them (laughs)!
TJ: What has been your proudest achievement as a band?
EICCA: The biggest achievement is that we are still together (laughs). We have a no-gimmick kind of thing. We have become a real band. We can compete in the same league with the bands we have been fans of. I think that's a big achievement.
TJ: What have been the biggest challenges for the band?
EICCA: Songwriting. You always want to reach the next level. It's the best thing to do and at the same time it can be the most horrible thing to do (laughs). Of course it's tough to stay in a good mood on the road when you tour for a long time. The hardest part is being away from home because I have two kids and a wife and stuff like that.
TJ: Do you have any rules for keeping the band together?
EICCA: There is one rule: no alcohol before or during the show. That makes sure every show is great and everyone is really connected to each other. Also we found it is necessary to give everybody their own space. We have a life together but everyone also has his own life outside of the band.
TJ: What are your plans for the future?
EICCA: We are hoping to write some music on the road so that when the tour ends we can get into the studio very quickly. We want to do a special anniversary release of the Plays Metallica by Four Cellos album for its 20th anniversary next year — maybe do a remaster or remix of it and add some new Metallica covers. We will premier an opera in January — that's a big thing. It's all about the touring.
TJ: What advice would you give to young musicians?
EICCA: It's all about hard work, finding your own style and not being a copycat. Learn the roots. Play a lot of covers to get a basic knowledge of music and an understanding of songwriting, and then find your own style. Don't become a musician if you want to have money. That shouldn't be the motivation. Because it doesn't work out that way (laughs). tj
The complete article is available in Issue #277. Click here to order from Amazon.