Akira Kurosawa's Legacy Impacts a New Generation of Filmmakers
Hisao Kurosawa Shares his Father's Legacy with Young Filmmakers Throughout the World
AKIRA Kurosawa, one of the most influential directors in the history of film, will once again shape a new generation of filmmakers through a medium that Kurosawa himself might only have imagined: an online MFA program in digital filmmaking. Like celebrated moviemakers before them, aspiring filmmakers will learn their craft by studying with experts in the field. In addition, they will view hours of never-seen-before footage of Kurosawa himself on the set, allowing students to go behind the scenes and learn visual articulation directly from the master.
Modern directorial giants such as George Lucas, Francis Ford Coppola, Oliver Stone, Martin Scorsese and Steven Spielberg have all professed to be deeply influenced by the great Kurosawa. Lucas, who along with Coppola, co-produced Kurosawa's Kagemusha, said, "It's no secret that I'm a fan of Kurosawa's work and that his films were a source of inspiration for my own Star Wars saga... He had a tremendous influence on my life, on my work and on my sensitivity to visual storytelling." Coppola agrees, saying that, "Certain great masters have made a few masterpieces, and in Kurosawa's case, he made about 10. So, he is almost without comparison." Stone likens Kurosawa's presence on a film set to that of "an emperor," saying, "He walked into a room and people... stopped and they looked." Scorsese, who acted in Kurosawa's Dreams, said, "Let me say it simply. Kurosawa was my master and the master of so many filmmakers over the years... Keep him as the example because the body of work is so unique. The development of Kurosawa as an artist and as a great humanist just crosses all barriers — cultural barriers... cinematic barriers... Akira Kurosawa taught us all so much and gave us so much and I congratulate the Anaheim University Akira Kurosawa School of Film... I thank them for paying tribute to a man who was our master, our sensei." Spielberg, the executive producer of Kurosawa's Dreams, agrees. "Akira Kurosawa has been a maestro to my entire generation and to every generation of filmmakers who watches movies, are inspired by movies, and learn from movies," he said. "I have learned more from him than almost any filmmaker on the face of the Earth."
TJ: When did you first join your father at Kurosawa Production?
HISAO: I think I was 35.
TJ: What was the first film you were involved in?
HISAO: I have always loved movies and when I was young I wanted to be a film director. When I was 26, I directed my first made-for-TV movie called Mata Tabi USA. It was about two guys and one girl traveling through the U.S. We drove from San Francisco to New York while filming it. Then when I was 35 I joined my father at Kurosawa Production on the set of Ran.
TJ: You were a famous musician and a TV personality. Did you enjoy the limelight?
HISAO: No, not really.
TJ: Do you still play music? Are you still in a band?
HISAO: Yes. I play guitar.
TJ: What kind of guitar do you play?
HISAO: I have many... at least 30 or 40.
TJ: After Ran, did you continue making films?
HISAO: Yes, they were all my father's films.The last one I worked on was my father's script Ame Agaru [After the Rain]. My father's assistant director, Mr. Koizumi, directed Ame Agaru,
TJ: I understand Akira Kurosawa did a lot of work with the Godzilla director Ishiro Honda.
HISAO: Yes. Mr. Honda was my father's best friend for over 50 years.
TJ: On which films did they work together?
HISAO: His last five or six films. Early in their careers, they started out working for Mr. Kajiro Yamamoto, one of Japan's most famous film directors. My father was the first assistant director and the second assistant director was Mr. Honda.
TJ: What do you think your father's greatest strengths were?
HISAO: He had both artistic sensibility and the ability to entertain.
TJ: Which western film director influenced your father the most?
HISAO: I would have to say John Ford. He liked him very much.
TJ: I heard that Clint Eastwood once thanked your father for the influence he's had on his career.
HISAO: Yes. As you know, my father's movie Yojimbo was remade into A Fistful of Dollars, a movie that made Clint Eastwood famous.
TJ: What's your favorite film by your father?
HISAO: That's a hard question. I love Seven Samurai and Ikiru. When I was young I really loved Waga Seishun Ni Kuinashi (No Regrets for Our Youth) starring Setsuko Hara. She was a very famous Japanese actress.
TJ: Did your father have great respect for Toshiro Mifune?
HISAO: Yes, of course.
TJ: Would you say your father and Toshiro Mifune had a special chemistry together?
HISAO: They were like John Ford and John Wayne. Mr. Mifune had a very good ability of looking tough and strong, and American ladies said Mr. Mifune was very sexy. He was actually very short but didn't look that way in movies.
TJ: What was the point of con ict between Akira Kurosawa and Toshiro Mifune?
HISAO: Well, while they were shooting the movie Akahige (Red Beard), my father envisioned a character with a soft personality. But Mr. Mifune wanted to act strong. I think that was the issue.
TJ: What about at the end of your father's life? Did they have a good relationship?
HISAO: Yeah, sure. But unfortunately, my father was too sick to attend Mr. Mifune's funeral, so I attended on his behalf.
TJ: How about Tatsuya Nakadai?
HISAO: Yes, my father was very close with him. He's a very great person.
TJ: And his Assistant Director Teruyo Nogami?
HISAO: Yes. He was very close with all of them.
TJ: I understand your father was also close with Martin Scorsese and several other Hollywood lm directors such as Steven Spielberg, George Lucas and Francis Ford Coppola. Do you have any fond memories of visiting any of them?
HISAO: Yes. One in particular was my visit to Mr. Coppola's winery with my father in Napa. It was beautiful.
TJ: What did he think about Mr. Coppola's films? Did he like e Godfather?
HISAO: Yes, The Godfather Part I and Part II. He loved them.
TJ: Do you see any filmmakers today who have a similar style to your father's?
HISAO: Yes, often I'll feel a part of a film resembles my father's style.
TJ: Was your father a fan of anime?
HISAO: He loved Hayao Miyazaki's animation and Osamu Tezuka's comics.
TJ: Did your father have any dreams he didn't fulfill?
HISAO: He loved making movies. That's what made him happy, and he put all of his energy towards it.
TJ: Tell me about his personality.
HISAO: He was very hard to handle. He did everything his way. He was like an emperor on the film set.
TJ: Was "the Emperor" a title he received from his colleagues?
HISAO: No, I think it was the media who first began calling him "the Emperor."
TJ: Did your father ever take a break from filmmaking?
HISAO: Well, he was always thinking about movies, but sometimes he would visit the temples in Kyoto. He loved them.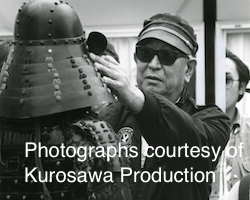 TJ: Did he make any movies that he didn't like?
HISAO: His movies were like his children. He loved every one of them.
TJ: So the production companies never forced him to make movies he didn't want to make?
HISAO: No, if they tried to, he would refuse. He was once told by the studio that they wanted to cut his five-hour movie e Idiot in half. He told them if they wanted to cut it in half then they should cut the entire filmstrip straight down the middle.
TJ: Your father was respected around the world. How was he treated when he travelled internationally?
HISAO: Great. For example when he went to Europe, there were always police escorts and they allowed him to bypass immigration. They treated him like he was the prime minister.
TJ: Did he feel satisfied with his accomplishments or did he want to do more?
HISAO: He wanted to do much more.
TJ: What were the biggest challenges your father faced as a filmmaker?
HISAO: Raising production money to make films.
TJ: Did Japanese film companies support your father?
HISAO: Not enough. He had to spend a lot of his own money.
TJ: I heard the former North Korean President Kim Sung Il was a film buff and loved your father's movies.
HISAO: (Laughs) Yes, it's true. He loved Akira Kurosawa, especially the movie Sanjuro.
TJ: What is the greatest challenge you have leading Kurosawa Production?
HISAO: My son, Ko, has taken over as President of Kurosawa Production. Ko, could you answer that?
KO: I have to consistently make great effort to send Akira Kurosawa's message to the world and keep showing his many characteristics, including those which are not yet recognized.
TJ: If your father was alive, what advice do you think he would give young people?
HISAO: He always told young people, "Find something you love. It's easy to work hard for something you love but it is very difficult to stay committed to something you don't love."
TJ: How do you feel about the launch of the Anaheim University Akira Kurosawa School of Film?
HISAO: We have worked with the administration of Anaheim University for many years and we at Kurosawa Production are very happy to see the Anaheim University Akira Kurosawa School of Film being created with the latest advances in technology.
TJ: What impresses you the most about the Anaheim University Akira Kurosawa School of Film?
HISAO: I think it is the fact that students all over the world can study film online without having to move to Hollywood.
TJ: Although your father is no longer with us, what do you think about students being able to watch behind-the-scenes video footage of your father on the set of Ran?
HISAO: That's great. They'll learn a lot. My first experience working with my father was on the set of Ran.
TJ: What advice would you like to give to the students of Anaheim University's Akira Kurosawa School of Film?
HISAO: Two points. The first point is that the script is very important and the second most important part of filmmaking is editing. Directing comes third. Don't forget it. I believe the script and the editing process are the two most important parts of filmmaking, and students should watch as many classic movies as they possibly can. tj
The complete article can be found in Issue #277 of the Tokyo Journal. Click here to order from Amazon.