Actor and Singer Genki Hirakata
Young Actor Takes on Old Role as the White Rabbit in Alice in Wonderland
Tokyo Journal Executive Editor Anthony Al-Jamie talked with singer and actor Genki Hirakata, who starred as the White Rabbit in the HoriPro musical production of Alice in Wonderland in Tokyo, Osaka and Nagoya in November and December 2014.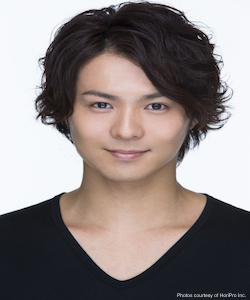 TJ: Can you tell us how you got started in your career?
HIRAKATA: An acquaintance of mine introduced me to HoriPro and I started working there. My first part was as a teacher in a TV drama when I was 23.
TJ: Which is hardest for you–performing in TV dramas, variety shows or stage plays?
HIRAKATA: Definitely stage plays. I have to practice a lot, and although I have ample time to prepare, there are many things that I need to process, while with TV shows we are always in a time crunch and often have to rush shooting.
TJ: So, tell me a little bit about Alice in Wonderland and your part as the white rabbit. What did you like the most about your part?
HIRAKATA: I liked that the white rabbit expresses himself very honestly as things come to his mind. In this musical, he is a part of Alice's heart, so he occasionally says something off the wall, but besides that, I like his sensitive element. He does things in a very logical way, but he doesn't necessar- ily express himself logically. But when you think back, you realize that he opened a new door of Alice's heart, so I don't think he's doing that on purpose.
TJ: How did you prepare for this part? Did you read the book?
HIRAKATA: Well, since interpretation of this renowned story varies depending on the translator, I read many different versions, but reading the script worked best for me. I think what we are reading is the translation of what they did in Broadway, but translated to fit the feeling of Japanese people more.
TJ: What makes Alice in Wonderland great?
HIRAKATA: This musical is full of energy–including the songs and the dialogue, and I think the music is wonderful.
TJ: Are there any characters that really stand out?
HIRAKATA: The rabbit!
TJ: Have you worked with any of the other crewmembers or actors before?
HIRAKATA: Yes, about half and half.
TJ: Does it make it easier when you have worked with the people before?
HIRAKATA: I think so. They understand my style and are willing to help me when I want to try something new. There are very nice mentors who encourage me.
TJ: Do you study English?
HIRAKATA: A little. I went to English conversation school. It helps when I listen to CDs of Broadway musicals.
TJ: Do you have any advice for people studying English?
HIRAKATA: I think if you think of it as studying it's difficult to improve your English. Also, when you don't understand something, I think you should just say so.
TJ: Have you been abroad?
HIRAKATA: Not much. South Korea, Taiwan, and the U.S.; I liked New York.
TJ: Did you go to Broadway?
HIRAKATA: Yes. I saw Les Misérables, Once, Aladdin, Rocky, and A Gentleman's Guide to Love & Murder.
TJ: In the future, would you like to do more stage plays or more television?
HIRAKATA: I'd like to do both. I feel the joy of performing live on stage, but at the same time I also want many people to see meonTV.
TJ: Are there any actors you'd like to work with?
HIRAKATA: I'd like to work with Ramin Karimloo. He was one of the original cast members who played Jean Valjean in Les Misérables on Broadway.
TJ: I understand your hobby is carpentry. Is that true?
HIRAKATA: Yes, it's true. I don't lie (laughs). When I didn't have work to do in the past, doing carpentry helped me to forget about that, but now, fortunately I don't really have time to make furniture. I like making stuff–desks, dressers, and so on. But as mirrors are expensive, making dressers is difficult.
TJ: How about singing? Are you going to pursue your singing career?
HIRAKATA: Yes, I want to challenge myself in different things when I get the right chance. Things don't go as you want, so I just hope to be ready to do things when the time comes. I don't really think about my future plans.
TJ: Do you have any advice for new actors just starting their career?
HIRAKATA: I just started my career too! (laughs) Well ... even if you don't understand the meaning of things that are happening now, you may realize that they make sense in the future when you think back. tj
The original article can be found in Issue #276 of the Tokyo Journal. Click here to order from Amazon.