Originally a five-piece band formed in 2005, the four-member band ONE OK ROCK now includes singer Taka (son of Japanese singers Masako Mori and Shinichi Mori), guitarist and founder Toru, bassist Ryota and drummer Tomoya. Fusing emo, rock and heavy metal with mixed Japanese and English lyrics, the band has gone from selling out shows in Japan to rocking fans overseas. Tokyo Journal Executive Editor Anthony Al-Jamie caught up with Taka and Ryota before the band's performance at the Pomona, California leg of the Vans Warped Tour; a two-month nationwide tour that went to 43 cities.
TJ: Can you tell me about your background? Where did you guys grow up?
TAKA: I was born in Shibuya, Tokyo. I grew up in Osaka and San Francisco.
RYOTA:I'm a bassist from Osaka. When I was six years old, I started hip-hop dancing and when I was 16 years old, I joined the band.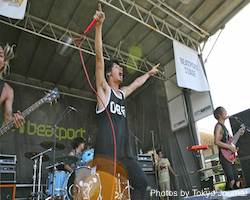 TJ: How did you learn to play and sing? By yourself?
RYOTA: Yes, I played everyday when I was in high school. I listened to Red Hot Chili Peppers and Limp Bizkit and copied their music.
TAKA: Actually my father and mother are singers too. When I was younger, music was playing in my home all the time, so I don't know when I started singing. My first time singing in a band was when I was 16 or 17 years old.
TJ: How did you name this band?
TAKA: When we started rehearsing, it was at one o'clock in the morning, so we named the band One O'Clock. But I thought spelling it that way was a little bit cheesy, so we changed the spelling to "One Ok Rock." In Japan people pronounce "One Ok Rock" as "One Awk Rock," but in the U.S., they pronounce "One Ok Rock" as "One Okay Rock."
TJ: What influenced your style?
TAKA: Basically it's American emo that's been mixed with Japanese emo.
TJ: So how do you like the Vans Warped Tour? Are you enjoying it?
RYOTA: I'm enjoying it very much. We became friends with the other bands.
TJ: Do you recommend other Japanese bands to join this tour next year?
TAKA: Yeah, definitely. I think it's a really good festival. Everybody is friendly. They're good people and the fans get really excited every place we go.
TJ: Do you study English?
TAKA: Yeah, always.
RYOTA: My English is so f**kin' bad, but I listen to and study English every night.
TJ: How do you study?
RYOTA: Reading books and talking to people everyday. Having fun!
TJ: Do you prefer singing in English or in Japanese?
TAKA: I like both but I wanna learn more English so I can sing in English more.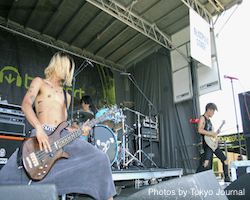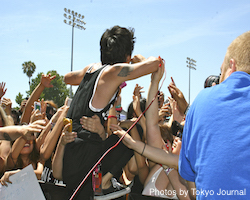 TJ: Do you have any heroes?
RYOTA: Red Hot Chili Peppers and Limp Bizkit.
TAKA: Too many! I don't know. Maybe my father? I think my father is still really big in Japan. It's a big deal for me. He's a singer but my father too, and I respect him as a father.
TJ: Do you sing like your father? Do you have a similar voice?
TAKA: Yeah, sometimes.
TJ: What are your blood types?
TAKA: A.
RYOTA: B.
TJ: Taka, is it hard for you to get along with B blood types?
TAKA: Yeah sometimes it's hard, but I like B.
TJ: You guys really have a strong energy and sound, different from other Japanese bands. Why is that?
TAKA: I love American music, so I think our music is influenced by American rock.
TJ: Did the Red Hot Chili Peppers influence you?
TAKA: Yeah, and a lot of bands. The Used and Good Charlotte... so many bands.
TJ: Who's your favorite Japanese band?
TAKA: X Japan is my favorite band. I love Yoshiki.
TJ: What's your dream?
TAKA: My dream is very simple. I wanna be big in America.
RYOTA: Yeah, I have the same dream. I wanna get a Grammy.
TJ: Where have you played outside Japan?
TAKA: China, Taiwan, the U.S., Europe, Korea, Indonesia.
TJ: Where was your favorite place to perform?
TAKA: France. We only had two shows but all the tickets sold out. The fans were crazy.
TJ: Is there anything you want to tell your fans?
RYOTA: I want many people to listen to our band. If you have time, please come to our live shows.
TAKA: I'm really, really happy to be here in the U.S.A. We'll definitely come back, so please wait for us! tj
The complete article can be found in Issue #275 of the Tokyo Journal. Click here to order from Amazon.