Japan's Rock Legend Yoshiki Rocks Classical Charts Worldwide
Visual Kei Pioneer Rock Legend and Classical Genius Gets Intimate with TJ
Interview by Anthony Al-Jamie

阅读文章请点击链接

30 million records sold, a 15-country world tour, 18 sold out Tokyo Dome concerts for 1,000,000 screaming fans, and Yoshiki and his band X Japan, are gearing up for another world tour. In his spare time, Yoshiki composed and recorded Eternal Melody, which remains one of Japan's top-selling classical albums, and his most recent release "Yoshiki Classical" debuted at the top of the iTunes classical charts worldwide. He has collaborated with some of the world's leading artists and producers including Queen's Roger Taylor and legendary Beatles Producer Sir George Martin, performed for the Emperor of Japan, and he has created the theme songs for the World Expo and the last two Golden Globes. This classical genius is a hard rocking innovator and creator of the genre "Visual kei" – combining the styles of punk, rock, heavy metal, glam rock and classical music. In 2008, four years before Tupac's hologram wowed Coachella, Yoshiki and X Japan brought back their deceased guitarist HIDE by hologram to perform in concert. Some may think it requires a super hero to accomplish all of this. Stan Lee, Marvel Comics founder and creator of Spiderman and the Hulk, agreed and created a superhero based on Yoshiki called "Blood Red Dragon." What can't Yoshiki do? Let's find out.

TJ: Your new release Yoshiki Classical is doing fantastic and is rocking the iTunes charts. It debuted in the #1 slot in 10 countries and the #2 slot in the U.S. It looks like Yoshiki Classical is topping the charts!
YOSHIKI: It's classical music and I think it's doing pretty well. Better than I had expected.

TJ: Had you been planning this release for a while?
YOSHIKI: No, it was an accident. I wasn't planning on releasing a classical album. But then over the last two years I did the Golden Globe Awards theme song. A friend of mine suggested I release an album that would include the Golden Globes theme song, the theme song I composed for the World Expo, and a song that I did for the Emperor of Japan. I thought, "What a great idea!" I also spent the beginning of the year working on the X Japan album and another project I have been working on for over 10 years called Violet UK. Right when I was about to finish and release these albums, the classical album just came in and took over.

TJ: This new release is such a contrast to your rock music that at times can be hard, heavy and even violent. You've been quoted as saying rock has always been by your side but classical music is in your bones. Why is that?
YOSHIKI: Because I grew up on classical music. My parents bought me a piano when I was four years old and that was when I started playing classical. I didn't know at the time that it was classical music.

TJ: You worked with the legendary Beatles producer Sir George Martin. In fact, he said about your classical release: "There is a new song which is beautiful. I mean, if it were in a film it would be an Academy Award winner. No doubt about it." How was your experience working with this legend?
YOSHIKI: I worked with him and the London Symphony Orchestra quite some time ago. It was great. I learned a lot from him especially regarding orchestration.
TJ: You've played with many great musicians. How did you wind up playing with Roger Taylor of Queen?
YOSHIKI: We had mutual friends and we wound up writing a few songs together.
TJ: Were you a fan of Queen's Freddie Mercury?
YOSHIKI: Completely. Freddie Mercury had a classical influence, his composition and the way he sang. He's one of the most amazing vocalists ever. It was very sad we lost him at such a young age.

TJ: KISS, VanHalen, Metallica and Michael Jackson used your Hollywood recording studio. Did you know Michael Jackson?
YOSHIKI: I met him a couple of times and I think he was great. He used to use my old studio in North Hollywood. Due to too much drum playing, I have tendonitis so I was wearing a brace on both hands when I met him. He asked me what they were and I said they were medical devices. He said, "Oh, really? Can I have those?" He thought they were a fashion item, so that was interesting. What I found amazing was that espite his greatness he was so into music and still interested in small details such as what kind of keyboard I was using!
TJ: What kind of keyboard do you use?
YOSHIKI: Pretty much everything you can think of. These days I use a lot of softsynth, which is computer synth. Also I use analog synth. So I love both the analog and digital worlds and I try to combine them
TJ: You and X Japan were known for giving birth to the Visual kei genre and you produced Visual kei bands Glay and Luna Sea. Tell us about Visual kei.
YOSHIKI: Well, I was into the piano and classical music and then my father committed suicide when I was 10 years old. The same year, my mother bought me a drum kit so I started playing more rock music than classical. I listened to KISS, Led Zeppelin and the Sex Pistols. So I was influenced by classical, punk and rock, and of course pop music. I combined all of them together. I used to like glam rock and new wave like David Bowie so I started putting on makeup and I spiked my hair and died it red. I started playing super fast punk rock drums combined with a classical melody. Then people couldn't figure out what I was. It was a new genre. Then our band created a slogan, "crime of visual shock" or something like that, and people started referring to us as visual kei, or "the visual genre." We expressed ourselves through both our unique music and our unique look and that was the beginning of visual kei.

TJ: Tell us about X Japan. The band was huge. Why did you disband and how did you get back together?
YOSHIKI: Well, my vocalist, Toshi, and I grew up together. Actually I met him when we were four years old in kindergarten and we went to the same elementary, junior high and high school. One day after the band had became quite big he said he wanted to leave the band. He had some religious beliefs that were kind of cultish, you might say, so we just went our separate ways. Ten years later he called me and said, "Let's get back together." We became friends again and decided to reunite the band.
TJ: Tell us about your lead guitarist HIDE. What was your relationship with HIDE before his passing?
YOSHIKI: When I first met HIDE, he was about 20 years old and was the leader of another band. In fact all X Japan members led their own bands before joining X Japan. I thought he was an amazing guitar player so I headhunted him. We became friends and I asked him to join the band. He was very flashy and flamboyant. He cared about how he looked but he was very conservative inside. I had a death wish and I had no fear but HIDE guided me, kind of like my mother. When I debuted I didn't care what critics said. We were the blackest sheep of Japan's music industry because people couldn't define what we were. We didn't fall into any category. All I cared about was my music and the fans, and I didn't care about anything or anyone in between. However, HIDE somehow filled that space.For example, HIDE set up a meeting with a
critic and said if you guys talk to each other, you'll understand each other. All of the band members had a special role but HIDE was a special part of my life. When he was alive, he asked me to concentrate on leading the band and he was the spokesperson with the fans. After he died and we reunited, I decided to start filling that role and I began communicating on Facebook, Twitter and so on. He was a very important part of my life. Moving forward, the band and I can spread his legacy.
TJ: Even after his passing, you still introduced him at concerts and he joined the band by hologram. Do you still have a lot of unreleased material of his that you can use?
YOSHIKI: Yes, when we reunited we were using his content a lot. However, in our North American and world tour we had a new member Sugizo, who also came from a big band, and we stopped using HIDE's content. We haven't decided if we are going to use it for our upcoming tour.

TJ: I'm sure it's very different between a father and a friend, but did HIDE's passing bring back a lot of feelings and memories of your father?
YOSHIKI: Completely. Because I had a death wish, I kept telling all the band members that I was never going to live as long as my father. HIDE died around the same age as my father, so it was really shocking. However, when HIDE died, my fans were freaking out and going through a lot of pain. I think someone tried to copy his death and tried to commit suicide so I had to try and calm them down and tell them it wasn't something we wanted. I told them, "You have to live." At that time, I didn't know the pain I was going through because I was trying to convince my fans to be OK. Several months after HIDE passed away, it hit me really hard.

TJ: HIDE was found hanging by a towel in his apartment after a night of drinking. Did HIDE die by accident?
YOSHIKI: It's a fine line. We believe he died by accident. Some of the media said he killed himself. However, everything was going fine for him. There were no big problems and his mind was not in a dark place. IDE was really normal. He was a very self-contained person, so I believe it was an accident.

TJ: So would you say you were more depressed than HIDE?
YOSHIKI: Yes, his mind was not as dark as mine. I was the most depressed member. Well, maybe depressed is not the right word. I had a really dark side, but I translated that to my lyrics and my music and that helped me to be ok.

TJ: You often mention your "death wish." I wonder what kind of thoughts lead to those kinds of feelings and how you deal with them?
YOSHIKI: When I lost my father at a very young age, I learned how fragile life is. At the drop of a hat, people can die. But at the same time knowing that does not mean it has to be negative. That means you have to seize the moment. You have to appreciate your existence and use everything you have at this moment to live your life fully. That's how I translated those negative thoughts I was having into positive thoughts.
TJ: Actually you seem pretty strong and you seem like you've got too much courage to give up.
YOSHIKI: Right. My slogan is, "Nothing is impossible. Anything can happen. You can do anything." It's almost like, if you think you can fly, then you can fly!

TJ: After dealing with your father's death and then HIDE's, do you think you've made it through the roughest part?
YOSHIKI: I don't know. I also lost Taiji, X Japan's bass player, in 2011. He was one of the main members of X, which we later renamed X Japan. However, after X Japan debuted and became quite famous we performed three nights in a row at Tokyo Dome. I had to fire him after the last show and we didn't talk to each other for 16 or 17 years. He went on to join another band. In 2010, X Japan had two nights of shows at Nissan Stadium. Before those shows my friend told me Taiji may not live very long because he was an alcoholic and was not healthy. I thought to myself, "No way," because I had always thought of him as such a tough guy, but I guess he was going through some hard times. Anyway, I was glad I had the opportunity to bring him back on stage to play with us at Nissan Stadium. In 2011 in the middle of our World tour we got the news that he had hung himself in Saipan. It was very sad. It would have been even sadder if I hadn't made up with him before his passing and if that would've happened, I really wouldn't have known what to do. So as you can see I'm pretty much surrounded by death.

TJ: So how have you dealt with all of this pain?
YOSHIKI: I translated all my negative energy I had at that time – anger and sadness– to rock music. So instead of punching the wall or hitting the wall with my head, I started banging the drum set. I also played piano and translated the melody, the rhythm and everything. Rock music is perfect. On the stage, the screaming and breaking drums and jumping into the audience, everything is part of the rock performance. But if you do it on the street, no matter who you are, you're in trouble! (laughs).

TJ: So you've made it through all this stuff. It seems that you're pretty tough!
YOSHIKI: That's because of music! Music has always been by my side.
TJ: Tell me more about how music has helped you to get through the difficult times you experienced.
YOSHIKI: I was a very, very depressed kid and I tried to cut myself and kill myself but it was because of music that I survived. I still have a lot of anger inside my heart and I describe and express my feelings through music. To best describe my feelings, sometimes classical music is great, sometimes rock is great or sometimes it's something else.

TJ: Can you give me an example of how music keeps you going?
YOSHIKI: Let's see. Sometimes in the middle of the night, when I am feeling super dark, I just sit down at the piano and start playing with my eyes closed or in a room with not enough light to even see the keys. Or sometimes I just play drums for hours and hours.

TJ: So, do you usually compose new music sitting at the piano in the dark?
YOSHIKI: Usually when I compose I don't use instruments. I usually use pen and paper and just keep writing and let the music ring in my head. It's like how people write diaries talking to themselves. I'm just talking to myself while writing music and it's kind of soothing.

TJ: Was your father your connection to music?
YOSHIKI: Yeah, he was my connection. He played the jazz piano. He also bought me a trumpet and a bunch of classical albums.

TJ: Do you feel you've became stronger after what you've experienced?
YOSHIKI: Yes and no. I think everybody has both sides - a strong and fragile side. I do too. I'm very strong yet very fragile. I'm 49% fragile and 51% strong. It's only 1% over 50% but it's a very important 1%.

TJ: Do you think all of the struggles you've had have made you a better person?
YOSHIKI: I don't know if it made me a better person but because I went through all that pain I feel I have responsibility to support those who have pain.

TJ: As a musician with the following you have, you play a very important role in Japan and have a lot of influence over young people.
YOSHIKI: I'll be very happy if I can do something to help support and save kids who are suffering.

TJ: Do you have advice for young kids who are struggling right now?
YOSHIKI: It's very hard to convince people of anything when they are struggling. Even when you try to relate to someone by saying,"I understand your feeling. I once felt like that." They don't believe that you can truly understand them. People tried to help me by saying, "Think about your appearance or think about your friends." But I didn't listen to all of that. All I really had was music. I'd like to tell kids to look at the bright side, etc. But I think it's hard to convince people with such words. All I can do is create musicthat I hope will help them understand why life is important. I cannot say it in words but I can say it with melody. The melody in my music has anger and sadness but also hope that convinced me to live and I hope that my music can help convince others to live.

TJ: So what is it about music that helps carry you through? Is it your form of expression? Because if we can identify what music is to you then perhaps others with similar challenges can replace music with whatever may be applicable to them.
YOSHIKI: Music is part of my life. By the time I began to write, I was already playing the piano. When I lost my father I cried a lot, but I listened to a lot of music and it helped me get through it. I think the best way is to throw yourself into what you love. It can be anything: sports, art, cooking, anything you have passion for.

TJ: You seem so healthy now and in good shape. Have you had problems with drugs in the past?
YOSHIKI: Zero! That was our only rule. We looked weird and our stage performances got pretty crazy with me jumping into the drum set and the whole thing, but despite the flashy and flamboyant makeup and the crazy performances, there was one rule: no drugs. So we're pretty healthy. We drink a lot, but no drugs.

TJ: I'm surprised you guys never did drugs! You guys avoided that completely, huh? Kind of like Gene Simmons!
YOSHIKI: I loved KISS! KISS is one of the rock bands I admired. I produced one of the songs of KISS. I did a piano concerto version of one of their songs. I met Gene Simmons and we became friends. One day he came to my old studio. He said, "Yoshiki, let me use your studio." I said, "Great! Please talk to my studio manager." But then Gene started negotiating… he's a great businessman! He's great.

TJ: So tell me how you f irst moved to the United States. How did you decide to come to L.A.?
YOSHIKI: We had had pretty good success with Sony Records, so they said that we could go anywhere in the world to record our next album. I voted for London but the rest of the band wanted L.A. so we did the democratic thing and went to L.A., where we spent somewhere between six to eight months recording. We went back to Japan and we left Sony Records. I think we then went to Atlantic, which in Japan was part of Warner Music. We then came back to L.A. for recording and after a year or so I did the math and figured out it would be less expensive to buy my own studio. So I ended up buying a recording studio. It took a couple of years to finish the recording, and when we did, everybody in the band except me returned to Japan to live.

TJ: Is it true you used to live in a bungalow in the Beverly Hills Hotel just like Howard Hughes and Marilyn Monroe?
YOSHIKI: Yeah, actually the same room as Marilyn Monroe, I think. I didn't know it was her room when I moved in. I got a little freaked out one day when the butler told me that my room used to be Marilyn Monroe's room. It was a little surreal.
TJ: Your new studio is absolutely amazing. It's one of the most remarkable recording studios in Hollywood. It must have been a very expensive project and it tells me you plan to be here for years to come.
YOSHIKI: I don't know. That doesn't mean anything. I'm very unpredictable. It's like my former guitarist HIDE used to say, "Yoshiki builds things out of bricks but then he comes along and kicks the bricks down!" I
may go to Europe tomorrow and say, "Forget the studio!"

TJ: So what keeps you here in L.A.? Is it your career? Or is it the freedom of being away from the crowds of fans?
YOSHIKI: Well, my recording studio is here, so it's convenient. Regarding my fans, I'm very lucky to have all those fans. Some of my friends say, "How do you deal with them?" But without fans, we don't exist. Because I've been in this position for a long time I've seen a lot of artists wanting to stay away from their fans but after a few years of their stardom, they're gone. So you really have to appreciate what you have. I have amazing fans. I'm very lucky. However, it is nice to get away from stardom at times. What I really enjoy about living in L.A. is I can do the small things like going to the grocery store or filling my car with gas without needing bodyguards. When I'm in Japan people immediately recognize me because I'm with an entourage of bodyguards 24/7. I told the security, "Just let me be. I'm going to go the grocery store by myself." But they said, "No, you can't. It's too dangerous." But I think if they let me walk all by myself without all the bodyguards, no one will recognize me. We'll see. I'll try it next time!

TJ: Did you study English before you came to the United States?
YOSHIKI: I started studying when I moved here. I pretty much started from zero. I knew some grammar and vocabulary because the Japanese education system focuses on that.
TJ: How did you learn English so well?
YOSHIKI: I'm still learning! About 20 years ago we were at a big press conference in New York – at the Rockefeller Center inthe Rainbow Room – after signing a deal
with Atlantic Records. A bunch of journalists asked us if we were going to release an album in America. I said, "Yes." They said, "How are you going to do that? You guys don't even speak English!" I said, "That's true! I'm going to learn!"

TJ: Does speaking English help you in your business a lot?
YOSHIKI: I think so. For me to be here or to work on projects like the Golden Globes or Hollywood films, you almost have to speak English.

TJ: How have you been studying English?
YOSHIKI: I take private lessons with an acting coach who helps me work on my pronunciation and helps me prepare for English interviews.

TJ: Do you plan to do some acting in the future?
YOSHIKI: No. I have never done any acting and I have pretty much zero interest in acting!

TJ: What about for music videos?
YOSHIKI: There's that, but that's part of music. I'm not really good at things outside of music.

TJ: I heard in Japan if companies ask young workers to move to the U.S. they often refuse. Obviously you're a huge influence on young people in Japan. In what ways do you try to encourage young people in Japan to be more internationally minded?
YOSHIKI: I guess in Japan they feel its just perfect there. The food is amazing and they're comfortable. Although going outside Japan is challenging, you learn a lot more so I encourage them to go abroad whenever they get the opportunity.

TJ: What advice would you give to young people learning English?
YOSHIKI: Learn English because your world will change completely! Believe me, whatever you want to do, learn English because that is one of the most important things you can do. I wish I had started learning English much earlier because I started learning when I was in my late twenties - almost 30 years old.

TJ: In what way does your world change?
YOSHIKI: It expands your world by so many times. It allows you to read important information and communicate with so many more people. It just makes your world so much bigger.

TJ: Do you speak any other languages?
YOSHIKI: Kind of, I'm learning French and Russian a little bit.

TJ: Aside from music and language learning, do you have any other hobbies?
YOSHIKI: I don't know. Without music I'm nothing. Music is a really big part of my life. It's more than a part of my life. It IS my life. Whether I'm performing or composing, it's hard to draw the line. Am I working or am I doing something I like? Is it a hobby or work? I don't know but I love it.

TJ: So do you think you will do more classical music in the future rather than modern music?
YOSHIKI: I don't know. I'm confused. I don't know what to do.

TJ: So this is a confusing time for you right now.
YOSHIKI: I'm always confused. I mean, I think everybody is confused to some extent. I don't know anybody who is 100% sure they know what they want.

TJ: So do you decide what kind of music you want to make based on your feeling or your business sense?
YOSHIKI: Growing up on classical music and then going into rock and doing everything in between inspired me. Music is like when you go to dinner. You may want to eat French or Japanese or Chinese food. Which genre I want to play depends on how I feel at that moment. I may want to go on a classical music tour or maybe take a break and do rock. It's not a question of whether I want to do classical or rock music. I just want to do music.

TJ: But does business influence your decisions a lot?
YOSHIKI: Yes and no. I debuted more than 20 years ago so for me to still be sitting here I guess I must have some kind of business sense. But at the same time if you are doing a good job and creating great music, business success follows.

TJ: Rumor has it that in addition to playing classical piano and rock drums, you are also a trumpet player.
YOSHIKI: I played trumpet for about five years. However, once during a contest, my mother took a picture of me playing the trumpet. When I saw how I looked, I immediately quit. Part of Visual kei is caring about image as well! (laughs)

TJ: Do you have any other talents you're not telling us about?
YOSHIKI: I don't have any other talents outside of music. I'm pretty crippled. I can't cook anything. I can drive a car fast but I'm terrible at parking.

TJ: In Japan people place great importance on blood type. What is your blood type?
YOSHIKI: B.

TJ: B's are known for doing their own thing and pursuing whatever they like. Are you a typical B-blood type?
YOSHIKI: I guess I am. When I was looking for band members through a magazine, I noticed other people looking for band members that said "No B-blood types and no Scorpios." I'm both and I guess you could say I do my own thing but isn't that perfect for rock and roll? I was also born in the year of the Snake. So I'm a B-blood type, Scorpio and a Snake. It's an interesting combination– a lot of poison!

TJ: What kind of car do you drive?
YOSHIKI: In L.A., I have a Bentley, a Maserati and a Ferrari. I like to drive fast. In Japan I have a Bentley, a Rolls Royce and a few more.

TJ: What's your favorite food?
YOSHIKI: I'd have to say Japanese. I go to Nobu, Katsuya and some others.

TJ: What about in Japan?
YOSHIKI: Being in Japan is interesting because I don't know where I've been. I just follow my manager and bodyguards. When I go to a hotel I usually go through the kitchen and use the workers' entrance, so I have a strange entrance. I often leave asking what hotel I was in. It's that kind of vibe.

TJ: Do you smoke?
YOSHIKI: I used to but I stopped a little over 10 years ago.

TJ: Do you drink?
YOSHIKI: I used to drink a lot but now I only drink a little red wine. I have my own wine called "Y by Yoshiki." I've partnered with the Mondavi Family.

TJ: Do you exercise?
YOSHIKI: I do. I exercise a lot. I do weightlifting in a small gym in my house. I used to do karate too but my piano teacher thought it was a bad idea! (laughs)
TJ: What is your average day like?
YOSHIKI: I don't have a normal 24-hoursa- day, 7-days-a-week-routine. Sometimes I stay up 40 hours and sleep five hours when I'm going to another country. My lifestyle is very messed up. I'm a pretty healthy worker. I take vitamins and have a little red wine, but I can't sleep. I've had a serious insomnia problem since I was 10 years old.

TJ: Can you tell us about your social life? Do you date?
YOSHIKI: I broke up with my last girlfriend a few years ago right before we went on a world tour. It was like, do you want music or a girlfriend? I'm sure they can exist at the same time, but at that time it was pretty
hard.

TJ: Tell me about your family. Where are you from and do you come from a family with musical roots?
YOSHIKI: I lived in Tateyama, Chiba and moved to Tokyo after I graduated from high school. My father was a tap dancer and jazz pianist and my mother played the shamisen. Also, my aunt played the koto. So I guess you could say we are kind of a musical family.

TJ: Were you in love with music as a child?
YOSHIKI: Yes, I think so. I have good memories of my father buying me vinyl records every month – Beethoven, Schubert, Mozart….

TJ: Do you stay in touch with your mother?
YOSHIKI: Yes, she's good but she still treats me like a five or 10-year old kid. After we did the Tokyo Dome concerts, one of the first things she asked me was what did I eat for breakfast that morning and I said,"Mom, I just finished performing in front of 50,000 people three nights in a row and you're still worried about me being able to take care of myself."

TJ: Are you an only child?
YOSHIKI: I have a younger brother. He was an actor but now he helps my production company in Japan.

TJ: Do you want to have children?
YOSHIKI: Completely. I would love to. I was just talking to my agent about that… But I need to finish my album first! He said, "It takes you years to create an album but with a kid, it only takes nine months!"

TJ: Do you envision yourself as a good father?
YOSHIKI: That's a good question.
TJ: Do you know how to play baseball?
YOSHIKI: Uh… I know how to play but that doesn't mean I can play well! (Laughs) I used to play baseball and soccer a little bit, but I'm not that good. I know the rules...

TJ: Do you envision yourself playing with your kids?
YOSHIKI: I think so. I'd like to play the piano, drums or a musical instrument together with them.

TJ: If you marry, would it have to be to a Japanese?
YOSHIKI: I just have to meet the right person. I don't care about race.

TJ: Do you think it is necessary to be married in order to have children?
YOSHIKI: I don't know. It might be necessary but my mother is very modern. I was considering getting married once and I was surprised when my mother said marriage is not that important. I guess I'll cross that bridge when I come to it.

TJ: So you were in my favorite movie ever,"Tokyo Pop."
YOSHIKI: Oh my god! You caught me! I had a crazy hairstyle. I think they were looking for the most outrageous rock guy on the street so somebody asked me. I didn't reallyact. I just showed up on the screen. I also did a couple of cameos on TV.

TJ: Tell us, what can we expect next?
YOSHIKI: There are a lot of things. Ever since the Golden Globe theme song, I've been interested in movie scoring. We are planning on the second X Japan World Tour and I think I'm going to be touring with Yoshiki Classical most likely in the spring of 2014. I'm working on dance music and I plan on launching a kimono line. In Japan the eldest son usually takes over the family business and my family ran a kimono shop. So I hope to carry on the tradition. My partner is a kimono expert from Kyoto and I suggested we do something very rock and roll – gothic. I hope to launch it by next fall.
TJ: So if things go the way you hope, will the tour be here in the U.S.?
YOSHIKI: Yes, it will include the U.S.! In 2010, we toured North America but not that many places: Los Angeles, Oakland, Seattle, Vancouver, Chicago, New York and Toronto. This time I'd like to go to more places in North America. Also in 2011 we went to 15 countries in Southeast Asia, Latin America and Europe. I hope to tour all of them again.

TJ: So, I assume your tour would include Japan.
YOSHIKI: Yes, our last tour was three years ago in 2010 but we only performed at Tokyo Dome five times and Nissan Stadium twice.

TJ: Wow! The Tokyo Dome! How many people is that each night, 50,000?
YOSHIKI: A bit over that. Nissan Stadium is even bigger. In 2010, we didn't really do a tour in Japan. We only played in the Tokyo area. So it might be very cool to go outside Tokyo. Our last real Japan tour was 15 years ago or so.

TJ: Are you planning on visiting areas affected by the earthquake and tsunami?
YOSHIKI: Actually I went there just last month. I went to Ishinomaki and visited a kindergarten, elementary and junior high school. I also visited the mayor. I was doing charity work for my foundation, Yoshiki Foundation America. I wanted to see how I can help. Regarding Ishinomaki, the scars are deeper than we think. The place is cleaned up but there are still a lot of people living in temporary housing. However, Fukushima has a much bigger dilemma because of the nuclear issue. It's not just a problem for Japan. It's a world problem and I think it's my responsibility to help bring attention to it.

TJ: When did you start your foundation?
YOSHIKI: 2010.
TJ: Why did you start the foundation?
YOSHIKI: I want to support children and their musical education. As I told you, I lost my father when I was 10 years old and went through a lot of pain and somehow I made it. So I want to give all those kids who have some unfortunate situation some support and tell them they can make it because I know their pain.

TJ: Are you planning a charity concert?
YOSHIKI: I may. Charity is more like lifework. I'm going to do it consistently. When we have a disaster in some country, people suddenly rush to help and then stop but I'm going to do it continually at my own pace.

TJ: How about enlisting other musicians like Ryuichi Sakamoto or even Elton John to help?
YOSHIKI: That would be wonderful.

TJ: Do you like Ryuichi Sakamoto's music?
YOSHIKI: Yes, he's one of those amazing artists who also has a classical vibe. I went to see his piano concert a long time ago.

TJ: Would you perform with him if you had the opportunity?
YOSHIKI: Sure!
TJ: Would you like to have your own show in Las Vegas?
YOSHIKI: Vegas is cool. I'm a little shy, but why not?

TJ: Would you like to tour with an American band, or a Japanese band or by yourself?
YOSHIKI: I don't know. Whatever makes sense.

TJ: Are there any current musicians that influence you today?
YOSHIKI: It doesn't have to be a great musician. It can be somebody on YouTube that might influence me.

TJ: Which other musicians do you want to work with?
YOSHIKI: Whoever inspires me. I'm open to any genre, classical artist, DJ or vocal artist.

TJ: What kind of music do you listen to?
YOSHIKI: I listen to pretty much anything. Music is like food, right? What are you going to eat tonight? What are you going to listen to tonight? It depends on your feeling. Last night I was checking out the soundtrack for the new Metallica movie, but last month I went to the opera with former Prime Minister Koizumi.

TJ: I heard he likes your music very much.
YOSHIKI: He used my song for when he was doing a campaign for the Democratic party. He still sings one of my songs at karaoke– "Forever Love." I feel honored.

TJ: As I understand it you are also a great producer. Do you see yourself as more of an artist or producer?
YOSHIKI: I think any great artist produces himself. I used to produce other artists but I haven't been doing that for several years. I'm going to start producing other artists again, not only music. I produced fashion shows a few years ago. I also produced jewelry and wine.

TJ: Are you ever inspired by people outside of the music industry, like in fashion for example?
YOSHIKI: Yes, I love fashion but what inspires me the most is charity work. I support the Make-A-Wish Foundation. People who had an unfortunate cause but are still trying to move forward, that really inspires me. We are so lucky to have a healthy body.
TJ: How do you feel about the Tokyo 2020 Summer Olympics?
YOSHIKI: I was in Tokyo when they announced it. I think they announced it around 5 a.m. in Tokyo. I was watching the live broadcast. We were going against Istanbul, Turkey and Madrid, Spain. I love both countries but I was hoping for Tokyo because the news in Japan the past couple of years has been so painful. It's been a down time for our economy and we needed a goal to accomplish. Even though its seven years down the line, if I can be a part of it, I'd be honored.

TJ: Would you like to write a song for the Olympics?
YOSHIKI: It's not something I can decide and there are a lot of great Japanese musicians and artists. If I can be part of that, it would be great.

TJ: Are you happy you got into the music business?
YOSHIKI: I guess so. I feel happy that my fans are happy.

TJ: Can you describe happiness?
YOSHIKI: Yes. Happiness comes from sadness. You don't see light without darkness. So because I went through a lot of sadness and a period of darkness, very small things make me super happy. Like I described before when I enjoyed just going to a grocery store to buy blueberries or talking with a friend or when I see a message come through on Facebook or Twitter. Some very normal things make me super happy.

TJ: What about success? What is success?
YOSHIKI: That is really hard to describe. It depends on how you measure the success of something. I don't think I'm successful at all because I want to create amazing things that make people very happy. Success is the hardest word for me to describe. It depends on where you set the goal and my goal is way too high.
TJ: When you were performing for the Emperor and Empress and you saw themsmiling on the big screen, did that feel like success?
YOSHIKI: Yes, I still feel honored and I made my mother super happy. After my performance at the celebration in honor of the 10th Anniversary of the enthronement of the Emperor, I was invited to a party called Enyu-kai. You would usually bring your wife but I took my mother and she met the Emperor's family. She finally realized that I had become successful because before that no matter how many arenas I sold out, all she asked was, "Did you sleep last night? Did you eat breakfast?" But when I brought her to that event for the Emperor, she knew I did something good.

TJ: What's the most important thing you want to accomplish?
YOSHIKI: I don't feel like I've accomplished anything yet. I'm still one of those kids chasing my dream. I would like to create great music that will touch people's hearts and I'd like to spread that music across boundaries - between ages and between east and west.

TJ: So you've already made it huge in Japan and now you have to compete with some of the most famous international artists. Do you think you are up to it? Do you have another 10 or 20 years of performing in you?
YOSHIKI: It's not going to be my decision. I think it's going to be up to the fans. All I can do is keep creating music.

TJ: How can fans outside Japan find out where you're touring and if you'll be coming to their country?
YOSHIKI: Well, I guess the best way is through www.yoshiki.net or they can follow me by searching for "yoshikiofficial" on Twitter or Facebook. tj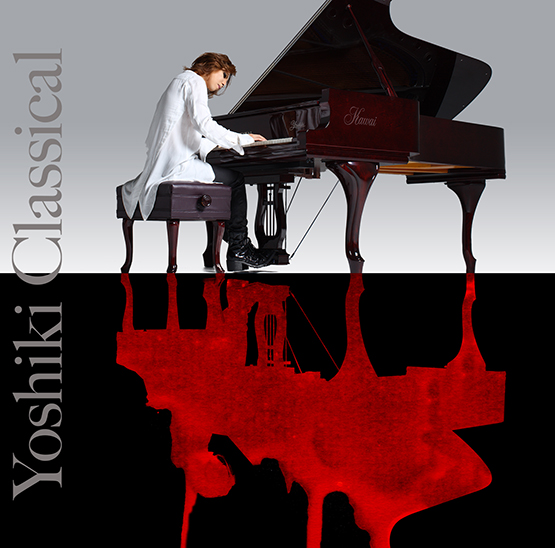 Yoshiki Classical (U.S. Version)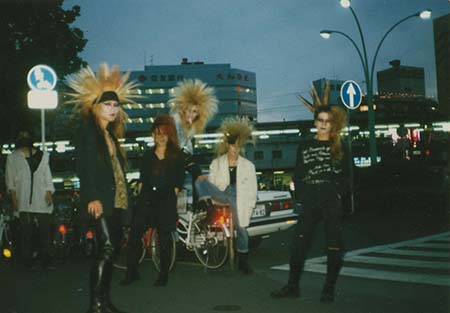 X before their debut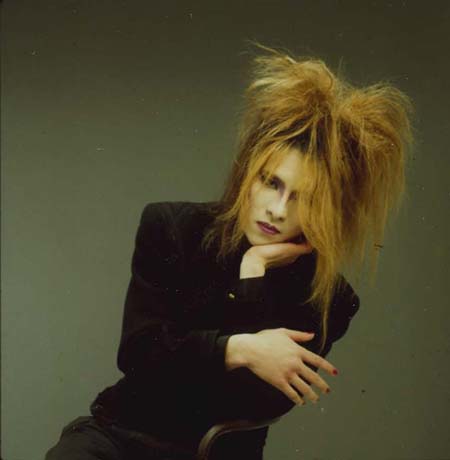 Yoshiki after debut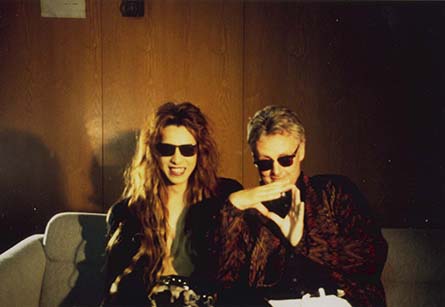 Yoshiki and Queen's Roger Taylor in Tokyo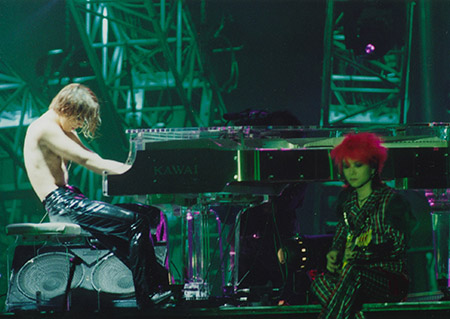 Last live performance with HIDE at Tokyo Dome (Dec. 31, 1997)
Yoshiki performing with X Japan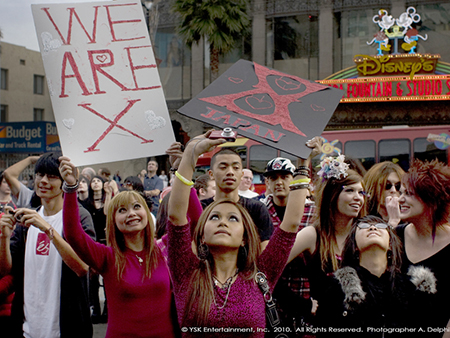 X Japan surprise performance on the roof of the Kodak/ Dolby Theater in Hollywood.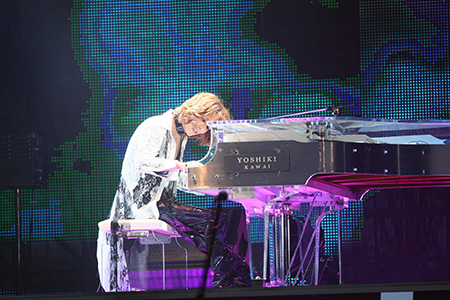 X-Japan draw 70,000 fans to Nissan Stadium 2 consecutive nights in 2010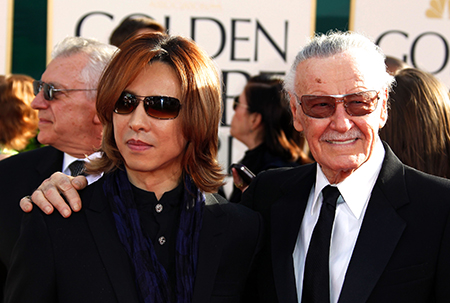 Yoshiki at the Golden Globes with Marvel Comics creator Stan Lee.

The complete article is available in Issue #273. Click here to order from Amazon