Yoshiki Sakurai made his debut in the world of anime as a scriptwriter while studying economics at the University of Tokyo. After graduating, he joined Production I.G and wrote the screenplays for such titles as Evangelion: 1.0 You Are (Not) Alone, the Annecy-nominated feature film xxxHOLiC–A Midsummer Night's Dream and Ghost in the Shell 2: Innocence, which was the sixth animated movie in history to compete at the Cannes Film Festival. Sakurai added producer to his credentials with the recent Giovanni's Island, one of 20 features submitted for consideration in the Animated Feature Film category for the 87th Academy Awards. Tokyo Journal's Executive Editor Anthony Al-Jamie met with Yoshiki Sakurai at Anime Expo 2014 in Los Angeles.
TJ: Can you tell us a little bit about what you have been doing recently?
SAKURAI: I've been working for over two years on a Japanese feature film called Giovanni's Island. It's a post-war story and its release at the Moscow International Film Festival became huge news in the Japanese media because the film is about a small Japanese island invaded by the Russians. I made sure we did not depict the Russians as the bad guys and the program directors of the film festival really liked the movie. They thought that it was more about family and friendship between countries and different cultures. It won the Jury Mention prize at France's Annecy International Animation Film Festival, making it the fifth Japanese film to receive an award in the award's history. It also received nominations at the New York International Children's Film Festival and the Stuttgart Festival of Animated Film in Germany.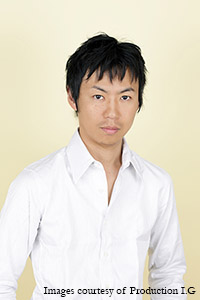 TJ: I understand this was your first time as a producer. What did you do as a producer?
SAKURAI: The financing from the Japanese Association for Musical Enterprises (JAME) was already in place when we started the project. I worked out the schedule, how to use the budget, and picked the director and creators. In animation the most difficult part is to collect the proper creators and then make them work because most of them are really stubborn. They don't like being told what to do (laughs).
TJ: How was working with Tatsuya Nakadai?
SAKURAI: Sugita-san (the original author) Yoshiki Sakurai, Production I.G Producer and Screenplay Writer was fond of Nakadai-san and they worked well together. We had to have a distinct voice and you can always recognize Nakadai-san's voice—it really stands out. At first he declined our offer because he said he would not do animation. However, I wrote the first draft of the screenplay for Studio Ghibli's Princess Kaguya by Takahata-san and knew that Nakadai-san was participating in that, so we talked to him again.
TJ: Why is anime so important to you? You studied economics at the University of Tokyo and could have worked at a multinational corporation.
SAKURAI: That's a difficult question (laughs). Originally, I intended to become a scholar but my professor was an acquaintance of Production I.G's president Mitsuhisa Ishikawa. He advised me to go to I.G and see what the studio was like because I was interested in the future media environment, the future economic situation and things like that. With animation screenwriting, as long as you have the correct moment and you put the characters in the correct situation, you can make them say anything that you want, so although I didn't originally want to become a screenwriter, it's something that really interested me when I started it. It found me.
TJ: It found you?
SAKURAI: Yeah (laughs). I think in contemporary Japan, young people are urged to find their dreams too much. It's not really about what you want to become. It's more about what people around you want you to be. Not many people around the university or my research lab wanted me to become a scholar, but Production I.G and the director wanted me to become a screenplay writer very strongly. Even as a producer, I didn't want to become a producer. From the day I started working at I.G, Ishikawa-san said, "I don't think you will become a good screenplay writer. I want you to become a producer."
TJ: Why did you become a producer if you didn't want to be one?
SAKURAI: Because I admire Ishikawa-sanso much and the producer for Giovanni's Island quit. I didn't want this project to collapse but everyone was busy so I just had to do it myself.
TJ: What do you admire about Mitsuhisa Ishikawa?
SAKURAI: Ishikawa-san is my idol–my ideal person as a producer. He always has this unique sense of humor that almost no one understands but I think it's funny and philosophical. The tragic thing is not many employees of I.G now understand his char- acter and his talents, so I have to tell people how exceptional he is. He does not answer your problems or questions directly, but he's effective. For example, when we worked with foreign partners there was this animation director who was stressed because of the communication with foreign producers and the Japanese work situation with our staff. He was really mad, he was determined to quit and called Ishikawa-san. Ishikawa-san said, "OK, I understand your feelings but it's no use talking directly. Let's have a cup of tea and eat some cake." Then after he finished his cake, the director said, "OK, I have something to talk about..." and Ishikawa-san interrupted, "OK, but... let's have another piece of cake!" They had another piece and another, and then Ishikawa-san said, "OK, I have another meeting to go to, so... bye!" And he left! Then the director thought that no matter how difficult this project is, it's better than trying to convince Ishikawa-san to quit!
TJ: When you are making a movie are you nervous about all the different factors?
SAKURAI: No, that is something special about me, probably. My assistants always complain about people that come to them with problems. And I wonder, why do you think this is so tiresome? That's why you're here! Producing is all about troubleshooting. If you remove trouble it means you're out of your own job. So if trouble occurs, we should thank people for that.
TJ: How is anime from a business standpoint?
SAKURAI: Right now in Japan, one title becomes a massive hit making all the others look like failures. I think the trends are quicker than they were 10 or 20 years ago. The trends die in two or three years now. American distributors should be more open-minded towards trends because trends are becoming shorter. I think people need to tweet about movies they like. Distributors are looking at Twitter and Facebook. If there is no tweeting then they think the movie failed, so they won't buy it because they don't want to take risks.
TJ: Who would you like to meet in Hollywood?
SAKURAI: John Lasseter is someone I really admire. What I like about Lasseter is that he had huge success in 3D animation but he went to 2D at Disney successfully. Toy Story and Finding Nemo were the best animated movies in the world compared to Ghibli or us or any other European movies.
TJ: Where do you think animation is heading?
SAKURAI: I think it's going to be 3D all the way for another three or four years and then I think the trend of hand-drawn animation will rise. Animation is definitely going to lose hand-drawn animators because they cannot make a living out of it.
TJ: Judging by the success of this convention and many others, it seems the industry is certainly growing.
SAKURAI: Although the conventions are big, it doesn't necessarily mean the industry is big. For example, if you focus on people who buy Blu-rays, that would be about five percent to 20% of the people who come to conventions and that is not enough for the industry to survive.
TJ: So what's next in your career?
SAKURAI: I'm preparing a new original project for Kenji Kamiyama, who is the director of the Ghost in the Shell series. tj
The original article can be found in Issue #276 of the Tokyo Journal. Click here to order from Amazon.