OMOCAT Creator of Cute and the Surreal is Changing People's Views of Anime
Tokyo Journal met with OMOCAT, an anonymous illustrator inspired by anime and video games, who has not only art under her belt, but a fashion line and video game to boot. She specializes in animated illustrations (gifs), doing a wide variety of work ranging from comics, shirt designs, and typography. Learning her trade mainly online, as well as learning illustration and design in college, this young entrepreneur has broken into the Japanese and American markets all from the comfort of her Californian home. She has self-published six books to date and her most recent project of creating the surreal psychological horror roleplaying video game OMORI was successfully funded $203,300 through 5,910 backers on Kickstarter on June 5, 2014, far surpassing her goal of $22,000.

TJ: How did you come up with the whole concept for OMOCAT? Were you just doodling?
OMOCAT: My blog started in school because I wasn't allowed to draw what I wanted. Drawing anime was looked down upon, and that made me want to show people that it didn't deserve that kind of connotation. My name and logo, OMOCAT, was a product of a school assignment for a business card. Connecting it to my career was unintentional.

TJ: What is OMOCAT?
OMOCAT: Well it's just my art. My art blog allowed me to open up an online store, and my store allowed to start my fashion line. It's common for artists to use blogs, but I guess I stood out because of my name. I signed my name in every post to prevent internet art theft, and that's what created my brand.

TJ: So how did it all start, was it just stress relieving and fun for you?
OMOCAT: Pretty much. I just drew what I wasn't allowed to while I was in school. A lot of people in school thought nothing could come from anime and I wanted to prove them otherwise.

TJ: When did you begin using your alias? And how long have you been doing this for?
OMOCAT: I still don't know what 'doing this' is, but three years. Before then I didn't have an online presence, because I didn't have a vision yet.

TJ: So, where do you get your inspiration?
OMOCAT: Anime is of my generation really. I guess I was destined to be hooked. My work can be quite nostalgic. I like to mix anime with my life experiences.

TJ: Who is your fan base made up of?
OMOCAT: I think my fan base varies from ages twelve to thirty-five. I have a wide range of work so it appeals to people of different ages.

TJ: What is your method of relating to such a wide array of people? How do you go about drawing?
OMOCAT: Depends on the piece, but typically I just draw a mix of what I want and what I know will resonate with other people. I draw a lot and I'm pretty experimental, so I only post what I think will make an impression.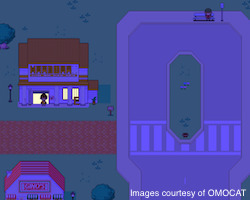 TJ: I feel you understand the psychology of connecting with your fans. Can you give me some insight there?
OMOCAT: Just posting regularly. I actually like to connect entrepreneurship and art because I think the goal is the same; trying to stand out. However, even though I know that drawing what's popular will bring success, I only want to draw things that follow my personal vision. I enjoy life a lot more that way.

TJ : So which picture are you most proud of?
OMOCAT: That's hard because as soon as you've finished something, you're kinda sick of it already, right?

TJ: Most people who create like artists, architects, inventors, authors and filmmakers say things like, "each one is like my child. I adore them all equally."
OMOCAT: I'm not like that. When I'm done with something, that's it, because I have more ideas waiting. I'm like, "Okay, I'm done with that. Now I can work on this!" and get excited by it."

TJ: And you've had big clients like Coca-Cola?
OMOCAT: Yeah, but that assignment was actually suggested by a friend through school. I was paired up with two ad majors to create graphics for a game.

TJ: Why do you keep your identity hidden?
OMOCAT: It's kinda fun. I think it's really cool because my brand was brought to life from the Internet, which is a lot about anonymity. I like that I never had to reveal my face to get to where I am now. However, this is slowly evolving to be about highlighting the difference between knowing someone online and knowing someone in real life. When people see me in person, I want them to see me as a person, not connect it with my online identity.
TJ: What kind of traits do you hope to spread through your work?
OMOCAT: I think I want to empower young people in a responsible way. Everybody thinks their goals are unobtainable, but I think it is with the right amount of dedication. I just want to show people that it's okay to dream big. tj
The complete article can be found in Issue #275 of the Tokyo Journal. Click here to order from Amazon.