In August 2014, Harry (Hidehisa) Horinouchi was appointed the Consul General of Japan, Los Angeles. This is his second U.S. mission, with his first being a counselor at the Embassy of Japan in Washington, D.C. from 1996 to 1999. During his 25-year career in Japan's Ministry of Foreign Affairs (MOFA), he has held various positions in both Japan and China. His ministry assignments at MOFA's headquarters in Tokyo involved legal affairs, treaties portfolios, Asian and Oceanian regional affairs and international intelligence analysis. He has authored numerous articles in law journals on international legal issues, authored a book published in China entitled Longevity of Japan, and has been a lecturer on international law at Waseda University. He is a graduate of the University of Tokyo's Faculty of Law and attended Nanjing University in China and Harvard University's Graduate School of Arts and Sciences. Tokyo Journal's Executive Editor Anthony Al-Jamie met with Consul General Horinouchi shortly after Japan Prime Minister Shinzo Abe's historic visit to Los Angeles.
TJ: First of all, how did you get the name "Harry?"
HORINOUCHI: It's a nickname. When I first lived in Washington, D.C. in the late '90s, I insisted that my American friends call me Horinouchi or Hidehisa. Nobody could read my five-syllable surname or four-syllable first name, and the problem is that if you can't pronounce a person's name, you don't remember the person. I tried for three years, but that failed. I didn't want another failure here in Los Angeles. Many of my friends call me Hori san, and Harry and Hori sound almost the same. When I came here, I read The Clifton Chronicles by Jeffrey Archer and I thought, "Oh, Harry is a good name." So I put Harry in front of my first name and have been asking people to call me that.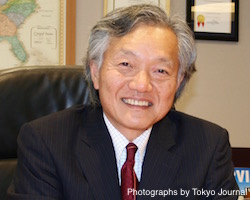 TJ: Can you tell us a little about your career before you came to Los Angeles?
HORINOUCHI: I joined the Japan Foreign Ministry in 1980. I chose Chinese as my second language, so the Ministry sent me to study Chinese at Nanjing University for two years. Then I studied at Harvard for one year before returning to Tokyo to work in the Foreign Ministry. My first foreign assignment was in China in the early '90s, and I went to Washington, D.C. in the late '90s. After 2000, I had another two assignments in China. This is my first experience on the West Coast of the United States.
TJ: How long did you live in China and how did you learn to speak Chinese?
HORINOUCHI: I lived there for 12 years. Even before joining the Ministry I wanted to become a diplomat in China, so I chose Chinese as my second foreign language in university, but the level for second foreign languages is actually not very high. I mainly learned the Chinese language after joining the Ministry when they sent me to China to study for two years.
TJ: How did you get interested in going to China?
HORINOUCHI: Japan normalized its relationship with China in 1972 when I was in second or third grade of junior high school. I remember one of my classmates did a presentation on a subject he studied, which was the clothes of many foreign countries — what Americans wear, what Russians wear, what Chinese wear. I couldn't believe it. Why were 600 million people all wearing the same type of green clothes? Information from China was limited, so it was quite mysterious. I thought it would be a nice place to go to myself.
TJ: What was your favorite thing about living in China?
HORINOUCHI: One thing is it's a lot freer there. Many Japanese people think government regulations are very strong there and that is true, but whatever you want to do, you can just do it. For example, in China one regulation is you cannot smoke in restaurants, but if you do that, it's OK and they don't care. That's the reason why there is a lot of pollution, because there are many laws, but if you don't abide by them, it's OK.
TJ: How are you enjoying your experience in Los Angeles so far?
HORINOUCHI: It's completely different from China. I just told you a nice thing about living in Beijing, but it's really tough to be a Japanese diplomat in that city. My experience as a diplomat is only in Beijing and Washington, D.C., which is very business-like and quite an artificial city. But in Los Angeles, the people are welcoming and very warm. It's completely different from those two cities. I really enjoy it.
TJ: Can you tell me about your role and what you want to accomplish while in California?
HORINOUCHI: My main role is to protect and assist all Japanese nationals through business promotion and cultural exchange. What I'd like to accomplish in Los Angeles is not only to work with the Japanese community, but the Japanese-American community and also beyond through the more diverse Asian communities, as well as our American friends.
TJ: Have you found any particular challenges in L.A.?
HORINOUCHI: Well, the Japanese and Japanese-American populations are so big and participating in all their activities occupies my entire schedule. But I really want to participate in the events of other communities. There is not enough time and the connection is not strong enough yet to make that kind of participation possible, so we need to do a little more at this level. The Hispanic community is very important, but at the moment our relations with the Hispanic community are not strong.
TJ: Can you tell us about the Cool Japan movement?
HORINOUCHI: It's a multidimensional thing. It's not only promoting the culture of Japan, but also Japanese food and Japanese content. These days Japanese movies, music and TV dramas are not really popular here on the West Coast and we have to spend a lot of energy to promote the content industry. Cool Japan has many ideas and recently they have been supporting Japanese companies to promote their matcha [ Japanese green tea powder] here.
TJ: Is the Japanese government funding the Cool Japan movement?
HORINOUCHI: The Cool Japan Institute is run by METI, the Ministry of Economy, Trade and Industry. They have some funding and if a Japanese company would like to promote Cool Japan, METI provides funding for the business and the new initiative. For example, the tea company Maeda-en's initiative received that status. However, Cool Japan is much broader and covers Japanese music, TV dramas, anime and food.
TJ: The Prime Minister's visit to L.A. must have been a huge undertaking. Can you tell us about it?
HORINOUCHI: When he arrived, we had a luncheon on May 1st with about 700 people. It was a coordinated effort between the Consulate General of Japan in Los Angeles with the Japan America Society of Southern California and the Los Angeles World Affairs Council, who made tickets available for this luncheon, and they were all gone in 30 minutes. The response was very enthusiastic and this event had the largest attendance out of all the events during the Prime Minister's U.S. tour to Boston, Washington, D.C., San Francisco and Los Angeles.
TJ: I understand that U.S. Ambassador to Japan Caroline Kennedy came with him. What was your impression of her?
HORINOUCHI: She was very natural. She did not act pompous or political. She was very approachable and easy to talk to.
TJ: What was the standout moment during the Prime Minister's visit?
HORINOUCHI: Shinzo Abe studied at the University of Southern California (USC) in 1977 and 1978, and I could feel his strong attachment to Los Angeles. Also, his wife Akie Abe stayed here for three months to brush up on her English. So both the Prime Minister and the First Lady really loved coming here. They really enjoyed the visit to their old campus at USC. I think his visit to Los Angeles was a historic success. This was the first visit by a Japanese Prime Minister to the U.S. in this century and I'm quite grateful to the City of Los Angeles for welcoming him.
TJ: Prime Minister Abe has made a number of international presentations in English. Do you think his ability to make presentations in English is a big advantage for him and Japan?
HORINOUCHI: Yes, I think so — particularly his address to the U.S. Congress. That was a really great speech. First, that was the first time for a Japanese Prime Minister to address a joint session of the U.S. Senate and House of Representatives. So it's historical in that sense. Second, his address connected with the American audience. Somebody counted 19 standing ovations during his address. Also, he was very funny. In fact, he made a joke at his luncheon in Los Angeles that I loved. He said he had found that Los Angeles had changed since his days of being a student, but some things had not changed. One was the uniforms of the highway patrol. Second was the warm weather. Third was warm people and fourth — the governor. It was still Jerry Brown, just like when he was here in the 1970s! So he was very funny!
TJ: Do you think it's important for young people in Japan to learn English and foreign languages?
HORINOUCHI: If you live in the United States, you have to speak English and if you work in Europe or some other part of the world, English is often the common language between two different countries. For example, if you're a Japanese diplomat or businessperson working in Germany or the Netherlands, your counterpart may be Dutch, German, Italian or Spanish and the common language naturally goes to English. So speaking English is a must for Japanese people in the future because the Japanese market is going to shrink due to Japan's shrinking population and we have to do our business worldwide. tj
The complete article is available in Issue #277. Click here to order from Amazon.