International Electronic Dance Music King: Steve Aoki
From the All Night Party to One of the World's Highest-Paid DJs
Steve Aoki is a Japanese American electro-house producer and musician whose global earnings must be music to his ears. Forbes listed him as the world's fourth highest-paid DJ in 2018, with his concert schedule of over 200 shows around the world, in addition to his Las Vegas residency earning him $29.5 million. Forbes estimates that he also earned four million dollars in endorsements for Japan's largest airline, ANA, and French wine Luc Belaire. Then there's his men's luxury streetwear line, Dim Mak Collection, and his videogame gambling machine that debuted in casinos in 2017, Steve Aoki's Neon Dream. He became a musical millionaire with little radio support — and without the financial support of his famous father, Rocky Aoki, the former wrestler who created the Benihana restaurant empire. Born in 1977 in Miami, Florida and raised in Newport Beach, California, Steve Aoki graduated from the University of California, Santa Barbara with bachelor's degrees in sociology and feminist studies. In 1996, he founded his own record label, Dim Mak. His performances on tour, including throwing cake and spraying champagne bottles at fans, acrobatic crowd surfing and riding rafts on the dance floor, have earned Aoki huge college support. He has collaborated with producers and vocalists, such as Snoop Dogg, will.i.am, LMFAO and Linkin Park. Aoki and his Billboard-charting studio albums have won numerous industry awards and nominations. The Steve Aoki Foundation supports organizations focusing on regenerative medicine and brain preservation, as well as animal rights and disaster relief. In September 2017, he donated $30,000 to Hurricane Harvey relief and challenged other musicians to match his contribution. The heart-thumping and heart-wrenching documentary on Aoki, I'll Sleep When I'm Dead, was released in 2016 and is available on Netflix. Tokyo Journal Executive Editor Anthony Al-Jamie spoke with Steve Aoki about his multifaceted career.
TJ: Do you consider yourself more of a producer or a DJ? What do you spend most of your time doing?
AOKI: It's kind of 50/50 on that one. If I'm not DJing, I'm in the studio working on music. It's like a guitarist in a band writing his own music: I don't know if they'd call themselves a musician as much as an artist. So I call myself an artist. Now I spend most of my time in a plane or studio. Really, I'm in album mode right now. Producing an album requires a lot more time than I usually spend on a song.
TJ: How did you create your Dim Mak club scene?
AOKI: When I was doing parties, I wasn't thinking of the five-year plan. I was thinking, at the most, a few months out. We have the chance to bring bands, to break art and celebrate the new sounds with a very small group of people that are a part of the new wave. As a DJ, I wasn't really thinking to myself, "I'm here to blow myself up." I was thinking, "I'm really here to push this culture forward."
TJ: Is there a formula to get into DJing that you would recommend to young fans who are just getting started?
AOKI: It's to think about your life and how young kids say they want to be up there on the stage as a DJ. You can't just think and boom it happens. You have to think realistically and also ask the question, "Why is that person, who books all the artists, not booking me down here?" And if you can't answer that question, then you still have a lot more work to do. You have to get out there and put some groundwork in to make it a real thing. This requires time and dedication. It requires commitment, putting your passion out there and sacrifice.
TJ: Does creating a club song differ from creating other kinds of music?
AOKI: When you write and produce a club song, there's a certain type of grammar that you're looking for. You're looking for a song where the energy level is in maximum overdrive. At least in my crowd, I want them to feel high off of music, so I'm maxing everything out: my emotional input on a song, when I think about the melody, when I think about the drop. The drop is the punch line — that part I want to make people want to just jump and get out of their skin and to feel something exciting.
TJ: Where is EDM heading?
AOKI: It's cultural and it's different; every territory has a different kind of status quo. American EDM is different from others. For me, I try to stay relevant and connected to both.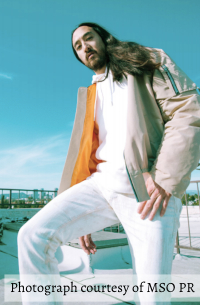 TJ: I understand you respect your father from watching I'll Sleep When I'm Dead, but in what ways do you want to be different from him?
AOKI: His motto is "work, health, family," and that's not my motto. The great thing about my life now, and what he didn't get to see, is my work. I love what I do. My work is my love and I'm so lucky to be in a position that I can do what I love to do and make money, and I use that money to bring people closer to me.
TJ: Were there advantages in being the son of Rocky Aoki?
AOKI: Yes! Of course, for one, if I wanted to eat at Benihana, it was free. I did not receive financial help from him, but he supported me by not financially supporting me. That was probably the best help. At the end of the day, if you spoil your children and you don't let them learn how to pick themselves up, the minute you leave and they fall, they're going to cry and not be able to pick themselves up. He did pay for half my education and my mom paid for half. Did he help me? Of course — I'm not from the hood. I had a big home, but I had to run my business hard. He wanted his children to buckle down. When he found out I was a women studies major at my graduation, he couldn't believe it. He said, "What kind of job can you get in that?" I said, "I don't care about the money. I'm doing this because I believe in it and maybe I could write a book that students could read — maybe some human research that's going to actually help people around me." That's what I was really interested in. I tried explaining, "It's not a financial reward, but a human reward. It makes me happy."
TJ: Did your parents bring you back to Japan?
AOKI: We went to Japan on family trips. That was one thing that I'll say I was spoiled by my father with: amazing life experiences whenever I was with him.
TJ: Do you think in some way your success and your drive is all about proving yourself to your father?
AOKI: It's more self-conscious. I definitely think about what he would think of me and where I am in my life.
TJ: How does your mother feel? Is she pretty excited for you?
AOKI: Yes, she is. She's still my mom. She always wants me to wash my hands and make sure I'm eating right. She's always looking out for me and I'm just so glad that she lives next to me now. tj
The complete article can be found in Issue #279 of the Tokyo Journal.