Synopsis of Art by Artists of the Haitian Diaspora
One of Haiti's greatest exports to the world is its beautiful art. To illustrate the four major trends of the Haitian diaspora as outlined in previous issues of the Tokyo Journal, Haitian art experts Marcel Duret and Fred Thomas cast a closer look on the works of selected artists.
Kristo: An Artist of Rarity and Vibrancy
Christian Nicolas, known as Kristo, is an intriguing artist to watch. Dynamic and talented, he comes across as fully committed to his art, as putting all of his determination, energy and passion into his work to succeed as a professional painter. He is at the forefront of emerging minority artists struggling to gain worldwide recognition. He exhibits his works extensively as a painter, photographer and poet.
Kristo's oeuvre is characterized by his use of vivid colors and stylized shapes, and an abstract depiction of nature. He has mastered his technique so well that onlookers are often left facing a riddle and not knowing what to make of the imagery. When the subject matter is not so evident, Kristo chooses unequivocal titles to guide even the least informed viewers.
There is often a mystical edge in Kristo's paintings, even when he tries to produce a piece as simple and idyllic as possible. It probably has to do with the shimmering and mystifying effects that his grainy textures exude, and the use of sponges. This method fits perfectly with Kristo's predilection for spiritually-inspired art pieces, for which he is best known.
Photographs courtesy of Fred Thomas: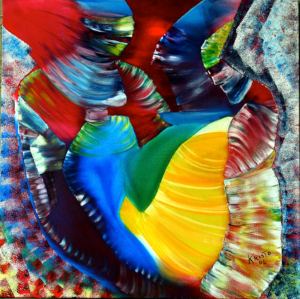 Kristo Nicolas, The Knights of Ifé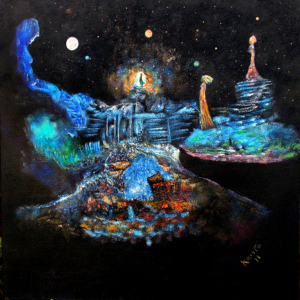 Kristo Nicolas, The Invoked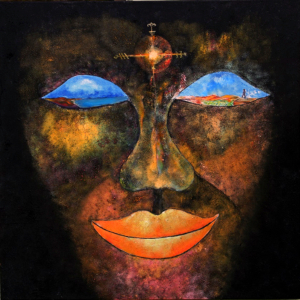 Kristo Nicolas, Deep Within
In the history of Haitian art, never has the depiction of occult phenomena been done with so much gusto, style and intellectualism. With Kristo, it couldn't be otherwise. That's because he's also a talented poet with a gift for metaphoric imageries. He excels as much in manipulating words in verses as he does with colors in painting.
There is no doubt that Kristo was deeply influenced by Tiga, arguably one of the most versatile of the Haitian masters. Kristo has been always quick to acknowledge his reverence for the guru-like painter, who was famous for his versatility, affability and charisma, and for his talent as an instructor, counselor, songwriter, ceramist, sculptor and painter.
Kristo has said that using sponge and discarded credit cards, instead of traditional brushes or palette knives, allows him to create specific moods and to produce unthinkable effects perfectly suitable for expressing his visions, all while avoiding the pitfalls of the mere routine.
Convinced of his true identity, Kristo admits that there are no compromises whatsoever in recognizing his racial and ethnical roots. According to him, denying his past would be equivalent to denying his manhood and his soul. If he is wrong, he admits, that is too bad, since his ancestors did not have the choice of choosing their destiny by declining to board the slave ships after being overwhelmed, set upon and shackled, or by refusing to be sold as beasts of burden to work all day on cotton plantations in the most inhuman conditions.
Kristo wants his work to be a catalyst that leads us to a state of contemplation, allows us to delve deep into our psyche and to question ourselves about our identity and our place in the universe, not only as a people but also as individuals. tj
The complete article can be found in Issue #279 of the Tokyo Journal.