Tito Time in Tokyo
Legendary Jackson Brother on The Jacksons' 50 Years in Entertainment and his Solo Album Debut in Japan
The legacy of the Jackson family is phenomenal. The Jackson 5 was the first group to debut with four consecutive number-one hits on the Hot 100, where they also had 16 Top 40 singles. They were inducted into the Rock and Roll Hall of Fame in 1999. Two of their recordings — "ABC" and "I Want You Back" — are among the Rock and Roll Hall of Fame's 500 Songs that Shaped Rock and Roll. They had their own family variety and animated TV series in the 1970s and returned to TV in 2009 for a reality show called The Jacksons: A Family Dynasty. Jackie, Tito, Jermaine, Michael and Marlon Jackson began performing as The Jackson 5 in Gary, Indiana in 1965. Their father, Joe Jackson, booked his sons in talent contests, high school functions and then larger venues until they won the Amateur Night competition in August 1967 at the historic Apollo Theater in Harlem, New York. In 1975, the brothers renamed themselves The Jacksons, which later included the youngest brother, Randy. Their sisters Janet and Latoya also had sensational solo careers of their own. In 1984, Michael Jackson left The Jacksons at the end of their Victory tour. Dubbed the King of Pop, Michael was the best-selling music artist of all time when he died in 2009. He was the first artist in history to have a top 10 single in the Billboard Hot 100 in five different decades and was the most-awarded recording artist of all time. Guinness World Records recognized Michael as the most successful entertainer of all time and for supporting more charities than any other entertainer. It may be surprising to learn that it took the second eldest Jackson brother, Tito, 50 years to release his first solo album, Tito Time, initially in Japan in December 2016, and then with a global debut in 2017. Tokyo Journal Executive Editor Anthony Al-Jamie talked to Tito while he was in Tokyo about being in the entertainment business for half-a-century, Michael and his brothers, his new album and his love for Japan.
TJ: Why did you decide to release your solo album Tito Time in Japan first?
TITO: The Jacksons have been a part of the Sony branch and Japan has always been a major market for the brothers. So I thought it would be a good beginning for my project as well. In Japan, they really go out and push your music and try to get it known all over the country. So it's a good base to launch from.
TJ: When was the first time you visited Japan? What are your favorite things about Japan?
TITO: In the 1970s in concert with The Jackson 5, and it was quite different than it is today. I've been coming back frequently for the last … 12 to 15 years because I've been performing at the Blue Note annually… I like the love of the people. The people are so generous and lovely. And respectful... And they're very accepting of my family art. Michael loved Japan. It was one of his strongest markets as well… We've all loved Japan… I eat sushi two or three times a day. I love Sushi Zanmai… I love Shibuya... There's a store called Uniqlo. They have really nice casual, everyday kick-around clothes.
TJ: Are there any Japanese artists you'd like to work with?
TITO: You have SMAPxSMAP, Perfume, Ai … I have a friend named Nona who did a remix on "Get It Baby," and I wouldn't mind working with him. Nona Reeves is the name of his band.
TJ: What is your biggest market outside of the U.S.? Have you noticed a big difference in the way Japanese fans respond, as opposed to Western audiences?
TITO: Of course, Japan is one of them … Europe, England, South Africa, Australia … Actually, the U.S. is our smallest market [per capita] as far as major countries go. Japanese fans remind me a lot of European fans. Fans in the UK and other parts of Europe seem to remember your yesterday, whereas in America it's all about what you are going to do next. They give you a lot of love for what you've already done and even more love from what you're accomplishing in the future… they don't forget the art.
TJ: I understand it's been over 50 years since The Jackson 5 won the Apollo Theater's Amateur Night competition. Was performance a breakthrough for you?
TITO: The Apollo wasn't a breakthrough. People don't realize it, but the Jackson 5 was hustling in the early 60s… for seven or eight years before we got noticed from Motown. We traveled in a split-window Volkswagen bus… My father took all the seats out and we used to have to load the car full of equipment and sit and sleep on the equipment, going from city to city… We had done a recording. I believe the year was 1966 — a song entitled "I'm a Big Boy Now," and we made a little noise in the Midwest... But Motown is the company that really put us on the map worldwide… We dug the opportunity to perform at the Apollo Theater. I believe we were opening for James Brown or Etta James. I think it was the second time we went to the Apollo when we had gotten a call from David Frost or Dick Cavett… They had acts come do their program. But meanwhile… Bobby Taylor and Gladys Knight… had been telling [Motown founder] Berry Gordy about us. And Berry Gordy had told them, "I have Stevie Wonder and he's hard enough to deal with, with all the social worker laws. He only can work three hours a day and then he has to do homework, then it's getting late, and all these other tribulations. I already have one kid. What am I going to do with five more?" I was one of the brothers that said, "No, let's not go to Motown. Let's go on this national television show because every record company in America will see us then." But the brothers were such Motown fans that we wound up auditioning for Berry Gordy. He was sitting in the corner looking at us with a firm look like, "Okay, I'm here. Y'all better impress me." We did our audition and he was biting the side of his jaw like he does when he likes something, and he said, "Fantastic! How about you guys perform tomorrow at my swimming pool? I'm having a big party for Diana Ross tomorrow. It's her birthday," and we said, "Really?" We were excited just to go to Berry Gordy's house. To see a mansion was exciting for four poor kids from Gary, Indiana. He had a golf course in his backyard and he said, "Anyone that can put the ball in this hole, I will give you $100." We tore his yard up. [Laughs.] We wound up performing all the Motown songs... But our audience was The Temptations, Smokey Robinson, Gladys Knight, Martha Reeves, Stevie Wonder … and we're singing their songs to them. That was the biggest judgment I think the brothers ever had, but they all seemed to love it very much. Afterward, Berry Gordy comes over to us excited and says, "We're going to get into the studio… I'm going to take your first four or five songs to number one." That's exactly what he did and the rest is history.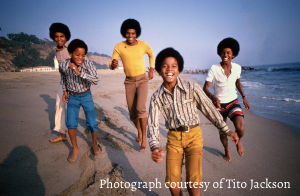 TJ: How did you first get introduced to the guitar?
TITO: Back in the early 60s, my father and his brother, Luther, were playing guitar every weekend. They would play blues and… I was the one kid out of all the brothers who wanted to do everything Papa did… He went to me, Jackie and Jermaine and said, "Listen, when I go to work don't none of y'all touch my guitar." And that's something you don't tell a kid because the first thing a kid would say is, "Why doesn't he want me to touch the guitar?" So I did. I broke the guitar string about three months later because my mom would let me play the guitar. I put it away. She told me not to worry about it and that she'd talk to him. It didn't work. He was so upset about it. Of course, he scolded me. Then he sat me down and put it in my lap and he said, "Show me what you know!" So I'm crying and playing this guitar and he looks over to my mother and says, "Kate, he really can play, huh?" She said, "I told you, Joe. He really wants to learn how to play the guitar." So my father said, "Listen, boy, you can have this guitar… I want you to learn every song you can on the radio." Here I am learning all these [Motown] songs… and Jackie and Jermaine and I are in a room rehearsing… and trying to become a singing group. Michael and Marlon were just little tots still in diapers playing, and we used to throw them out of the room because they were making noise playing with toys… Then when Michael was in kindergarten, we heard him sing "Climb Every Mountain" and our mouths flew open. We couldn't believe that our brother was sounding like this. We brought him home and said, "You're in the group!" Marlon said, "Me too?" We said, "You too, Marlon." That's how The Jackson 5 was born as five members. Our name came from a lady. I believe we were doing a wedding and she asked us to name the group. We didn't have a name. We called ourselves The Jackson Brothers and she says, "Why don't you change it to Jackson 5? There's five of you and your last name is Jackson." It sort of rang a bell with us and we kept the name.
TJ: Can you tell me what's unique about each of your brothers' personalities?
TITO: Michael was full of fun — always a practical joker. He would give you the shirt off his back — a one-of-a-kind person, not just to the brothers, but to the whole world… Everything Michael did, he did it different… He was very giving… if he saw you on the street and you needed shoes or clothes, he'll go buy you a whole wardrobe. He would help people with sicknesses pay for hospital bills, send kids to school... It wasn't that he was always looking for PR from that. He did it because that's just who he was. There are so many things that people don't know that he's done just to help other people… Sometimes, I thought he was too nice. Sometimes when you're too nice, some people take that the wrong way and take advantage of you. Marlon is also a practical joker. He's always telling jokes or saying or doing something funny, or tricking you… Jermaine is all over the place. He's always trying to do good, trying to do right, always biting off a little more than he can chew, but he means very well and some things he does are very successful. Jackie is more of a big brother. He wants to run the ship. He still thinks sometimes that we're five years old and he just wants to play that big brother role… You'll always be young to your big brother.
TJ: What do you think made Michael unique as an artist?
TITO: When my brother was just four or five years old, when I heard him sing the first time, I just didn't understand it. He had never taken one lesson. He was just gifted with it. His whole showmanship thing and his style that he created as far as his look and gimmick, and the way he maneuvered his career to become number one was incredible… A lot of artists don't think outside the box the way he did. He had a lot of things in his path that he did that made him special. His videos were different. When the record company had to keep within budget with videos, he would throw in extra money to take it over the top because he had a different vision than them. When they thought he would sell five million records, he said, "No, I'm going to sell 40." And he sold more than 40... [He was] probably one of the hardest-working people you ever wanted to see work. I used to always say that he eats and sleeps show business.
TJ: Why did it take so long for you to release your first solo album?
TITO: I got married one week out of high school at 18 years old… and two years later… my brothers were recording and had had a few solo albums out… I was working on a solo when they pulled the group from Motown to Sony… I was touring with The Jackson 5 and I was raising a son and another one on the way… So I decided a solo could wait for me… This album is a little late in time but better late than never. The fans had been asking for this album for some time now... Charles Barkley said, "If Tito wasn't in The Jackson 5, would we miss him?" And that really rubbed me wrong, so I decided maybe I needed to do this record to show him who I am. I am the second oldest Jackson in the family and I never spoke out... If the costume lady came in with the drawings of what she's gonna make for us, I'd let the brothers pick their outfits and I'd just tell her I'll take whatever's left to make it easy… A lot of the songs started because of the things I came up with.. but when the credits came out it said, "The Jacksons," so [people] never saw my input in the group. I still like Charles Barkley… He was probably just making a joke, but I'm pretty sure if I see him I'll bring it up with him, I'll hand him my album and we'll go from there.
TJ: What advice would you give to young people who are starting their careers in entertainment?
TITO: I was always told to go after your dreams, and I say that still today… Sometimes you don't make it, so a plan B is not a bad option… but believe in yourself… By setting plan B, I don't think that's thinking negatively about yourself and not being able to make it in this business. That's just being smart — looking out for your life later on in case this doesn't work out for you. tj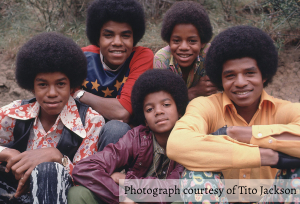 The complete article can be found in Issue #279 of the Tokyo Journal.