Japan's Multicultural Multitalented Model & Actress: Rola
From the Jungles of Bangladesh to the Global Catwalk
You'd be hard-pressed to visit Japan without encountering Rola. You can see her striking features everywhere — as a fashion model, on TV shows, in commercials and now as an actress and opera singer. In 2014, she had more commercial contracts than any other celebrity in Japan. Today, she has one of the largest social media followings of any Japanese celebrity and is perhaps the hottest celebrity from Japan to hit Hollywood. In 2017 she appeared in her first Hollywood feature film as the female soldier "Cobalt" in Resident Evil: The Final Chapter. Born to multiethnic parents, Rola went from the jungles of Bangladesh to learning to speak, read and write Japanese in Tokyo. She is now trilingual, speaking Bengali, Japanese and English. The Gucci Crew member's modeling career began when she was scouted as a high school student on the streets of Shibuya, Tokyo. She has published books on fashion, cooking and learning English. Rola now has her eyes set on expanding her horizons — in her work and in her life. Having recently purchased a home in Los Angeles, Rola is focused on improving her English and adding her creativity to new areas of entertainment while working on her non-profit educational foundation. Tokyo Journal's Executive Editor Anthony Al-Jamie sat down with the multifaceted Rola in L.A. to see what's next.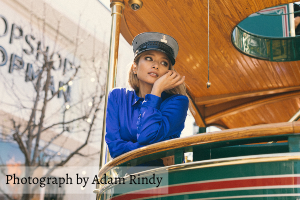 TJ: Why are you here in Los Angeles?
ROLA: I've been coming back and forth between L.A. and Japan every month for a long time — over four years! I want to try and work in entertainment here. I'm not satisfied working only in Japan. Entertainment is global and I want to do as much as I can. My father is Bangladeshi and my mother is three-quarters Japanese and one-quarter Russian. So, I have quite a mix. I want a challenge. I really have to focus on my English. If I'm in Japan I'm going to use Japanese a lot, so that's why I really have to leave Japan. I bought a house in L.A.!
TJ: What's your favorite thing about Los Angeles?
ROLA: There's lots of organic food. I like the weather and the people. I feel a lot of energy from my friends that makes me feel like, "Oh! I have to work harder!" I feel like I can really relax when I'm in LA and I can go anywhere. It suits me better.
TJ: Have you been to New York? Do you like it?
ROLA: I like it too, but L.A. suits me best — the weather, the people, the atmosphere.
TJ: What has been the most difficult part of having a multiethnic background?
ROLA: Sometimes people think I can speak English very well because of the way I look, but I can't. I lived in Bangladesh for seven years, so my first language is Bengali. Then I went to Japan and I started to learn Japanese. Now, I'm working on improving my English.
TJ: I heard your stepmother is Chinese. Do you speak Chinese?
ROLA: No — I'm very busy, so Bengali, Japanese and English… that's enough! She spoke Chinese to me at first when I was seven. I had come back to Japan at that time. My stepmother couldn't speak any Japanese or English and I could only speak Bengali at the time; so I couldn't communicate with her for a few years. Also, our cultures were different — Chinese culture and Bangladeshi culture. We were living in Tokyo and Japanese culture is different too, so it was really hard. But I am really grateful to my stepmom because I went to Japanese school, but I couldn't read or speak any Japanese. My stepmom was a math teacher and a ballet dancer when she was in China, so she taught me multiplication and division and she was very strict. She also taught me how to clean and wash dishes…
TJ: Have you met your real mother?
ROLA: Yes, recently my real mother came to my house and helped me with various things. She's a very sweet lady. It was the first time for me to meet her.
TJ: Does she look like you? How old is she?
ROLA: Yeah. She's around 50.
TJ: I understand that when you lived in Bangladesh, you went to an American school. Is that right?
ROLA: Yes, but at that time, I was 13 years old and I couldn't speak any English. My father said, "You have to learn more English!" I couldn't understand what they were saying. If they said, for example, "book," I thought, "What is a book?" I also had to use a dictionary if they said it in Bengali because I had totally forgotten Bengali since I hadn't used it for about six years and had been focusing on learning Japanese.
TJ: Let's backtrack so we can understand your background. Where were you born?
ROLA: In Japan — Sayama City in Saitama Prefecture.
TJ: How old were you when you moved to Bangladesh for the first time?
ROLA: One.
TJ: How old were you when you moved back to Tokyo?
ROLA: Six or seven. When I moved to Japan, my house was in a really poor area 18 Tokyo Journal #279 and six people from my family lived together there. My stepmother has a son and daughter who are twins and my brother and I are twins too. When I was 13-years-old I went to Bangladesh again for one year and then I came back to Japan when I was 14.
TJ: How did your career as a model and actress come about?
ROLA: When I was 16, my boss scouted me on the street in Shibuya. I started modeling and after five years I became a TV personality. I have been cooking for a long time, so I put out a cookbook and started doing a cooking show. I also created a fashion book, a perfume line, chocolate, a scholarship program…
TJ: What kind of scholarship program?
ROLA: To help young children in less fortunate countries and situations have enough money to go to school. It's called the Rola World Foundation. It's a Japanese foundation. 2013 is when it started. Every Christmas I give money to the foundation.
TJ: What would you have liked to do if you hadn't become a model?
ROLA: I thought it would be nice to be a flight attendant because I like talking to people from different countries. But I'm flying a lot right now and it looks like really hard work so maybe I can't do it. I need some sleep, you know [laughs]!
TJ: When you started as a model, did you think you were going to become famous?
ROLA: Yeah, I knew it. I was strangely confident.
TJ: How was the experience being on the cast of Resident Evil: The Final Chapter?
ROLA: It was so much fun! It was my first movie and my first action film. I held a real gun — it was very heavy. We shot in South Africa. The location was beautiful and amazing. The cast was from all over the world, so it was a lot of fun talking with them. We were all sharing our culture and they were really curious about my Japanese culture. The cast and crew became friends pretty quickly and we're still texting each other. They're very kind and Milla [ Jovovich] is very motivated and everyone likes her. The Hollywood stunts and effects were amazing. My character's name is Cobalt. She's a fighter, she's tough and very strong. She fights alongside her boyfriend. I really like strong men and strong women. I really wanted to kill a lot of zombies [laughs].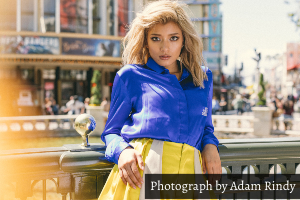 TJ: Are there any other movies parts you're interested in?
ROLA: Yeah! I like fantasy movies and fighting movies. I did an audition for that kind of movie. One day, I want to be a comedian.
TJ: Do you prefer working in the U.S. or in Japan?
ROLA: I have to learn more English so I can speak more. I like to speak my opinion and here I can speak more strongly than in Japan. I feel freer in the United States. I like Instagram and showing people in Japan other kinds of fashion — not only kawaii (cute) fashion, to help change people's thinking in Japan.
TJ: What has been your favorite experience in modeling?
ROLA: I did a magazine cover for L'Officiel Singapore. It was wintertime in New York on a rooftop in the evening and it was very, very cold. I get cold really easily and I was trying to do these poses. But I had never been to a New York rooftop before and the location was amazing — so beautiful. It really moved me. It just was a really special experience.
TJ: What is your secret or strategy to staying trendy and popular?
ROLA: I have to balance my work life and stay positive. I never think negative things.
TJ: What happens when you get angry?
ROLA: If I feel hungry, I get angry — hungry… angry… hungry... hangry (laughs)
TJ: And then you eat and you're ok?
ROLA: Yeah!
TJ: Are there any brands that you'd like to work for in the future?
ROLA: Miu Miu! I really like Miu Miu's world. It's very cool and fantastic. I also like the sound, "Miu Miu." [laughs]
TJ: How did you get inspired to publish your own books on fashion, recipes and English?
ROLA: People kept asking me, "We want to see your fashion in a book. We want to see your recipes. We want to learn Rola's English style…" People are always saying to me that they wish I'd make a book about these things, so I did. They keep telling me they want to see more pictures of my fashion, so I never forget to post every day. I've been posting about my fashion on my blog and Instagram for about 10 years.
TJ: Can you tell us about your English book, Speak English with Me?
ROLA: It's very easy. It's not an advanced book. I'm not perfect speaking English, but I really like to speak English with people. I just want to spark an interest in people to learn English.
TJ: How did you get started singing?
ROLA: About five years ago, I began taking opera lessons after work. This year I became very focused on going to the opera and I want to become an opera singer. I sang opera at the Blue Note Tokyo.
TJ: Do you exercise? Do you have any hobbies?
ROLA: I work out three times a week. My hobby is eating sushi — Oh, I really like sushi!
TJ: Is there an actor or actress that you want to work with?
ROLA: Jim Carrey! I really like Jim Carrey and Mr. Bean [laughs].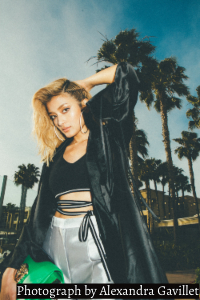 TJ: Where's your favorite place you've ever traveled to? ROLA: I really like to travel. My number one favorite place that I went to is Mexico.
TJ: Have you been back to Bangladesh recently?
ROLA: No, but I really want to go back to Bangladesh. I'll never forget how I grew up in Bangladesh and the culture. The first seven years there was really important for me. There was a lot of sun and greenery. I was like a monkey — not human. I ate mangos a lot and I had to catch fish with a fishing pole I made myself. I grew up like a man in the jungle. My house seemed like it was about to collapse. If a strong wind came, I thought my house was going to fall down. My clothes were dirty. That was natural for me. I don't think normal Japanese people have that kind of experience. I did Ramadan…
TJ: So you were raised a Muslim?
ROLA: Yes. But, I'm not a good Muslim because I eat pork… I tried to be a good Muslim in Japan but they eat a lot of pork, so my father allowed my brother and I to eat it.
TJ: What are your plans for the future?
ROLA: That's a very hard question. I want to try what I can like opera and acting. I'm going to continue modeling. Also, I'm going to marry some cool guy — nobody specific but I'm really excited. These days I really want to produce my own thing. It's important to have a strong heart; I like challenging new things. I never stop. Entertainment is everywhere.
TJ: You're in entertainment now, so you have a lot of opportunities to reach the public. If you move out of entertainment, won't you lose your power to influence people?
ROLA: I don't want to stop doing entertainment. I just want to do many things. I want to focus on things I really want to do. I love being creative. I like cooking. I like doing business and because I grew up in Bangladesh, I want to give a lot of young people a dream and a chance, so my foundation is really important.
TJ: Is there someone who has inspired you?
ROLA: I really respect Steve Jobs.
TJ: Is there someone who has supported your career a lot?
ROLA: Yes — Koji Habitsu, the president of my management company that scouted me on the streets. Also, Tom Hirota. He's Japanese but he lives in L.A. and he runs a clothing company called Joyrich.
TJ: What have you sacrificed the most for your career so far?
ROLA: Spending time with my family. Also, in Japan, I can't walk on the street. It's not easy to go to the supermarket.
TJ: What are your proudest achievements?
ROLA: That's a hard question, but the first time I did a magazine cover…. and my first movie!
TJ: If you could start over from the beginning of your career what one thing would you change?
ROLA: One thing I want to change is I would have studied English harder. That's all. English is important because I can connect with the world and learn about other cultures. But I have no regrets. I want to live life with no regrets. tj
The complete article can be found in Issue #279 of the Tokyo Journal.