Tatsuya Nakadai
Sixty years of Film, Television and Theater
Tatsuya Nakadai is a shining star of post-war Japan. Still active in the entertainment business as an octogenarian, the legendary actor's work in film and theater has been acknowledged worldwide. The films he has appeared in have won awards at the Oscars and the "Big Three" film festivals in Berlin, Cannes and Venice. Nakadai's career defies easy categorization because of the wide variety of characters he has portrayed in films and plays. His dynamic performance on screen is unforgettable, especially his work with Japan's cream-of-the-crop film directors, including Akira Kurosawa, Masaki Kobayashi and Kon Ichikawa. His appearances in Kurosawa films such as Kagemusha and Ran have etched his name into the history of world film and in 2015 he was awarded the Order of Culture by His Majesty the Emperor of Japan. Tokyo Journal Executive Editor Anthony Al-Jamie sat down with Tatsuya Nakadai at his acting school, Mumeijuku, to hear about his career and experiences working with Kurosawa.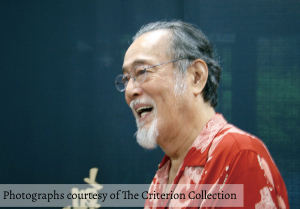 TJ: What made you want to be an actor originally?
NAKADAI: I was in elementary school during World War II. The war ended when I was in seventh grade. We weren't allowed to watch Japanese films during the war, and all we could watch were propaganda films. After the war ended, there was a great influx of American and European films. I became a huge fan of John Wayne, Gary Cooper, Marlon Brando — all those actors. My family was poor, so I went to a high school night school program. I worked during the day and was a student by night. I didn't want to be an actor per se, but after watching dozens of Western films, I did feel some affinity to actors. If you bought movie pamphlets, you would see that every single actor had graduated from acting school or a university acting department. In the Japanese film industry back then, there were no schools like that. Everyone became film actors by winning the annual "New Face" auditions hosted by film companies. But at some point, a school that taught acting academically was founded, and I luckily got in. For three years, I was in acting school by day and worked at night. I learned the basics of acting, and thought I would be in theater for the rest of my career. But I happened to be chosen to be in a film, and since then have worked both in theater and film for 60 years.
TJ: How old were you when you starred in Ran?
NAKADAI: It was about 30 years ago and I was 51 years old. The character I played was 70 years old. Ran was Mr. Kurosawa's Japanese remake of Shakespeare's King Lear and the role I played was the equivalent of King Lear. I put on an extreme degree of makeup. Makeup was rare in Japan, although it was used somewhat for historical period dramas. The way I built the character was mainly through makeup, though of course elements like body movement played a role.
TJ: How was Mr. Kurosawa's personality?
NAKADAI: That's a difficult question. He was pure — to express it in one word. When we ate and drank together, he was like a father to me. He was a genius at making films. He made films exactly the way he imagined them to be. So when an actor couldn't realize his visions on set, he would take hours and hours to make it right. In that sense, he was a very strict director … but that also meant that if a shot went right, he would be happy with it right away. When Mr. Toshiro Mifune acted in action sequences, like sword fighting and destroying buildings, his movements were so strong that he would sometimes destroy the set. So for some scenes starring Mr. Mifune, there were no test shots. I think the combination between Mr. Toshiro Mifune and Mr. Kurosawa is eternal. I was sort of standing on the side of those two.
TJ: What is your fondest memory of working with Mr. Kurosawa?
NAKADAI: There were no stunt performers whatsoever in Kurosawa films. We actors were made to do a lot of dangerous things, but once I saw the final product, it looked amazing. For example, in Throne of Blood, there is a scene where Mr. Mifune is running away and the arrows come flying at him. Those were real arrows, shot by professionals. For Ran, we were doing rehearsals for about a year, and the last month was entirely about waiting for the weather to clear up in Aso. Because of the volcano, the scene fogged up a lot. And for the last scene where I ran out of the burning castle, I was told that if I fell down running, it was going to be a loss of four hundred million yen. We did rehearsals, but Mr. Kurosawa told me not to look down, even when I was running down a steep flight of stairs, and I wondered how the hell I was going to do that. But I said, "I can do this, I have eyes on my thumbs" [laughs]. In another film, there was a time when my beard caught fire, but I kept on acting. Acting is a weird business. We do extremely dangerous things in the hopes that it will look good on screen. Then I look at it afterwards and feel glad that I did it.
TJ: Do you have a favorite Japanese actor?
NAKADAI: Mr. Mifune — his personality and technique were top-notch in the Japanese film industry. I respect him most of all. I also respect Mr. Mikuni Rentaro, and a lot of other actors from that generation.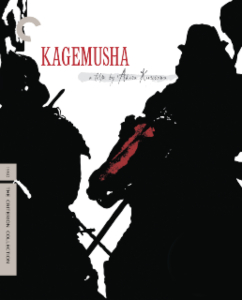 TJ: What was the luckiest thing that ever happened to you in your career?
NAKADAI: When I was in my 20s, Mr. Kurosawa crushed my confidence as an actor in Seven Samurai and I was determined to never be in another Kurosawa film. Just around then, I was fortunate to be chosen to be in Human Condition. We filmed the first and second part of the film during the first half of a year, and prepared to shoot the third and fourth part during the rest of that year. Around that time, Mr. Kurosawa appointed me to be in Yojimbo. I was so sure I would never want to be in his film that I turned down the offer at first. But he sent me the script, and it was so interesting. Even though my character was going to be slain by Mr. Mifune, it was an interesting role. But I was obstinate and turned the offer down again and again. Then it turned out that Mr. Masaki Kobayashi, the director of Human Condition, was friends with Mr. Kurosawa. I had a half-year blank between filming the first and second parts and third and fourth parts, so Mr. Kurosawa asked Mr. Kobayashi if he could borrow me during that time. The roles were entirely different; in Human Condition, my character had a strong sense of justice, but Unosuke in Yojimbo was a complete rascal. Mr. Kobayashi encouraged me to go, but I kept on running away from the opportunity. Then Mr. Kurosawa talked to me directly. He was famous worldwide by then. I asked him if he remembered me – he responded, "I am asking you because I remember you!" So that's how I came to appear in Yojimbo. When we were in the process of costume fitting, Mr. Kurosawa saw me and said, "Your neck is so long. Samurais are supposed to have short necks; long necks don't look good in armor. What should we do?" There happened to be a red scarf lying around, and he told me to wrap it around my neck, which made my neck look shorter [laughs]. After the film was released, people talked about this and said there were no scarves back in the Sengoku Period, so that style aroused a lot of curiosity.
TJ: Can you tell us about Mumeijuku?
NAKADAI: Mumeijuku is neither a school nor a theater company. It's a private gathering. I thought it would be nice if I could produce good actors.
TJ: Do you have a dream for Mumeijuku?
NAKADAI: I've run it on my own so far, so I would like for people to continue it after I go away. However, I wouldn't want just the form of the group to remain; I would like the group to deepen its content, and to hand on the art of acting to the next generation.
TJ: Do you have advice for young actors?
NAKADAI: Cultivate your craft. In order to be judged by your acting, not by your looks, you first need to cultivate a critical eye toward humans. You are playing a wide variety of roles, which means you need to know and understand a wide variety of people.
TJ: Did you ever think of giving up acting?
NAKADAI: I've never thought about quitting. I hesitated before I began, thinking acting seemed difficult. But once I began, I never looked back. I still have about 30 plays I want to be in. I possibly cannot be in all of them, but I have to keep working day after day. I will give up when my body doesn't move, but I want to stay an actor until I die. tj
The complete article can be found in Issue #279 of the Tokyo Journal.