Virtu in Japan
Samurai Spirit
Tetsuro Shimaguchi, known for his samurai choreography and appearance in the Quentin Tarantino movie Kill Bill, is the founder of the sword performance group Kamui, as well as the creator of Kengido, a fusion of martial arts with performing arts that delivers the beauty of the samurai. Samurai are well-known warriors of feudal Japan, who fought for their clans and their country. However, Tetsuro believes samurai were artists more than warriors who followed a strong ethical code. If we define a samurai as an artist, rather than a warrior, what makes a strong samurai? What strength are they are pursuing? According to Tetsuro, the key is shingitai (心技体). Shingitai is a term often used in Japanese martial arts. Shin (心) stands for the mind or heart, gi (技) is skill and tai (体) means body. Combined, shingitai is the balance of the mind, skill and body — and you may notice that mind comes first in this word. Tetsuro is spreading the samurai 's sense of respect to the next generation and to the world through his workshops. He also arranges photo shoots of people in samurai armor at Sengoku Photo Studio Samurai in Yoyogi, Tokyo. Nanami Chinatsu spoke with Tetsuro Shimaguchi to learn more about the samurai spirit.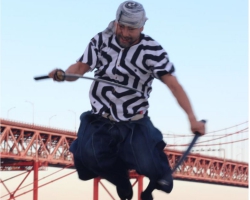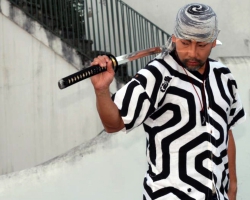 TJ: Can you tell us about your mission?
SHIMAGUCHI: Whether I am on the street or on a huge stage, once I have my sword, my duty is to create a scene that allows people to see what a real samurai is. This means I have to show them what the samurai spirit is as well.
TJ: What is the samurai spirit?
SHIMAGUCHI: You may not expect it, but it's actually about beauty: to instill beauty in everything — space and timing, for example. These are things that you need to feel rather than see, but that's what is important for the samurai — to see beauty with the mind's eye, and cherish invisible beauty. Being polite, humble, caring, respectful — that's the beauty of the samurai, and I assume that's the beauty of Japan as well. I would say that the samurai spirit is the spirit of Japan.
TJ: What kind of training did samurai do to be strong?
SHIMAGUCHI: Samurai trained their mind and their heart. They empowered themselves not only by learning how to fight by improving their skill and body, but also by learning literature, calligraphy and art to keep the balance of shingitai and to be a strong samurai. Some might have never experienced a real fight in their life, but even so, I see them as having been a real samurai if they followed the way of the samurai. They would be the mentor of the next generation and teach young ones how to live as a samurai.
TJ: Can you admire your enemy when you have been cut and are dying?
SHIMAGUCHI: A samurai could say "bravo" to his enemy while dying. It's from the utmost mind of respect to regard someone stronger as a person who created better shingitai, the art of life, with his own effort. Even if your enemy was killing you, samurai thought the effort was worth applause and respect.
TJ: I can't believe anyone can admire his enemy while being killed.
SHIMAGUCHI: Everyone trained with so much effort, but some would create a better art — life as an art, with mind, skill and body. For samurai, fighting meant competing in that art. Even when he lost a fight and died, he tried to complete his own art, his own beauty. He had been living to reach this stage where he could say a respectful word when death caused his art to come to an end. That may not be easy to understand, but that is the samurai philosophy.
TJ: Do samurai virtues still exist in Japan?
SHIMAGUCHI: Even though we don't have real samurai anymore, their virtue — the sense of respect and understanding — still exists in Japan. Samurai virtues tell people to see and understand things behind that which we can easily see, and to respect others.
TJ: What is the goal of your workshops?
SHIMAGUCHI: I just want people to be happy.
TJ: What would you like to do next?
SHIMAGUCHI: I simply want to keep following my way with this sword, and ask people to join us by living as a "cool samurai." A cool samurai is a professional at communication. A cool samurai is respectful. The samurai is a symbol of these virtues. Now we have children following us. I will try to show them my way. Well, I know it will take time until I can show them the beauty of life as well, but I will just live my life earnestly, as a samurai artist. tj
The complete article can be found in Issue #278 of the Tokyo Journal. Click here to order from Amazon.