Tokyo Hotels
Tokyo Journal sent a celebrity review team to stay at some of Tokyo's top hotels. Dylan Sprouse is an American actor and entrepreneur. He and his twin brother, Cole Sprouse, are known for their roles on the Disney Channel series The Suite Life of Zack & Cody and The Suite Life on Deck, as well as films including Big Daddy with Adam Sandler. Barbara Palvin is a Hungarian supermodel who was the 2016 Sports Illustrated Swimsuit Issue's Rookie of the Year, 2019 Victoria's Secret Angel, and was ranked as one of Forbes's highest paid models in the world in 2016. Actor Shin Koyamada, who starred in The Last Samurai as Ken Watanabe's son, has also acted in many Disney Channel programs, including Wendy Wu: Homecoming Warrior.
The Keio Plaza Hotel
Reviewed by Hollywood actor Dylan Sprouse & supermodel Barbara Palvin

Keio Plaza Hotel is the ultimate spot for an authentic Tokyo adventure. According to actor Dylan Sprouse, who stayed at the hotel with supermodel Barbara Palvin, "Located in the heart of a bustling area, Barbara and I found it easy to reach the nightlife and tasty ramen shops we were searching for. With soft beds and great views, Keio made our journey that much more comfortable." The hotel boasts luxury dining options, spacious rooms with high-end designs and incredible views of the Tokyo skyline, and sophisticated lounges with top-notch services. Specialty services are also offered, such as cultural exhibits, tea ceremonies and kimono fittings. Thirty-eight meeting rooms are available for events and ceremonies. This hotel is the ultimate option for combining luxury with a metropolitan experience in Tokyo.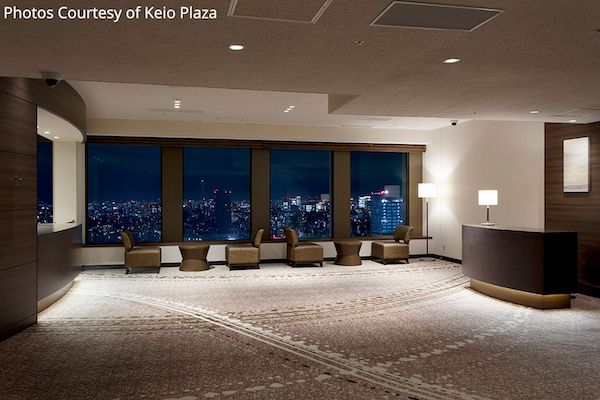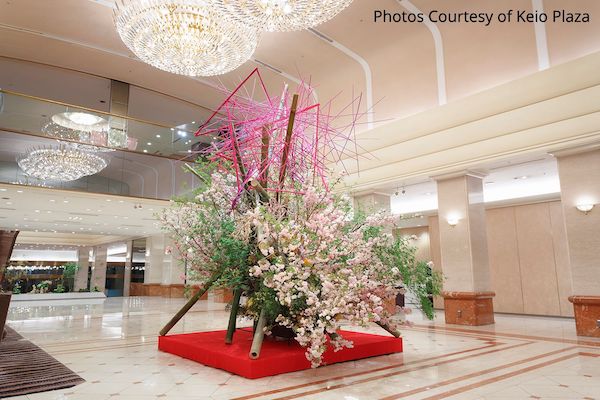 What we love:
• Amazing location with a plethora of ramen shops and city sights nearby
• Luxurious interior and lounges
• Fantastic views of Tokyo's Shinjuku ward
• Pool and versatile exercise facilities
The Ritz-Carlton, Tokyo
Reviewed by Hollywood actor Dylan Sprouse & supermodel Barbara Palvin

As with Ritz-Carlton hotels around the world, this hotel provides a luxurious and refined experience. Its views of Mt. Fuji, Tokyo Bay, and the sprawling density of Tokyo's urban architecture will leave you speechless. According to supermodel Barbara Palvin, who stayed at the Ritz-Carlton, Tokyo with actor Dylan Sprouse, "Dylan and I not only found all the luxury and accommodations exquisite, but the view from the bar at night was also our nightly spot, sipping wine and listening to the bands play. This hotel offers the best hub for foreigners to access the heart of its bustling neighborhood while also being accommodating to translation and direction services. The rooms are wonderful and every bit as classy as you would expect from the Ritz-Carlton. We've stayed in many and this one quickly became our new favorite. Will definitely stay again!"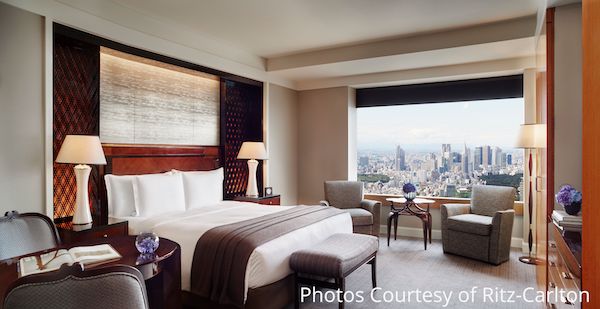 What we love:
• The top-of-the-line luxury and high-end experience
• Quick and excellent translation and direction services, a big help for travelers
• Upholds the Ritz-Carlton's reputation with its sophistication and refinement
InterContinental Tokyo Bay
Reviewed by Hollywood actor Shin Koyamada

Located in a high-rise building overlooking Tokyo Bay, the InterContinental prides itself on its breathtaking views of the city. Only a minute's walk from the nearest metro station, it is easy to get to popular attractions like Tokyo Skytree, the world's tallest tower, and the Toyosu Market, which replaced the historic Tsukiji fish market. The InterContinental, which is recommended by Actor Shin Koyamada, offers the best amenities for both business and leisure travelers. It is a stone's throw from Tokyo's exciting nightlife and fast-paced business district. For a sophisticated and luxurious culinary experience, you can dine at one of the hotel's seven restaurants and enjoy a variety of options at breakfast. This is a fantastic option for experiencing Tokyo to the fullest.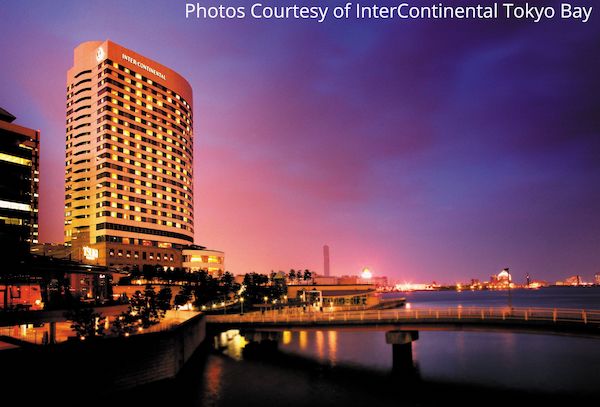 What we love:
• Eight restaurants with deluxe culinary options and great service
• Optimal location for nightlife
• Stunning view of Tokyo Bay from the top floor
The Kitano Hotel Tokyo
Reviewed by Hollywood actor Shin Koyamada

A two-minute walk from the Nagatacho subway station, The Kitano Hotel offers elegance, luxury, and convenience in Chiyoda, a special ward in central Tokyo. Not only does the hotel have beautiful, spacious rooms with delicate interior design and top-of-the-line furnishings, but it is also incredibly hospitable. Guests have access to high-quality boutique services, fine Japanese and Catalan cuisine, and wellness and health services including acupuncture and massages. Actor Shin Koyamada compared his experience at the hotel with the luxury offered at Kitano's New York location, emphasizing its excellent service, cleanliness, and professionalism. If you're looking for a high-end experience during your stay in Tokyo, put this hotel at the top of your list.
What we love:
• Spa and massage services, including acupuncture
• Rooftop lounge with views of the Imperial Palace and Tokyo skyline
• Fine Spanish and Japanese cuisine
• Luxurious and spacious rooms
Hotel Chinzanso Tokyo
Reviewed by Hollywood actor Shin Koyamada

Stay at Hotel Chinzanso and you'll soon forget that you're in Tokyo at all. Surrounded by beautiful nature and expansive greenery, this location is the ultimate for enjoying a more traditional Japanese getaway that feels far removed from the hustle and bustle of the city. Despite this, its location near Takadanobaba Station provides easy access to the best that Tokyo has to offer. With stunning views of the surrounding gardens, the hotel has Victorian-style suites with luxurious facilities. The staff provide fantastic services, including event planning for weddings and other large-scale celebrations, making it an ideal location for any special occasion. Guests can also take part in traditional Japanese activities such as kimono fitting and tea ceremonies, helping to solidify its reputation as a peaceful oasis in the middle of the bustle of Tokyo. According to actor Shin Koyamada, "I would recommend this hotel to those who are planning to stay for more than two or three days and to tourists who want to relax and experience nature in a Japanese garden in the middle of Tokyo."
What we love:
• Surrounded by lush greenery and breathtaking nature
• Close proximity to top Tokyo destinations
• Brilliant assistance for event planning, weddings, and other occasions
• Traditional Japanese ceremonies and activities available right at the hotel
tj
The complete article can be found in Issue #280 of the Tokyo Journal.