Kyoto
Japan's Cultural Capital
Kyoto was Japan's capital city until 1868. Today, it is widely considered to be the country's cultural capital for its plethora of Buddhist temples, along with its Shinto (an ancient Japanese religion) shrines, palaces, and gardens. During WWII, U.S. Secretary of War Henry L. Stimson, who had honeymooned in Kyoto, demanded it be removed from the list of targets for the atomic bomb due to the city's cultural importance. In addition, the city was fortunately spared from large-scale conventional bombing, allowing the preservation of many Japanese cultural treasures. Kyoto is the world's number one destination for kabuki (classical Japanese theater), flawlessly groomed geishas (traditional entertainers), and blooming springtime sakura (cherry blossoms), as well as bamboo forests, sacred shrines, traditional temples, and delicious, traditional food.
What to see
Historic Monuments of Ancient Kyoto (UNESCO World Heritage sites)
Nijo Castle
Kamo Shinto Shrines (Kamigamo and Shimogamo)
Daigo-ji (Buddhist Temple)
Nishi-Hongan-ji (Buddhist Temple)
Jisho-ji, also known as Gingaku-ji (Buddhist Temple)
Kamo Shrines (Kami and Shimo)
Kiyomizu-dera (Buddhist Temple)
Kozan-ji (Buddhist Temple)
Kyo-o-Gokokuji, also known as To-ji (Buddhist Temple)
Ninna-ji (Buddhist Temple)
Rokuon-ji, known as Kinkaku-ji (Buddhist Temple)
Ryoan-ji (Buddhist Temple)
Saiho-ji, also known as Kokedara (Buddhist Temple)
Tenryu-ji (Buddhist Temple)
Arashiyama bamboo forest
Fushimi Inari-taisha Shrine (orange-colored walkway of traditional torii gates)
Gekkeikan Okura Sake Museum
Gion entertainment district, home to geisha/maiko (geisha apprentice) dancers
Hokan-ji Temple, also known as Yasaka Pagoda
Ine no Funaya (floating fishing village)
Iwatayama Monkey Park
Kimono Forest (located in Randen Arashiyama Station)
Kyoto Imperial Palace & Garden
Kyoto International Manga Museum
Kyoto Tower's panoramic city view
Maruyama Park (for cherry blossom viewing)
Mt. Kurama's hot springs
Nishiki Market
Togetsukyo Bridge
Toei Kyoto Studio Park (theme park and film set based on the Edo-period)
Wazuka Tea Plantation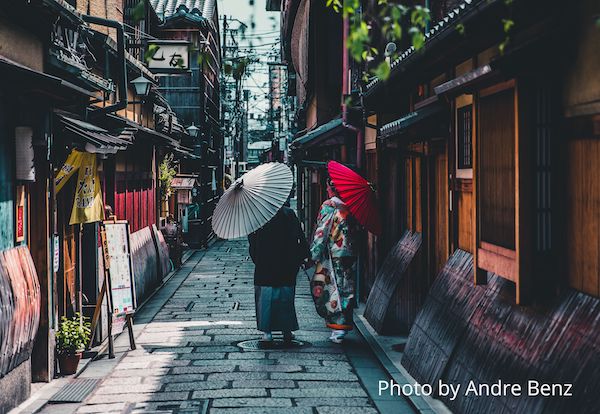 What To Do
Cooking class (sushi, ramen (noodle soup), bento-boxes (single-serving lunchbox), okonomiyaki (savory pancakes made to one's liking), takoyaki (a ball-shaped snack), etc.)
Geisha/maiko performances
Kyoto Samurai ( Japanese warrior) experience or Samurai and Ninja Museum (samurai/ninja costume and Japanese sword-practice)
Traditional tea ceremony
What to eat
Kaiseki (traditional multi-course dinner)
Kyo-wagashi (Kyoto sweets)
Matcha (green tea products)
Okonomiyaki
Ramen
Shojin ryori ( Japanese Buddhist vegetarian cuisine)
Soba noodles (a thin noodle typically made from buckwheat)
Tempura (battered and fried vegetables and meats)
Tofu (bean curd)
Udon noodles (a thick wheat-flour noodle)
Unagi (freshwater eel)
Yuba (tofu skin)
Yudofu (tofu cooked in hot broth)
Festivals (Matsuri) & Events
Hatsumode (first shrine visit of the new year) – January 1-3
Setsubun (an event at the beginning of spring to cast off old bad things) – early February
Kitano & Kyo Odori Geisha Dance – April
Southern Higashiyama Temple Illuminations at Shoren-in, Kodai-ji and Kiyomizu-dera – March & April
Kitano Odori & Kyo Odori Geisha Dances – April
Aoi Matsuri (the Hollyhock festival) – May
Yabusame Shinji (horseback archery) – May
Gion Matsuri (Kyoto's largest annual festival) – July
Gozan no Okuribi, also known as the "Daimonji fire festival" (five giant bonfires are lit on the mountains surrounding Kyoto) – mid-August
Jidai Matsuri (festival of the ages) – October
Gion Odori Geisha dance – November
Higashiyama Temple Illuminations at Eikan-do, Shoren-in, Chion-in and Kiyomizu-dera – November
Arashiyama Hanatouro (path of light- thousands of lanterns are placed along Arashiyama lanes and within the Arashiyama bamboo grove) – December
When to go
Spring may be the best time to visit Kyoto, especially in early April when you can experience the full splendor of the city's beautiful cherry blossoms. Autumn is a delightful alternative, as the leaves change color in mid-November to early December and their red, orange and yellow hues complement the warmth of the temples all around the city. However, anytime you visit Kyoto, you will be amazed at the wealth of things to do and entranced by the city's beauty.
tj
The complete article can be found in Issue #280 of the Tokyo Journal.