Tao Okamoto
Japanese Supermodel
Interview by Anthony Al-Jamie

Japanese supermodel Tao Okamoto resides in New York City, where she is capturing the attention of the American and European fashion world and is widely recognized as one of the top models to ever come from Japan. At the age of 23, her signature bowl haircut took the fashion world by storm and she's never looked back, becoming the face of Ralph Lauren and walking the catwalk for such brands as Chanel, Louis Vuitton, Yves Saint Laurent, Dolce & Gabbana, Fendi, Miu Miu and Michael Kors. She has fronted campaigns for Vivienne Westwood, D&G, Emporio Armani, Kenzo and Tommy Hilfiger. In 2009, she was the first Japanese model in nearly a decade to grace the cover of Vogue Nippon. In 2013 she entered the acting world as the love interest of Hugh Jackman in "The Wolverine" and in January 2014, she will make her Japanese television debut in a police drama miniseries entitled "Chi No Wadachi". Will she continue to shine on the silver screen? Tokyo Journal's Executive Editor Anthony Al-Jamie talked with Tao to find out.
TJ: Can you tell us a little bit about yourself ?
TAO: I was born and raised in Chiba, Japan. I went to school in Tokyo and started modeling locally when I was 14. I moved to Paris when I was 20 and then New York when I was 23. That's when I had the biggest moment in my career because I cut my hair. Everyone just loved my signature haircut, which was a mushroom-like Vidal Sassoon- type style. It was a little bit like a non-model. Then I continued modeling in New York, Europe and Tokyo.

TJ: Who cut your hair?
TAO: I just went to a Japanese hair salon in the Aoyama area of Tokyo.

TJ: What have you been doing recently?
TAO: I was just continuing to model and then by chance this audition opportunity came up. At the time I wasn't interested in acting and I almost said no to my agent but I changed my mind when she told me that I was going to be the love interest of Hugh Jackman in the movie! So I went to three auditions for this movie even though it was a very childish reason. At the second audition I met the director James Mangold in L.A. He taught me about acting as well as what this character and movie were about and I just fell in love with his ideas and acting.

TJ: So you didn't go to acting school then?
TAO: No, never! Pretty much everything I know was taught to me by James, the director.

TJ: So you moved to New York in 2009? Is that right?
TAO: Yes.

TJ: Are you comfortable living in the States?
TAO: After living here for five years, I finally feel like this is my hometown. It took a while to feel that way.

TJ: Can you go into more detail about how you first got started in modeling?
TAO: I was 14 and I was having a difficult time understanding myself just as every teenager does. I was very tall for a Japanese girl and I felt that people were always looking at me and that I stood out too much. I hated how I looked and I wanted to use my body for something so that I could understand why I was born with this different figure. Then one day I was scouted at Kiddyland [toy store] in Harajuku. The scout made me feel like people would find me interesting. It made me feel confident and want to try modeling, but not with this guy. I sent my pictures to other modeling agencies and that's how I started.
TJ: And since then you've modeled for many brands, both Japanese and foreign?
TAO: Yes, that's right.

TJ: Do you have a preference for working with Japanese or foreign brands?
TAO: I do not have a preference now, but I've had more of a market in the U.S. and Europe than in Japan because sadly Japanese people love Caucasian girls to model for their campaigns. Once in a while we have foreign designers come to Japan and do their shows and although a lot of Japanese designers didn't like me, every foreign designer loved me and used me for their shows. So I thought maybe I should move to where they want me. It was a difficult decision because I still loved and wanted to work for my country but there was no place for me, so I moved to Paris and that's when things changed.

TJ: Would you like to work for a Japanese fashion designer like Junko Koshino?
TAO: If I had the opportunity, yeah!

TJ: What similarities do you f ind between modeling and acting?
TAO: Expressing a character you're supposed to be on that set. I love shooting with a detailed background while pretending to be someone today with some outfit, hair and makeup. In the past some stylists gave me ideas of a fashion story to act out in pictures. I really like acting in pictures. Becoming someone else is something I really like about modeling and something I can totally relate to in acting. Now I can use my voice as well and there is a lot more action.

TJ: Which did you f ind more challenging - modeling or acting?
TAO: I think acting is definitely more challenging because I've been modeling for 14 years but modeling is also a very challenging job.

TJ: Don't you feel like when you are modeling, you have fewer tools to express yourself than when you're acting?
TAO: Not really. I think when the world is smaller, it's difficult. But when it's bigger you have to use more things, so I think they're equally difficult.
TJ: So this was your first experience acting, and it was opposite Hugh Jackman. How was it?
TAO: He's just the most amazing guy that you can imagine. I really feel that he opened my door to a whole new world. I think if it had been somebody else that acted like a typical movie star or diva, I would have gotten the wrong idea about acting. But he is super generous. He's super normal. He talks to everyone. He cares about everybody. Then one day he came to me and said,"You really care about others and you don't close yourself. You talk to people. Not every actress can do that." And I said, "Yeah, but that's something you taught me! I learned from you." I feel like I learned so much - not just about acting skills but how to behave as a human being.

TJ: Do you have another favorite actor or actress that you'd like to learn from?
TAO: I don't know. Maybe the next time it can be someone that's difficult to work with!

TJ: Do you mean just for the experience?
TAO: Right.

TJ: So there's no particular actor or actress you'd like to work with?
TAO: I just want to act more with more people.

TJ: Do you have a favorite director?
TAO: Yes, I like the French director Michel Gondry.

TJ: Do you want to do a lot more acting?
TAO: Yes, definitely.

TJ: You mentioned when you were a child you were uncomfortable with your height. Have you become comfortable with it now?
TAO: Yes, I understand now. It was really difficult for me. I felt everybody was staring at me. I felt like I was a freak or something. But now I feel like I'm a beautiful woman with hair, makeup and a beautiful dress.

TJ: And now do you like the attention?
TAO: When I need it, yes (laughs). I don't want it when I'm walking on the street.

TJ: What are your hobbies?
TAO: I like going to musicals.

TJ: Do you have a favorite Broadway show?
TAO: I love "Hair Spray," "Miss Saigon," "Grease"…. so many!

TJ: Do you have any other hobbies?
TAO: I like to stay at home sewing and making crafts. I like going to to places like Home Depot and making things like tables or boxes from scratch.

TJ: Do you like sports?
TAO: No, I'm bad at sports. I wish I was good, but…..

TJ: There are many famous Japanese people in New York like Ichiro Suzuki. Have you met him?
TAO: I know Hide Nakata because we have a mutual friend, but I don't know Ichiro.
TJ: Tell me about your goals you have for the future. I know you want to do more acting. Do you want to try singing?
TAO: I'm working on an audition for a musical. It's something I've always dreamed to do.

TJ: Have you done a lot of singing?
TAO: I used to study singing on Saturdays from high school to university. I really enjoy singing and I'm into classical.

TJ: Would you like to perform on Broadway?
TAO: Yes, I've always wanted to be in a Broadway production.

TJ: Do you prefer working in Europe or the United States?
TAO: The U.S. is definitely easier for me because I don't speak any other languages but I like going to Europe…. different air, different people.

TJ: So you didn't learn any French while living in France?
TAO: No. I tried but they couldn't wait for me to say the words I wanted to say, so they just answered me in English and my French never developed.

TJ: Can you tell us about your current projects?
TAO: Well, I've got this audition coming up and I have an exhibition in November of photos of me by 15 different photographers.

TJ: Do you have a favorite photographer?
TAO: Yes, there's a lot. I like Mario Testino as well as Mert and Marcus. I haven't worked with Bruce Weber but I dream of working with him one day.

TJ: What were your thoughts about the 2020 Summer Olympics being awarded to Tokyo. Were you happy about it?
TAO: Well, I personally didn't really want it but I think it's a good thing. I've seen that they're trying really hard but I think everybody wants the Olympics for the economy. When I was shooting this movie "The Wolverine" we wanted to shoot more stuff in Japan but we couldn't get permission to shoot so we had to reduce the shooting dates in Japan from four weeks to two weeks. They didn't seem to think about the amount of money that would come from shooting in Japan - not just the money from bringing an entire production team to shoot in Japan but also the tourism that may result from people seeing places in the movie and wanting to travel there. They just don't like exceptions or irregularities. It's understandable though. That's why things are so organized and buses come on time! There's no country like that in the world. But if they want the Olympic Games, maybe they can open up the country to the entertainment business too. I think it would help the economy.
TJ: So, if I'm understanding you correctly, it's not that you're against the Olympic Games being held in Tokyo, but you think the priority Fashion & Design should be to open up the country to the entertainment industry?
TAO: Yes, but not just the entertainment industry. I mean other industries as well. The Olympic Games were a really big thing to get but I think there are a lot of other things they can do to get what they want.
TJ: Would you consider moving back to Japan and becoming a politician someday?
TAO: No thank you. It's just since I moved from Japan I see the country from a different perspective from when I lived there. I love my country but I have some objections too. I'm not a politician but I think I have some ideas for how to make the country better.

TJ: For young people in Japan do you think it's important for them to look outside Japan and try to get an opportunity to travel abroad in order to broaden their scope?
TAO: Yes, absolutely. It's so hard for us to understand what is happening because we live on an island. You can see how limited our news is. Nowadays you can search for what you want on the Internet and you feel
a little bit controlled. You see so much more after you see the world so I totally recommend that young kids travel abroad. There isn't a particular country I recommend because every country has its own beautiful things but if you have an opportunity to travel outside Japan, then I recommend it.

TJ: These days companies are asking young employees to move abroad to work but they're refusing. Have you heard about that?
TAO: Yes, I have. I think they're scared and it's because it's too easy to live in Japan right now. The education system doesn't teach them to be competitive or aggressive.
TJ: How did you originally learn English?
TAO: Well, we all study English in school in Japan but as you know that doesn't mean that it enables people to speak English. I went to England to study English for a year in high school as an exchange student.

TJ: Can you tell us how English has helped you?
TAO: I really recommend that young people in Japan work hard to learn English or other languages. I think it's a life skill everyone must have. Japan is so behind in this area compared to other countries. I know it's not easy to learn. I'm still trying to get better! I know a lot of girls come here to try and work. They have a beautiful face and figure but if they don't have English language skills then they won't know how to communicate with people and won't be able to tell them what they want to say or do. So a lot of girls went back to Japan after only one or two seasons.

TJ: Would you say that you have two cultures now?
TAO: Yes. Living in New York you see many different cultures from countries all over the world. We all use English, and even if it's not their first language, you can feel a little bit of their culture whether they're from Europe, Asia or Africa. English is a musthave tool to communicate. I wasn't very good at speaking English before I moved here. I spent one year in England but that really didn't help. When you go to meetings or parties, if you speak English well, you might get 100% from listening to people, if you don't speak so well maybe you might get 90% but if you don't speak English at all, then you're just wasting your time. I believe that people who are strong at English also have a good ear for music. I grew up listening to foreign music and I think that it really helped me. I got used to listening to English through music.

TJ: So your interest in music helped to perfect your ear? Is that what you're saying?
TAO: Yes, that's right.
TJ: What's your favorite part about being an international model?
TAO: Well, I can't forget about being a Japanese model. I have to represent all of Asia sometimes to be the face of something. I really like that because it's a bigger challenge. One time I was shocked when a Swedish model asked me how many shows I was doing this season and I was surprised that she cared about that. We were so different and she still cared about how much I worked. That's when I realized that they appreciate me - not just as a Japanese model but as a good model, and I don't think that would happen if I was just modeling in Japan. Understanding and appreciating each other is something I experienced by modeling internationally.

TJ: What do you think about "Cool Japan" and the Japanese culture boom that is underway?
TAO: It's such an honorable thing and we should really try to continue the boom for another 20 years but some Japanese people don't like that foreigners only pickup one thing like manga. For example, when I did this movie, "The Wolverine", a lot of Japanese people disliked it because there is a lot of stereotypical Japanese culture such as samurai, ninja, yakuza and bullet trains, and people think it's very "Hollywood-y" showing an American image of Japan and that it's not very authentic, but I think it's great that we have something that we can be proud of and promote to other countries. I'm sorry that some Japanese people don't appreciate historical things. They always like something new and they don't really appreciate what its origin is.

TJ: But isn't it interesting to see how deeply young people outside Japan are getting into Japanese culture?
TAO: Yes, I'm grateful and proud of that.
TJ: Have you done any humanitarian work?
TAO: I have an organization "SAVEJAPAN! of America" working towards relief for the tsunami disaster. We had a charity sale where we asked fashion people to bring fashion items they don't use anymore for a flea market. The money was used to build instant houses for people in the disaster area. I'm not working on this to make money but to remind people about what happened. We received so many warm messages from all over the world. It's not about doing a big event but to remind people about what happened.

TJ: What is your proudest achievement as a model?
TAO: Maybe when I did the Ralph Lauren Face campaign and they said that was the first time that an Asian girl did the campaign for such an iconic American brand. I thought the world was really changing because of the Chinese economy improving. I was proud to be part of this movement even though I'm not Chinese. I did a lot of Chinese jobs and they still appreciated me. I was really grateful. tj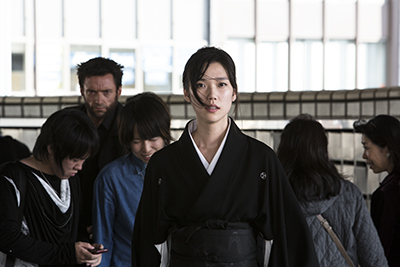 Tao Okamoto stars with Hugh Jackman in "The Wolverine"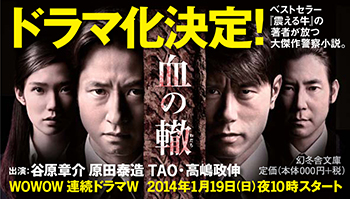 The complete article is available in Issue #273. Click here to order from Amazon