Japan-Influenced Big Hero 6 Scores Oscar for Best Animated Film
Voice Actor Ryan Potter and CG Animator Matsune Suzuki Talk about the Heart-Warming East-Meets-West Story of a Boy and his Robot
Big Hero 6 is a magnificent mashup of Marvel-based Disney animation, Eastern and Western cultures, and the cities of San Francisco and Tokyo. Set in "San Fransokyo," Big Hero 6 is an action-packed animated comedy adventure that finds robotics whiz kid, Hiro Hamada, forming a special bond with his personal companion robot called Baymax, while his diverse group of science-geek friends forms a band of unlikely heroes. Japanese- American actor Ryan Potter and Japanese CG Animator Matsune (Matt) Suzuki talked to Tokyo Journal shortly after the movie won the 2015 Oscar for Best Animated Feature Film of the Year.
TJ: How did you celebrate?
POTTER: I celebrated with my mom because it was a big moment and I wanted to share it with the person who matters the most and not a bunch of strangers.
SUZUKI: I was jumping up and down when the Academy recognized this. I was at my house with my family. I got a big hug from my daughter. That was the biggest reward I got.
TJ: Matsune, I understand you have been involved with Academy Award-winning films before. How many have you worked on?
SUZUKI: Four: The Fugitive with Harrison Ford, Avatar with James Cameron, Disney's Frozen and now Big Hero 6.
TJ: Ryan, how did you land the role as Hiro Hamada?
POTTER: Disney and [Director] Don Hall were very adamant on casting true to Hiro, who is Japanese-American. A director I had worked with in the past asked if they'd see me. It wasn't the average audition. It was more of a work session. I met Don Hall and we talked about Japanese pop culture for a little bit. We really got down to creating Hiro together, finding his character, and trying to find that likability.
TJ: What are the biggest challenges of doing voice acting?
POTTER: Sometimes you don't have the clearest understanding of what's going on in the scene because a lot of the time they animate afterwards. But I didn't really run into that challenge at all [in Big Hero 6] because the creators of the film did such a good job in breaking down the storyboard and talking about the placement of that particular scene in the film. They did a great job with setting up each scene for me visually so when I went in… I won't say it was a piece of cake, but it was a lot of fun to do.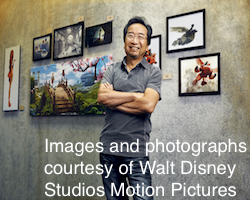 TJ: There were a lot of amazing scenes in the movie that were blending San Francisco and Tokyo. What were your favorite highlights of that?
POTTER: The first light sequence takes you through the city the best. You really get a hint of how massive this city is. The city of "San Fransokyo" can fit the worlds of Tangled, Wreck-It Ralph and Frozen into it. at's a massive city, and it's crazy because it's so spot-on. Everyone who worked on the film did a really good job of blending both San Francisco and Tokyo together, and it's just seamless. [The Art Director Scott Watanabe] grew up in Tokyo, so he brought a lot of details and insight into creating San Fransokyo. You see the stand-up food shops next to the train tracks and a lot of those details that only someone who grew up in Japan understands.
TJ: Matsune, can you tell us about your part in designing San Fransokyo?
SUZUKI: When Baymax flew over the town, the city was pretty much built. I put in all the signage designs. Sometimes all the signage needs to be really three-dimensional. Pachinko parlors have a certain look that is not that great but they have their format, so that kind of cultural thing had to work. I built those things on they and started sticking them in the set. I helped with not only the city design but also all the graphic design. The flying sequence helped a lot because when you're moving the camera at a really high speed, the audience will see certain things from a certain angle only. So, you place the camera first and then wherever you want to emphasize, you can start working on specific detail instead of making everything detailed. That would take forever because Tokyo has a crazy amount of detail! I did an internship at George Lucas' studios when I was a student, so I kind of knew San Francisco, but of course we did so much research. Luckily, we have Google Earth now, so I flew up and down Market Street so many times to pick up details of San Francisco. San Fransokyo's basic structure is really based on San Francisco and I added the Japanese taste to it.
TJ: What did you enjoy the most about working on the city?
SUZUKI: I was so excited about the Japanese aspect of it. I was thinking about how the city got built historically. The opening shot of the robot fight is a really old downtown kind of thing with a sleazy Chinese restaurant, while in another part there is an upscale shopping center. Each time I thought about a real town. For example, this will be Shibuya, Shinjuku, maybe Ikebukuro. Amazingly, the Art Director, Scott Watanabe, understood I was going for a fancy area like Shibuya but he said, "No, no, no, I want to have a Shinjuku Kabukicho kind of thing." So that's the kind of thing I could really project — real Tokyo history into San Fransokyo in each different part with a different taste or design to it.
TJ: Can you summarize the process of how the whole city was created?
SUZUKI: I got a storyboard with the kind of shots the director wanted and started trying to digest what the director wanted to achieve from that shot. The city fly-by was the showcase for introducing San Fransokyo. First, I placed and started moving the camera and the computer graphics and established the speed. At that time, Baymax was just a sphere or a cube flying in space. I just wanted to get the timing. If I establish the speed, I know how big the set has to be, because if Baymax is moving really slowly I need a small set. But if Baymax is flying at lightning speed I need a humongous set. I think the city became four times bigger than the original city. The first city was pretty much blocks on the street. We got a map and put cubes onto that map to see how fast the buildings were going to pass by, and after getting the speed approved, we started replacing each block with a nicely designed building so they could see the scale of those buildings. Then we let Baymax fly one more time. We started talking about how Baymax was going to do stunts during the flight and each time that would change the speed of Baymax flying. If Baymax spent a lot of time doing a turn, we didn't need as much of the city set. Then we started nailing down the camera moves as well as the size of the set and adding more detail and then let the director see it. If he liked and approved it, then that was the end of my work. After that, the lighting people, texture people and painting people moved in and made the shot pretty.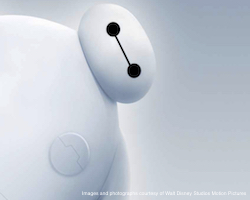 TJ: Did you hide any "Easter eggs" or hidden treasures in the movie?
SUZUKI: During the initial stage, I put my name on all the signage as a joke. They allowed me to keep that, so there is one particular shot where my name is all over town. My mother and father in Tokyo were pretty excited to see that.
TJ: What was your impression of the movie after seeing the final product?
POTTER: I fell in love with it. It's kind of a culmination of my entire life put into one movie. I grew up in Tokyo. I spent thanksgiving and Christmas in San Francisco. I grew up on Japanese anime, Disney and Japanese comic books. So, this is a world I am very familiar with to the point it's almost scary how relatable the lm is to me, [including] a lot of the emotions and a lot of the things Hiro has gone through. Obviously I didn't get to fight a super villain and fly on the back of a robot, but I've experienced loss and that kind of anger, so this film hits very close to home.<br>
SUZUKI: This film was not a princess movie, so it was new and fresh. I spent 15 years in Walt Disney Animation and I haven't seen anything like this coming out of this studio. I am so proud of the leadership that led this project to keep on going and push it out to the movie theaters. It's amazing!
TJ: The movie is out on Blu-ray, so is there anything you'd like people who haven't seen the movie yet to know about it?
POTTER: It's the third highest-grossing Disney film of all time. It's an Oscarwinning animated film. It combines together both Japanese and American pop culture references. It has ethnic Disney characters. At the heart of the story, it's a brother story between Tadashi and Hiro with that relationship transitioning between Baymax and Hiro. This film just has so much heart.
SUZUKI: This is not a sci-fi movie. It's not just a movie about a robot. is is a movie about human interaction between a "human" robot and a human himself. I want people to feel not only the sci-fi aspect but also the human drama.
TJ: Would you take part in a sequel?
POTTER: I definitely think there's more in store, more to see and more villains to fight. Big Hero 6 stands on its own and I don't think the film needs a sequel, but if the fans want it and the creators want to do it... heck, I am on board!
SUZUKI: Oh yeah! Of course. I heard the movie is doing well in Japan as well. It is amazing that this lm was accepted by the Japanese audience so nicely. I'm so moved by this.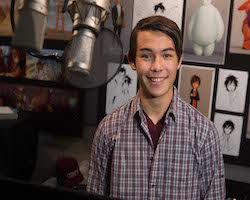 TJ: Matsune, you've been with Disney for a number of years. How would you describe the working environment?
SUZUKI: This place is amazing. I've been through so many studios, but this place is more like a school campus. There is always a drawing, sculpting or yoga class. Everybody is doing something to try and improve or get inspired. Of course, other studios do this, but this is more so. It's crazy-positive good!
TJ: What projects would you like to participate in in the future?
POTTER: There are a few in the works. I would de finitely like to be a part of Deadpool. He's one of my favorite superheroes ever. I know there are a bunch of films going into production with Japanese characters, with Japanese pop culture like mangas being turned into films, so I would love to be a part of those. I think we need to see more ethnic superheroes, be it Nightwing, Tim Drake or Dick Grayson.
SUZUKI: My next project is an upcoming Disney film called Zootopia. I'd like to support the next generation of filmmakers, especially Japanese. Japanese kids are really talented but Japanese people tell them to give up on their dreams. If I could somehow help them to come to Hollywood and get in the film business and achieve their dreams somehow, I'd like to help them. tj
The complete article is available in Issue #277. Click here to order from Amazon.